'People like Gaurav because he is different': Shah Rukh Khan on his 'Fan experience
Shah Rukh Khan says he took a chance with Fan as he wanted to present before the audience something which they had never seen before.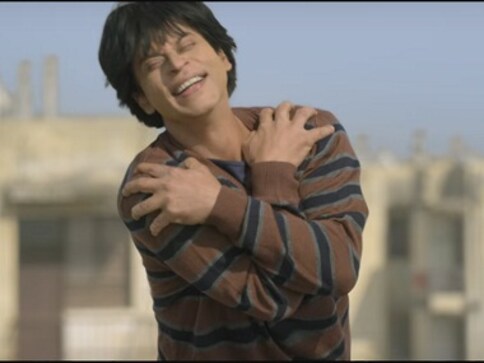 Mumbai: Bollywood superstar Shah Rukh Khan, whose latest release Fan has been garnering positive
response, says he took a chance with this film as he wanted to present before the audience something which they had never seen before.
"It's (Fan) not a film that heartland audience will like it. But we took a chance thinking hopefully they (audience) will like it, but they need song and dance. I am not unrealistic," Shah Rukh told PTI.
The actor, 50, in his over 20 year-long career has given several blockbusters like Dilwale Dulhaniya Le Jayenge, Kuch Kuch Hota Hai, Chennai Express, Happy New Year, among others.
But some of his films like Swades, Chak De! India did not do good business at the box-office as compared to his other commercial films.
"My last film (Dilwale) had cars flying, there is dance and all so more heartland audience sees it and non-heartland don't see it. The idea is to make a film that everyone would see it," the actor said.
The Happy New Year star appreciates filmmakers who come up with novel ideas.
"While (we) were making Swades, I had told Ashutosh Gowariker (film director) that hope you know this film will not make much business as the other (commercial) films do. But he had the guts to make a film like Swades with a star like me," he said.
"I think this is what we should celebrate. When a new kind of filmmaker comes, and makes something different with new people as he doesn't have access to others (stars), I really appreciate that. I think it is more appreciated when an established director, producer, star does something unusual like Fan," he added.
The My Name Is Khan star says he chooses to do different stuff on screen as it excites him. "As a person it keeps me going as I feel I have done something different. It also enhances your way of making
cinema. Then after six months you can make a commercial film."
"(American actor) Will Smith does that, he makes a film for numbers as well one those which don't make that much numbers. I feel most actors should try and make that," the actor said.
According to Shah Rukh, there are two types of audience - one that enjoys offbeat films while there are others who like commercial films.
"There is thinking and talking audience that sees world cinema and assumes our cinema should reach there soon. Then there is an audience in the heartland of the country which believes still in values and thoughts and entertainment in certain way," the Veer Zaara star said.
He knew heartland audience wouldn't like the film (Fan) much as it's not a typical SRK film.
"Language is a barrier, not everyone watches English, Spanish film. So, when you make a film like this (Fan), you know the film is not going to be universal, the heartland people are not going to understand. I don't think anyone is hypocrite in this," he added.
The Om Shanti Om actor isn't disheartened with the fact that the unusual films do not do that much business as the commercial films do despite being appreciated.
"Filmmakers are clear about the target audience. You just have to believe that this film is meant for these people and release it. Beyond that if these (unusual) films do more numbers than you thought of its really good," he said.
"When I make Dilwale, the attempt is of getting much bigger number. Like Chak De (Chak De!India) was a beautiful film but it did not have the numbers that Chennai Express had, but it can't dishearten you," Shah Rukh said.
The actor says he is saddened when both unusual and commercial films don't make more money.
"It is disappointing if the film doesn't collect that numbers. The feeling of loss is similar but from two different point of views."
Released on April 15, Maneesh Sharma directed Fan has reportedly earned Rs 53 crore in the country.
Fan narrates the tale of Gaurav, a huge fan of moviestar Aryan Khanna, who heads to Mumbai in order to wish his idol on his birthday. When things don't go according to plan, Gaurav's obsession with Aryan crosses the line.
"When you make a film about fans, we have shown that there could be someone like this (Gaurav). The film is kind of fantasy. When you sit down and think of a film like this its quite a fancy film like how a look alike reaches his home and uses his look... so its all fantastic idea that ways."
"I don't think there are people are like this and even if there was someone like Gaurav, he wouldn't even know the film is about him as he is bit off. So, he would be alright. I don't think there was any chance if the film would have got misfired with the audience. It's a nice intriguing story," he added.
Shah Rukh said the audience liked Gaurav more than the character of superstar Aryan Khanna in Fan as the role was very fresh and different.
"We have been completely divergent from a star (referring to himself) who is known to have songs and dance in his films. People like different stuff. But if we keep making it again and again may be they won't like it. I think people liked 'Gaurav' more as that was different," SRK said.
He said some fans have reached out to him after watching the film and complained about certain aspects of the thriller. "Some of the fans said there should have been songs in the film, there should have been an apology once, why is Aryan Khanna so mean, you are not like that in real life, why Gaurav had this kind of end, Gaurav was not wrong."
"There are some complaints (referring to Fan), there are some flaws that people are saying there will be critical acclaim. But overall it's a different story telling," he said.
According to SRK if a film starts discussion then it means it is interesting.
"When you discuss a film later, it means it has left an impact on you. Some people said the second half is not good. But this is how we felt the story (of Fan) should have been and narrated it that way," he added.
Sports
Russia's second city of Saint Petersburg, the country's worst Covid hotspot after Moscow, is hosting seven Euro 2020 matches — including a quarter-final — and is expected to see thousands of football fans from Europe.
Entertainment
Beyond the surface, which looks to be occupied by starstruck teens, lies a whole industry — often referred to as the "fan economy".
Entertainment
YRF said it would be able to inoculate at least 3500-4000 members registered members of the Federation of Western India Cine Employees (FWICE) in the first phase of the vaccine drive.