Parineeti and Aditya Roy Kapur's Daawat-e-Ishq is about dowry: Habib Faisal
Firstpost caught up with him recently and he spoke about Daawat-e-Ishq, working with Parineeti Chopra and the shortcomings of being a scriptwriter. Here are some excerpts from the interview:
After a not-so-formulaic debut with Do Dooni Chaar, filmmaker-script writer Habib Faisal tasted commercial success with Ishaqzaade and is now ready with his third film Daawat-e-Ishq, which hits the theatres this Friday.
Faisal, who was once been a cameraman for NDTV, has been the script writer for several Yash Raj Films like Salam Namaste, Ta Ra Rum Pum, Jhoom Barabar Jhoom. Firstpost caught up with him recently and he spoke about Dawat-e-Ishq, working with Parineeti Chopra and the shortcomings of being a scriptwriter. Here are some excerpts from the interview:
Daawat-e-Ishq is evidently about food and love. However, I believe it also packs a social message?

Daawat-e-Ishq is about the dowry issue. Like you must have seen in the trailer, the girl Gulrez (Parineeti Chopra) and her father (Anupam Kher) are oppressed by the dowry demon and in the film, we see them tackle it. In their adventure of dealing with dowry, they come across Tariq Haider (Aditya Roy Kapur) whose attitude towards women is that he treats them as equal to him. In that is his heroism.
What inspired you to make a film on dowry?
What inspired Daawat-e-Ishq was a news story on a woman who had used article 498A to dupe 10 men. I cannot mention her name because she had committed a crime and the matter is still sub-judice, however, several newspapers reported it.
She seemed like a very clever woman, more like Bonnie from Bonnie and Clyde and I found it amazing that she has taken a very oppressive tradition and used a loophole in the law to make money out of men. Yes, of course she did commit a crime and it isn't a good thing but the story was very fascinating.
The way the news was being reported made this woman seem like a villain, a vamp. What I found ironic is that here is this one woman who has used article 498A to make some money out of 10 guys and she is the villain. However, on a daily basis there are thousands of men, not just in India, but in UK, Canada, wherever the Indian diaspora is, who are duping so many women and their families, and yet it is these few women who are the vamps.
You have been a scriptwriter for so long. Is there ever a pressure to conform to a more formulaic approach? Your first film, Do Dooni Char, was off beat but Ishaqzaade was more commercial.
There isn't a thing that is not commercial. If you present something that people are dealing with on an everyday basis, in a lighter form,  if I make it entertaining enough, if I use a love story as a vehicle to talk about it, then may be it will work.
So basically sugar coating an issue with love story works at box office?
I know it's cool to appeal to the converts. You and I, we agree on certain things and I have made a film and shown it at a festival and you have said "what a brilliant film!", but nothing is done, nothing is achieved.
I want to speak to people who are indulging in dowry. I want to have the humility to go to them and say,  "Listen I have this one story to tell. Will you please come and watch it?" And while watching it, they will realise that there is an important thing that's being talked about. I won't call it sugar coating but engaging in a dialogue, in a language and an idiom which the people you want to have a dialogue with are familiar and comfortable with. If I turn this into some art house film people will say, "Buzz off, we have better things to do."
This is the second time you are working with Parineeti. What do you think her strengths are as an actress?
Parineeti's biggest strength is she completely submits to scripts and is very versatile and capable of becoming new, different people. In this case, I have set the story in Hyderabad and Lucknow, so I needed someone who, with her acting talent, can become a girl from Hyderabad. Which means talking the dialect and change in the body language and at the same time, [she must] exude that confidence and energy of taking on the world. I had already experienced how she does that in Ishaqzaade. Very importantly, she doesn't treat herself bigger than what the story is.
Aditya Roy Kapur has so far played urban roles. This is the first time he is playing someone from a small town. 
That is my challenge. I take urban metropolitan people like Arjun Kapoor out of Bandra and turn them into earthy textured characters.
Yes, there was this challenge of getting Aditya Roy Kapur to go out of his comfort zone and play the role of Tariq Haider. In life, he is a very shy and timid kind of a person and this character is very flamboyant. We had to draw him out of his shell and get him excited about playing the character. We also  did language workshops with him.
Is there a difference in the way you approach a script when you are a the director and when you are just the script writer?
No, I completely submit myself to the script whether is mine or some other director's. So in that sense, no. The only thing is, if it is for someone else, the ultimate vision is the director's. I may not agree with something. If they want something to be incorporated, I do it in a manner so that the craft doesn't change. As in, the idea is induced without a change of texture.
 Do you think Bollywood audiences would enjoy a film on dowry?
In my younger days, I was more excited about watching Hrishikesh Mukherjee films. You know, some formula pot boilers. What happens is that for most of us directors, we want to make the films that we want to watch. We are viewers first. In the olden days, saying that I am making an issue based film would mean that you are making an art film. That has changed over the decade. Actually, the good thing is that only those films with intelligent stories work well.
Find latest and upcoming tech gadgets online on Tech2 Gadgets. Get technology news, gadgets reviews & ratings. Popular gadgets including laptop, tablet and mobile specifications, features, prices, comparison.
Entertainment
In his memoir Greenlights, Matthew McConaughey spins 'some of his personal yarns, not necessarily because they sound cool but because he believes they reveal certain universal and teachable truths'.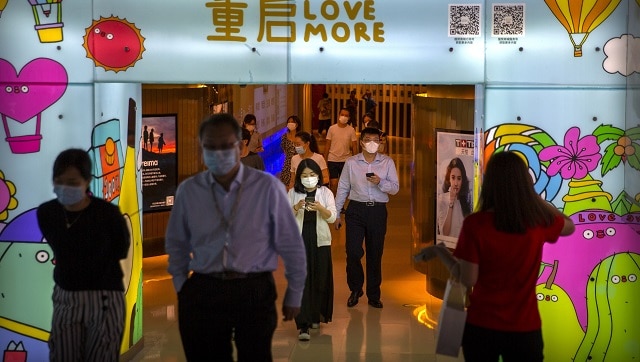 World
Chinese exporters have benefited from the economy's relatively early reopening and global demand for medical supplies, according to a National Bureau of Statistics report