Should popularity of mainstream films stand in the way of National Film Awards?
Looking at the winners of the 63rd National Film Awards, one could mistakenly think that only mainstream cinema is readily recognised but it isn't so.
By Gautam Chintamani
One of the instantaneous, and perhaps even anticipated, reactions to the announcement of the winners of the 63rd National Film Awards was that it'd have been too much to expect a Ramesh Sippy-led jury to look beyond popular Hindi cinema. Considering that films like Piku, Tanu Weds Manu Returns, and Bajirao Mastani picked up 10 major awards amongst themselves, this would have been an expected response. In the past, more often than not, whenever Hindi, or specifically popular variety or 'Bollywood', swept off the top honours it has had a similar effect but unlike the previous few instances when nothing could explain a Saif Ali Khan walking away with the Best Actor citation for Hum Tum even when there was a Shah Rukh Khan with a Swades in the fray, this time around few can question the winners. Of course, as with every single award, one can argue the choice of the winner in a few categories.
One of the reasons for people reacting in a particular manner when commercial Hindi box-office hits end up winning big at the National Awards is that it, in all probability, is one of the few remaining platforms offering nationwide recognition for regional language films. Moreover, a National Award transforms the prospects of regional films, especially smaller or lesser-known ones by providing a shot at getting an audience and even transforms the commercial feasibility. Intriguingly enough, there is another side to the entire argument — should popularity or commercial success of a mainstream film stand in the way of a National Award? There can be little doubt in the jury's decision to confer Kangana Ranaut with the Best Actress award for her double-role in Tanu Weds Manu Returns or a Juhi Chaturvedi and a Himanshu Sharma being jointly lauded for their writing in Piku and Tanu Weds Manu Returns respectively and so, therefore, it would have been unjust to let the commercial aspect of these films undermine the craft of the individuals.
While a jury chairperson holds some weight, in the end, most jury decisions are based on consensus. Although every jury decision can't be ideal by being unanimous, it still ends up being a conclusion that majority agree to. Looking at the list of the winners across most categories, especially the technical awards, one can see how the jury went for something that was obvious. Both Tanu Weds Manu Returns and Piku were hailed as the writer's triumph and despite actors across both films enjoying positive reviews, it were the writers who walked away with most of the glory. In that sense, the jury's decision then to acknowledge both Chaturvedi and Sharma isn't inconspicuous. Similarly, Bajrangi Bhaijaan evoked the same reaction from across the country and, therefore, it's hardly surprising that it was adjudged the Best Popular Film Providing Wholesome Entertainment.
Film juries don't exist in a vacuum and at times seem to give in to the general reactions or the wave created by some films. Take for instance Bajirao Mastani. The film's near checklist-like production design where terms such as 'grand' and 'opulent' appear to be the only operative conditions, seemed to be reasons good enough to be awarded for cinematography (Sudeep Chatterjee), choreography (Remo D'Souza) and production design (Saloni Dhatrak, Sriram Iyengar, Sujeet Sawant).
For this writer, there is nothing extraordinary in D'Souza's vision while executing Pinga and Deewani Mastani, two songs that fetched the award for Best Choreography. The energy in Pinga, an imagined situation where the two wives of Peshwa Bajirao (Ranveer Singh), namely Kashibai (Priyanka Chopra) and Mastani (Deepika Padukone) prance around, is almost both a visual as well as conceptual reprisal of director Sanjay Leela Bhansali's previous Dola re dola number from Devdas where his notional flight of fancy got both Chandramukhi (Madhuri Dixit) and Paro (Aishwarya Rai) together. In contrast, director Bala's Thaarai Thappattai used choreography within songs and music interludes to show characters not only develop but also transform. The film depicts the plight of folk singers using the lives and times of a nadaswaram expert Sannasi (M Sasikumar) and his father Saamipulavan (GM Kumar) and its Best Background Score (Ilaiyaraaja) win notwithstanding, it's a pity that the choreography went unnoticed. By the same token, this writer feels that Bajirao Mastani's production design, too, could have been judged in isolation wherein by themselves the grand sets look breathtaking but at many places end up overburdening the narrative. Even though one could still substantiate these choices, the jury's decision to honour Bhansali as the Best Director is tricky. Bhansali's inimitable stamp is all over the film and agreed, that if one were to take him out, there would be very few things that could make Bajirao Mastani stand on its own but when seen next to the Malayalam film Pathemari or the Tamil feature Visaranai, the choice of Best Director seems shaky.
In retrospect, every jury seems to send out a subtle message about the context in which the nominations are viewed. Looking at the winners of the 63rd National Awards, one could be mistaken to think that somewhere, as always, it's only the mainstream cinema that is readily recognised but this isn't the case. The line dividing mainstream and others is getting finer and this can be seen from the manner in which young filmmakers in not only Hindi but also regional languages such as Marathi and Tamil are pushing the envelope. A Masaan (Best Debut Director) or a Dum Laga ke Haisha (Best Hindi Film, Best Lyrics), a Ringan (Best Marathi Film) and a Visaranai (Best Tamil Film, Best Editing, Best Supporting Actor) are as lauded as a Baahubali. With the first three of the four films mentioned directed by first-time filmmakers, it wouldn't be surprising if the slipstream is soon mistaken for the mainstream. Once the dust settles, the fact that there were 72 first-time filmmakers in the reckoning this year would leave us with the warm feeling that mainstream or what have you, Indian cinema is headed for good times.
The author was a part of the three-member jury for this year's National Award for Best Writing for Cinema. He is on Twitter as @gchintamani
Entertainment
Amitabh Bachchan said that the first tranche of 50 oxygen concentrators will arrive at Gurdwara Rakab Ganj in New Delhi on Monday.
Entertainment
Amitabh Bachchan, who had taken the first jab last month, received the second dose of COVID-19 on Saturday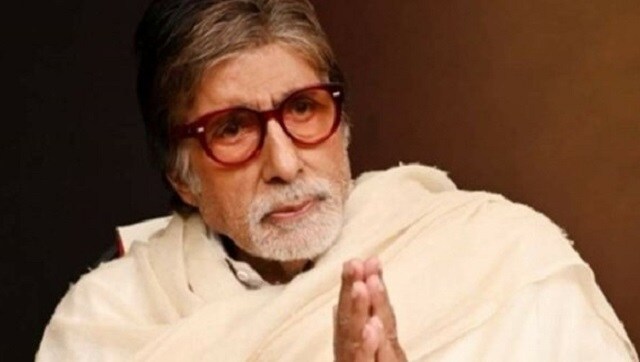 Entertainment
Amitabh Bachchan said he was not trumpeting his wares by mentioning his philanthropic work and would not hesitate to contribute more if the need arises