My favourite bimbo: Why America loves brain-dead Bollywood
Here's why we should not be celebrating the inclusion of Devdas in Time magazine's list of top ten movies since 2000. The message: Sure the acting is mediocre, the plot hackneyed, but who cares as long as it looks pretty.
For reasons best known to its editors, Time magazine decided to make a list of the ten best movies of the millenium thus far. The publication offers no reason for this whimsical decision, but no one's complaining, including the Indian media which has tomtomed the inclusion of our very own Devdas at number 8. What's not to like about a Bollywood movie keeping the prestigious company of the likes of Avatar, Lord of the Rings, and Crouching Tiger, Hidden Dragon.
The list has its share of bizarre omissions – no room here for Memento, No Country for Old Men – but the choice of Sanjay Leela Bhansali's magnum opus as the sole Indian movie is entirely predictable. Devdas has all the elements that have made Bollywood a favourite with international critics, especially of the American kind.
"Devdas is a visual ravishment, with sumptuous sets, fabulous frocks and beautiful people to fill them; it has a grandeur the old Hollywood moguls would have loved," raves Time critic Richard Corliss, "The piece is played with such commitment that the tritest plot twists seem worth believing — and dancing to, in nine nifty production numbers."
Sure the acting is mediocre, the plot is hackneyed, but who cares when it looks so pretty with those adorable dance routines. Tho thweet, yaar! Our movies are newly beloved precisely because they are seen not as great cinema but as a cultural experience of the wild, wild East. Bye bye, poverty porn; hello, exotic travel porn.
In the past – and much to our collective irritation – the only Indian cinema that earned any respect in the US was of the serious kind. Movie critics would swoon over the likes of Satyajit Ray, while disdaining our mainstream movies as over-the-top escapist trash. Finally, commercial Hindi movies are getting the respect they deserve...
Well, 'respect' may be the wrong word. Bollywood is now the official bimbo of the international film scene. No one cares what our movies say as long as they look good and offer mindless fun. In fact, that's our designated job according the kitsch-is-cool pose adopted by American critics. Cartoonish characters, absurd plotlines and bad dialogue? Thank you, that's exactly what we ordered, with a giant serving of exotic locales, dance numbers, and costumes, please!
Writing in the New American Media back in 2009, my colleague Sandip Roy pinpoints his discomfortwith this love affair at a theatre in San Francisco:
Even as we laughed and rolled our eyes at the excess of it all, we stiffened when we heard the blonde woman behind us sniggering.

I was thrilled that this candy-color, emotionally charged melodrama was leaping across cultures and entertaining a diverse audience.

But the nagging doubt remains – what really does cross over?... Bollywood is so visually overpowering, so defiant of logic in its Technicolor splendor, that it's just too easy to get caught up in the spoofiness of it all.

On-screen, Shah Rukh Khan's face is quivering with emotion. The blonde woman behind me is chuckling at everything: the painful buffoonery of the comic relief, the little kid with the stagy lines, the syrupy romantic scenes where thundershowers and shooting stars appear on cue. The camp crosses over. The heart stays behind, lost in the subtitles.
In American eyes, Bollywood becomes the cinematic equivalent of going to the circus. Bring on the clowns, the jugglers, the crazy acrobatics – and you get a pass on the stuff that real movies are judged on. And so it is that Ra.One which is almost universally panned by Indian critics for its clunky acting and weak plot gets rave reviews in the United States.
"Anubhav Sinha's exhilarating fantasy Ra.One is Bollywood at its best [emphases added]," raves the Los Angeles Times. Ra.One, in other words, is the best of what Bollywood represents to the American mind. Rachel Saltzcalls it "a kind of entertainment machine set to dazzle," and concludes:
But if the storytelling disappoints (shocking!), the film mostly doesn't. It relies on action and effects and Bollywood's trump card, star power, to carry the day. This is Mr. Khan's movie, and once he sheds Shekhar's droopy locks, he shines as the deadpan, action-hero robot with digital snot and smooth moves on the dance floor.
Saltz, in fact, expects Ra.One to have a crappy script and performances because they are part of the signature Bollywood style. Indian cinema suffers from what George Bush once described as "the soft bigotry of low expectations." And it's all the more amusing that the very same Saltz shrugs off Peepli Live with a dour, very short review because the "script runs out of juice." Script becomes a problem because Rizvi failed to offer Saltz what she wants, nay expects, from her Bollywood flick: SRK and Kareena shimmying to Chamak Challo.
And where Devdas gets kudos for evoking old Hollywood grandeur, Peepli is knocked by Movieline for mirroring themes of more weighty American movies like Meet John Doe:
I suspect that Peepli Live will have more success with its Indian viewership, mainly because I imagine they are less familiar with the mode of social satire... And while the setting and the specifics are different here, the approach feels worn out... I just wish what she had to tell us about the India of today might have taken a form less distractingly reminiscent of the American classics of yesteryear.
The underlying message is that "serious" cinema is best left to those who know how – in Hollywood, France, even Iran. Our job on the international cinema stage is simple: look pretty and play dumb, kinda like Pamela Anderson.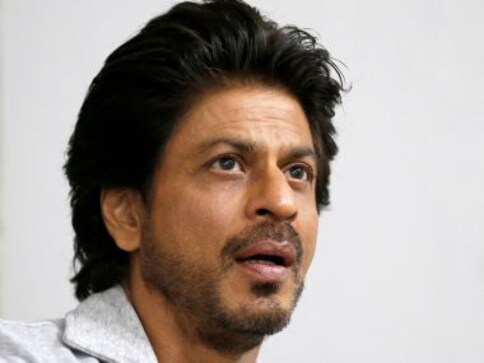 Entertainment
Shah Rukh said despite facing trouble, creative people are not scared of anything but they do worry about the audience's safety.
Entertainment
The lavani number 'Pinga' makes you wonder about Bajirao Mastani's story.
Entertainment
Salman Khan has denied these rumours, but said that he would be open to working with Sanjay Leela Bhansali in the future.