Movie review: SRK's Chennai Express is Rohit Shetty's tribute to DDLJ
Padukone is actually quite good and far more consistent than Khan as an actor in Chennai Express. The pair have great chemistry and there are a few old-school Bollywood moments that work.
By Suprateek Chatterjee
At some point during the third act of Chennai Express, the latest sure-to-be-a-moneyspinner from director Rohit 'Midas touch' Shetty, it becomes painfully apparent that part of the film is a tribute to Dilwale Dulhaniya Le Jayenge, as re-imagined by Shetty. As you sit through the climax, which features Shah Rukh Khan getting beaten to a pulp by Parmeet Set—oops, I mean Nikitin Dheer (who plays love-interest rival Tangaballi), you're already drawing parallels to DDLJ's iconic final scene. Props for nostalgia value.
And then, the movie ends. The final words of Khan's narrative voice-over are: "Kyunki dilwale dulhaniya le jaayenge." Groan. Captain Obvious called, he says hello.
This is Shetty's mission statement – to make sure that if there are two people in a theatre of 300 who didn't get the joke/reference/pun he's been hammering in, he's going to make damn sure those two don't go home confused. It's almost like he's paraphrasing a line from Paresh Rawal's character in Andaaz Apna Apna and telling the audience: "Director main hoon, joke idhar hai."
Every director belonging to the mainstream Bollywood brat-pack does this, of course, but it drives me especially nuts when Shetty follows suit. Because the guy really knows his craft, from a commercial cinema point of view. He knows his set pieces. He knows how to use a sweeping helicopter shot to make a moment seem grand and then follow it with a jerky, handheld shot so that it still seems gritty (so what if he's taken a leaf out of Michael Bay's book). He knows how to add a touch of quirkiness to everything. He's good at being irreverent and taking pot-shots, especially at himself.
He just doesn't know when to stop.
Chennai Express starts off on an agreeable note, with Khan (you know he's called Rahul) narrating the back-story of his character: a 40-year-old man-child who handles his family's mithai business. Orphaned at a young age, he has been brought up mostly by a doting, cricket-loving grandfather (a delightful cameo by the venerable Lekh Tandon). When Dadaji suddenly passes away, Khan must go to Rameswaram in Tamil Nadu (this is important because Shetty proceeds to treat all of South India as a single geographical entity) to scatter his ashes.
Along the way, he meets Meenamma (Deepika Padukone), who is the South Indian everywoman – basically, an attractive, doe-eyed version of Bhavana Balsaver's character from Zabaan Sambhal Ke. She's the daughter of a don and running away from home to escape an arranged marriage.
To be fair, the first act is tolerable and at times even enjoyable, especially if you go in with rock-bottom expectations (as I did). It has a whimsical, John Hughes-like quality to it; reminiscent of early '90s Hollywood comedies like Home Alone and Mrs Doubtfire – cheesy, but tolerably so. Khan hams, but every now and then he ad-libs and deadpans successfully. I found myself laughing out loud more than a couple of times, albeit with palm planted firmly on face. Padukone is actually quite good and far more consistent than Khan as an actor in Chennai Express. The pair have great chemistry and there are a few old-school Bollywood moments that work.
But trust good ol' Bollywood excess and relentless North-Indian-centric stereotyping to ruin the party – although, if it's any consolation, it could have been much worse. Since the material is slight and familiar, the story essentially ends up limping from gag to gag. Predictably enough, Chennai Express starts going off the rails around the one-hour mark and, towards the end, sputters and dies like Archie Andrews's jalopy.
Shetty, of course, takes care to pull entire sequences out of his tried-and-tested bag of tricks (it's a telling sign when the audience applauds at the first sign of a car turning turtle in slow motion) and saves the day every now and then. But all the shock and awe in the world can't hide the fact that he is running out of ideas.
Suprateek Chatterjee is editor of Visual Disobedience, a community for emerging indie artists, and a freelance writer. In his spare time, he likes to compose music with his electro-rock band Vega Massive and his Twitter handle is @SupraMario.
Entertainment
Monster might be a courtroom drama, but the film eschews legal jugglery and dramatic twists in favour of an audio-visual approach
Entertainment
Tom Clancy's Without Remorse does the bare minimum to stand out in an already cluttered genre of rogue spies seeking vengeance.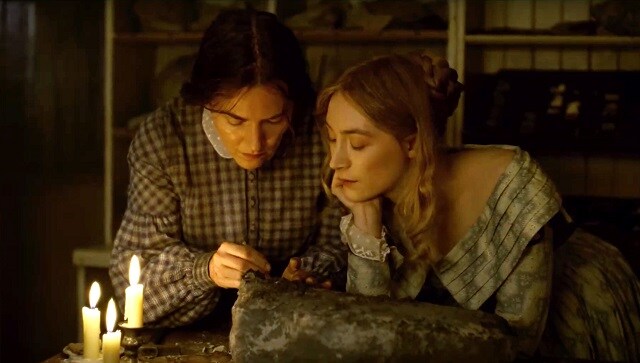 Entertainment
Ammonite suffers from a slowness, that intends to mimic the pace of life, but does not build or culminate into anything profound or satisfying.