Movie Review: Spot the heroines in Heroine contest!
Madhur Bhandarkar's research and writing of his characters falters and this contemporary Bollywood heroine's life is just dull and contrived with clichés regurgitated to further a weak screenplay.
First things first – Aishwarya Rai-Bachchan didn't lose anything, and I say that emphatically, by not doing Heroine. It's no masterpiece! The film is nothing but a blend of entertainment news stories that hit headlines in the last five years that form the character of its lead protagonist, Mahi Arora, essayed by Kareena Kapoor.
So, it's more of a "spot which heroine it is" sort of game as you watch the film. You will be reminded of Katrina Kaif, Shilpa Shetty, Sushmita Sen, Preity Zinta, Kangana Ranaut, John Abraham and Bipasha Basu's romance and many such bits and pieces of many other actors' personal and professional lives in the film.
Director Madhur Bhandarkar did miss out on caricaturing his leading lady's personal life, which has been rife with publicity ever since she started dating Saif Ali Khan back in 2007. He's slipped it in, in flashes though, and not necessarily about their coupling, but their individual entities.
In Heroine, our heroine loves a superstar actor, Aryan Khanna (Arjun Rampal) who is married and has a young son, but plans to divorce his wife Isha soon. Not because of Mahi though – as is ably emphasised in the screenplay just in case you thought Mahi was a home wrecker. Mahi likes to drink and pop pills when she's not busy filming or being insecure about her lover's "bold" scenes with other actresses, her arch rivals in the game – Gayatri Reddy, Shaheen Khan and Rhea (Mugdha Godse).
She also likes to get personal with journalists and screams at press conferences, which is highly improbable in the real Bollywood scenario. She is beautiful, rich and successful, but always seems to be full of angst – the reason for which is possibly attributed by a loose dialogue thread linking the crazy persona to her broken home childhood. This thin line seems to suffice for the writers and the director. She is either perpetually depressed or complacent, and her character has no real reason for behaving the way she does, in most parts of the film.
As far as the glamourous sketch of Mahi is concerned, she could be just about any working girl in contemporary India, not just a heroine. She is dating a married man, is insecure about his commitment and marriage plans, likes to drink and party hard, is independent and is living the single, successful life rife with rivalry on the work front.
The notion that only heroines indulge in such lifestyle patterns is balderdash and that's what makes the film a drag. Every profession has its sordid dramas, not just the world of films. There is nothing that separates Mahi's glamourous life, and sometimes not so, as Madhur likes to portray it, from the average, urban working girl. Sure, not all girls date married men, but that's about the only difference given all the successful male stars in Bollywood are married with families and rumours of them with their younger heroines seem to fan the flames of extramarital affairs every other month, giving rise to the generalisation of the same.
Mahi's mercurial personality gives way when she empties a glass of wine on Isha Khanna's head at a party Aryan had requested her not to attend. Things get to a head and they break up – naturally. Mahi's career seems to be swaying from its position at the top, with newer actresses mushrooming very month, and she seems to lose all control in her life.
That's when an Eureka moment happens – she hires a publicist, Pallavi (Divya Dutta), who plants stories in tabloids and serenades the press, and gets Mahi back in the running, with ads, magazine covers, but no films. That part is left to her able, white safari suit-clad manager, Rashid Bhai (Govind Namdeo) who, for some inexplicable reason, is very devoted to his crazy client. In her new improved avatar, she meets cricketer Angad Paul (Randeep Hooda) who is clean bowled by her and they embark on something special after the debacle of the volatile Aryan episode.
Then the film turns on Mahi wanting to become an actress, not satisfied with her empty star status doing commerical films. So, enter Bengali filmmaker Tapan (Ranvir Shorey) who is making Tarannum Jaan, a socially explicit film on the life of a prostitute. This track is quite reminiscent of Kareena's portrayal of a prostitute in Chameli  (2004), especially the costumes and the look. A direct inference to her Bollywood persona, off the Heroine sets.
Whilst she is being admonished by the National Award winning director on her inability to feel the character Tarannum, Mahi is helped by her co-star Promita (Shahana Goswani) who helps her hone her skills by taking her to a brothel. What happens afterward is a drunken night between two girls, one of whom claims later not to be a lesbian. It isn't interesting at all and adds nothing to the story whatsoever, just a bit of cheap titillation at best.
The film then meanders into Mahi doing crazier things in her personal life and replaying the first few reels of her persona on film all over again, not to mention wanting to adopt a baby too. She can barely handle her own life at this juncture in the film, let alone that of an infants'. She falls low in the business rankings and stoops to unimaginable levels to garner publicity, ousting other actresses from film roles and outing their real ages. Sure, Paris Hilton and Kim Kardashian made a multi-billion dollar business out of their "leaked" sex tapes and are still raking it in, but a contemporary Hindi film heroine? They're not talking about their boyfriends openly yet, let alone their sex lives!
Kareena Kapoor looks stunning in every Manish Malhotra outfit as Mahi Arora and performs her part extremely well - as well as the askew screenplay and her mercurial character graph would let her. Is it her best performance? No. She's expected to act well and that's what she does in the film. Randeep Hooda is brilliant as Angad and Arjun Rampal looks great and does his job well too as the superstar. But Ranvir Shorey is simply outstanding as the Bengali filmmaker! He is a delight to watch. Sanjay Suri as reigning superstar Abbas Khan is not believable, but works somehow. Mugdha Godse, a staple in Madhur's films, gives us a gem, spouting "Oh Shits!" on the phone! Yes, plural!
The only thing I noticed in the Halkat Jawani song was that Kareena's tiny waist was smattered with thick lashings of foundation way darker than her natural skin tone.
Madhur's research and writing of his characters falters and this contemporary Bollywood heroine's life is just dull and contrived with clichés regurgitated to further a weak screenplay. Heroine does not draw you into its make-believe glamorous world, and leaves you wanting none of it!
Rating: **
Find latest and upcoming tech gadgets online on Tech2 Gadgets. Get technology news, gadgets reviews & ratings. Popular gadgets including laptop, tablet and mobile specifications, features, prices, comparison.
Entertainment
Netflix anthology Social Distance speaks of hope and humanity at a time when the world faces a global threat, both medically and socially.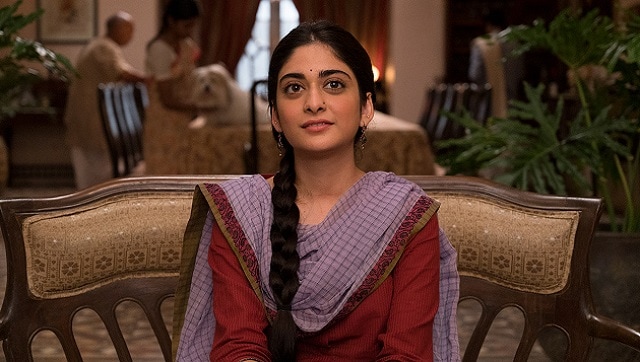 Entertainment
Vikram Seth's 1993 book was both evocative and transportive. But Mira Nair's BBC adaptation gets only half the job done.
Entertainment
The third season of My Next Guest Needs No Introduction with David Letterman features reality TV star and businesswoman Kim Kardashian West, actor Robert Downey Jr, musician Lizzo, and comedian Dave Chappelle.