Movie Review: Good girls, wake up and smell the Aiyyaa
Lust-at-first-sight is not an emotion that has usually not been allowed to the Hindi movie heroine, and Aiyyaa's unapologetic embrace of female sensual fantasies is heartwarming but marred by tedious repetitive execution.
Aiyyaa is an ambitious film. Director Sachin Kundalkar self-consciously attempts a sensual magic realism, a half-dream, half-reality world with a film-crazed heroine at its centre. When we first see Rani Mukherjee's Meenaxi, she is wearing a white and blue dress of a certain vintage and large sunglasses with white frames, and dancing to a Vividh Bharti prastuti which is somehow not just one song but a medley of 80s greatest hits. Tejaab! Mera Balma! Mr. India! Qayamat Se Qayamat Tak! says the announcer, following up with "Sridevi, Madhuri aur Juhi, kabhi aise toh kabhi yunhi", a line delivered in a deadpan radio voice that somehow also manages to contain the barest hint of lascivious enjoyment.
Then Rani's fretful dream is interrupted by the arrival of two stinking garbage trucks, and we supposedly wake with her into reality.
But it turns out reality is a Vividh Bharti prastuti, too. Now it is her goggle-eyed younger brother Nana reading out a matrimonial ad put out for Meenaxi by her adoring if slightly nutty Aai: "Brahman parivaar ki ladki, umra 22 sharmeeli (shayad mawaali likhna tha!)", and a crazed grandmother zooming around the house on a wheelchair. And soon enough the deadpan All India Radio voice is back, announcing an "Ashleel Geetmala" ("Obscene Song Programme") whose first offering of the day is Emosanal Atyachar requested by "Pune se Nana Deshpande aur unke chaar kutte"…
There's a fair amount of oddball cleverness here, what with Emosanal Atyachar being the biggest song from Dev D, which was directed by Anurag Kashyap whose AKFPL is a co-producer for Aiyyaa, and then the radio reference to Nana's "ati-uttejit mataji aur ati-visarjit pitaji" —ati-visarjit translates to "deeply immersed", and the father happens to be called Ganesh—a god immersed literally, in water, every year. Or the voiceover that tells us that the grandmother's shiny gold teeth have been set aside for Meenaxi to inherit.
But it takes very little for oddball cleverness to teeter over into madness. It begins early, when Meenaxi gets herself a job as a librarian in a beautiful old Pune art institute, sharing her gorgeous wood-panelled "office ambience" with a crazed, buck-toothed, hot pants-and-leather-boots-clad character called Maina.
The nasal-voiced, oversexed, John-Abraham-obsessed Maina is bizarrely over-the-top – so much so that I spent a long time telling myself that she was meant to be a figment of Meenaxi's fevered imagination: the suppressed sexuality of the good Brahmin girl emerging into the film's dreamworld in this grotesque person form. But unfortunately the film refuses to indulge its fantasy all the way through (as you will see when you get to the end and discover that Maina must, sadly, be understood to be as human as Meenaxi).
And then there's the film central premise: Meenaxi's obsession with the arrogantly good-looking, deliberately scruffy art student Suriya (Prithviraj). Lust-at-first-sight is not an emotion that has hitherto been allowed to the Hindi movie heroine, and Aiyyaa's unapologetic embrace of female sensual (rather than exactly sexual) fantasies is heartwarming. Rani as Meenaxi, torn between the reality of the practical but humdrum "husband material" Madhav, and the dreamworld represented by the attractive but impossible Suriya—red-eyed, taciturn and South Indian to boot—perfectly embodies a certain kind of everywoman whose troubles are not new, but whose secret fantasies have not been allowed onto our screens before.
But this idea, that could have provided fun and frisson in equal measure, is killed by tedious, repetitive execution. It's enjoyable the first time we see Meenaxi close her eyes and inhale blissfully when the majestically unseeing Suriya passes her by, leaving behind a cloud of apparently heavenly body odour. It's sort of entertaining the second time, perhaps even the third time – but when it gets to be pretty much all she ever does, whether in a song-haze which is supposed to gesture to dream-time, or in ostensibly real-world-time, it gets a bit much.
The sensory overload is unrelenting and incoherent – filmi dreams that don't connect up in any way with Meenaxi's daytime behaviour, blue paint thrown on canvas and  dissolving into constantly into water, a series of 'fantasy' song sequences stitched together by overacted 'humour'. And the drug-acquiring interlude – with the brother and sister arriving under a flyover inexplicably in their nightclothes, apparently set off by Meenaxi's belief that her man's fragrance might be caused by his consumption of an expensive narcotic substance – takes the film's magic realist ambitions into desperately unmagical terrain.
There is still much here that is interesting and artful. Rani Mukherjee does over-the-top more believably than almost any other contemporary Hindi film actress, and she succeeds in making Meenaxi both enjoyably fantastic and attractively real. No film has probably ever captured with as much humour-pathos as Aiyyaa the unintentional but unremitting rushing of the lower-middle-class Indian girl into marriage—"Sagai ke baare mein tum sagaai ke baad sochna," says Meenaxi's mother in complete seriousness—or admitted that the same girl's object of fantasy, even when it is the forbidden flesh of the "dark" South Indian, exists eventually within the framework of marriage.
But it's not at all clear that the grandmother's fantasies of flight transferred onto her granddaughter—"Hawa mein tairti plastic ki khali thaili hai Meenaxi! Ud gayi!"—are consistent with any of this. I understand that there is dream and there is reality, and sometimes one is the other. But the trouble with Aiyyaa is that it doesn't know when to wake up.
Entertainment
Hum Bhi Akele Tum Bhi Akele has some freshness, but its the mawkish climax that rids the story of any realism
Entertainment
Tom Clancy's Without Remorse does the bare minimum to stand out in an already cluttered genre of rogue spies seeking vengeance.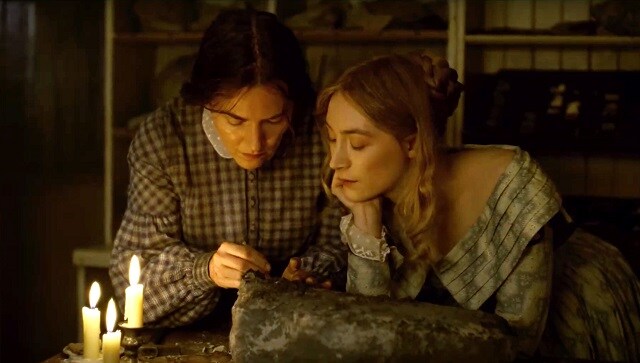 Entertainment
Ammonite suffers from a slowness, that intends to mimic the pace of life, but does not build or culminate into anything profound or satisfying.