Maggi case: The government should leave brand ambassadors alone
If there are failures and transgressions in manufacturing norms, advertising and brand ambassadors have nothing to do with it.
"Any brand ambassador or celebrity endorsing products or services is liable for action if an advertisement is found misleading, the government said on Monday. It said celebrities like Bollywood star Madhuri Dixit and Preity Zinta are legally responsible, if the advertisements for the popular Maggi noodles were found to be misleading consumers. According to the Food Standards and Safety Authority of India (FSSAI) Act, anyone who is a party to a misleading advertisement or its publication can be fined up to Rs 10 lakh. The proposed amendments to the Consumer Protection Act also has provisions to issue direction for discontinuation of such advertisements and even reporting such violations to police or any other law enforcing agency for criminal prosecution," says a report in the Times of India.
(Nestle has issued statements denying the charges.)
The government statement on the action that could be taken against brand ambassadors makes for an interesting debate. Under the FSSAI Act, brand ambassadors can be fined up to Rs. 10 lakh if he or she is party to a misleading advertisement. The statement speaks of some proposed amendments which we can ignore for the moment.
The amount of the FSSAI fine is ridiculous and is hardly a deterrent, considering brand endorsement deals run into crores; the more important issue is whether the brand ambassador should be held responsible – and who else should be?
Should the advertising agency (and all who worked on the campaign), the film production house, every single employee of the offending company – or all those who worked on any ad which is 'found misleading' be held liable?
What we are seeing in the current Maggi issue is NOT one of misleading communication. If the communication were to be thought to be misleading, it would be an issue for discussion by the Advertising Standards Council of India.
The current issue revolves around allegations of a banned substance (MSG) being found present in the product and excess levels of another substance (lead) being found as well. That's got nothing to do with advertising or the brand ambassador. That's for the FSSAI to deal with – and that's a production issue. The FSSAI can take up the issue with all those involved with the manufacture of the product.
Advertising agencies and brand ambassadors come into play only AFTER a product is cleared by whatever authority. If Maggi is cleared to be sold by FSSAI, or a public issue ad cleared by SEBI or a political ad cleared by the Election Commission, that's all that ad agencies and brand ambassadors are concerned with.
In the current case, if, indeed, MSG and excess lead are found, it is the government authorities charged with oversight of adherence to FSSAI rules and norms who should be held responsible.
Advertising agencies and brand ambassadors do not promote – ever – an illegal product. Every product or service that is promoted is legitamised by one or more government agencies. There are laws governing the advertising of some products (such as alcohol and tobacco products) and guidelines for all others (from ASCI). If there are failures and transgressions in manufacturing norms, advertising and brand ambassadors have nothing to do with it.
Entertainment
Celebrities including Deepika Padukone, Ranveer Singh, Amitabh Bachchan along with his family, Kiara Advani, Janhvi Kapoor, Kangana Ranaut, Allu Arjun, Kartik Aaryan, Karan Johar, among others shared videos of themselves as they clanged 'thalis'
Entertainment
With stars from Sienna Miller, Colin Firth, Amitabh Bachchan to Priyanka Chopra IIFA has done proud to make a difference and continue to thrive doing so in advocating that we can all make a difference to our home, our world.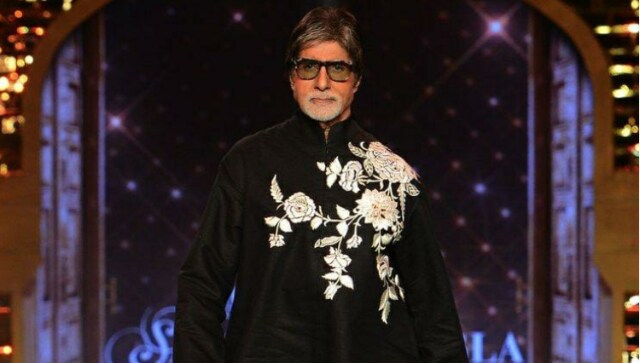 Entertainment
Big B is presently recovering from his rib cage injury that he sustained on the sets of Project K.