Loveshhuda review: This forced, cringe-inducing 'rom-com' will put you off love forever
Girish Taurani tries hard to be Mumbai's Justin Timberlake in Loveshhuda. Instead he ends up being the poor man's Ayushman Khurrana
We should have been warned. Any film which subverts a classic song like Aaj phir jeene ki tamannah hai (from Vijay Anand's Guide) into an alcoholic anthem , couldn't be up to any good.
Sure enough, Loveshhuda is more about booze than love. With Prohibition around the corner in Bihar, this exasperating mimicry of filmmaking may do well in that state. The leading man and his friends, all of whom need serious tips on tackling tipsiness without tipping over, are constantly binge-ing and boozing and supposedly having fun.
But their revelry leaves us tragically unmoved. It's like watching rowdies heckling passersby at the traffic signal. Fun only for those who believe in that sort of a thing. But sorry, most of us watching a bunch of overgrown brats singing Aaj phir peene ki tamannah hai is nobody's idea of fun. It's more a painful reminder of what levels of mediocrity have been reached in the name of mainstream entertainment.
The rom-com in Bollywood has been in serious trouble. It's used misused and abused to generate bootleg resources for untalented newcomers who think acting is about wearing the coolest denims with matching aviators, and mastering lip-locks on scenic hill-stops with starlets in dresses so short they threaten to qualify as borderline lingerie.
Loveshudda which stars Girish Taurani as a guy who wakes up in bed with a girl he has never met (and no, she is not his yoga instructor), touches new depths of nullity in the rom-com genre. It disambiguates the genre to the extent that it doesn't seem to care whether its basic moral tenets makes any sense or not. So our hero Grirish (Taurani) jumps out of bed with the stranger (a female), gets married to the 'wrong' girl, and ends up a slobbering bitter mess.
There is a lot of music, colour and simulated chuckles in the proceedings. This is all supposed to be wildly tongue-in-cheek and naughty, but it ends up being a sitcom without the comfort of commercial breaks in-between the gags. Taurani seems constantly bewildered by what women want of him. Kartik Aaryan in Pyar Ka Punchnaama did a better job of cloaking misogyny in irony.
Debutant director Vaibhav Mishra has an eye for vibrant frames. The colour palate in the songs and the (never-ending) club/party sequences is far more interesting than the actors who occupy the attractive sets and locations. There is no dearth of good-looking locations, girls, cars and accessories in Loveshhuda.
No expense has been spared to ensure that Girish Tairani post-debut vehicle catches the audiences' fancy. But flaunting urban affluence and trying to write dialogues which try hard to sound like the metro-youngsters internet babble gives this film an embarrassing aspirational aura.
It's all about wanting to be cool. Girish Taurani tries hard to be Mumbai's Justin Timberlake. Instead he ends up being the poor man's Ayushman Khurrana with very little of Khurrana's control over the lines and scenes. Taurani's co-star Navneet Kaur Dhillon is lovely in a leggy way (by which I mean she lets her legs do all the talking).
As you watch this slush of a rom-com only one thought keeps coming to mind. Would someone please slash the slosh?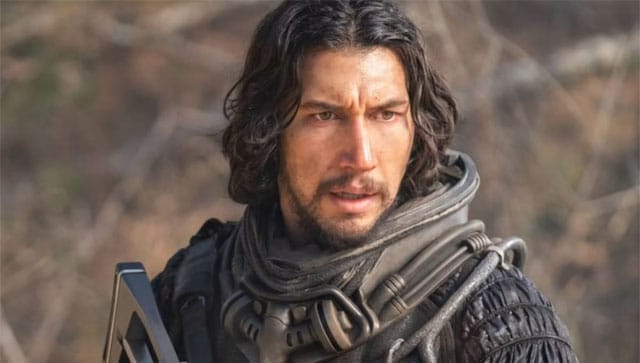 Entertainment
Writers and directors Scott Beck and Bryan Woods present a story about survival, and design it with style with their new film 65.
Entertainment
The latest of Scream makes the slasher franchise bloodier, gorier and brighter.
Entertainment
After the Pyaar Ka Punchnama franchise and Sonu Ke Titu Ki Sweety, Luv Ranjan ticks all the right boxes again with Ranbir Kapoor and Shraddha Kapoor's Tu Jhoothi Main Makkaar.