Lipstick Under My Burkha director thrilled at FCAT clearance; aims for Golden Globes
Lipstick Under My Burkha director Alankrita Shrivastava says that she will 'live with' the changes the FCAT has suggested.
Director Alankrita Shrivastava says that she is happy the Film Certification Appellate Tribunal's (FCAT) directed the Central Board of Film Certification (CBFC) to give Lipstick Under My Burkha an 'A' certificate.
The Board had earlier denied the film certification on the grounds that "lady oriented film" and had "sexual scenes, abusive words". Shrivastava said that she was happy the tribunal understood the intent of the film and did not question the very basis of why women should have desires.
"They didn't ask me to remove any scenes. They have just asked us to reduce a few seconds here and there," says Shrivastava, who is against making any kind of change to her films, but says she can live with the changes suggested by FCAT.
She called the FCAT reasonable, especially considering that the film was unable to get certified for so long. The FCAT said that the intimate scenes and abusive language was integral to Lipstick Under My Burkha's story line.
Shrivastava and her team are now trying to zero in on a date for the release of the film in India. The film opens the New York Indian Film Festival this year, and it was also screened at the Indian Film Festival of Los Angeles in April. This made it eligible to compete at the Golden Globe Awards, which the director said is the team's next focus.
Lipstick Under My Burkha stars Konkona Sen Sharma, Ratna Pathak Shah, Aahana Kumra and Plabita Borthakur, and is produced by Prakash Jha, who filed an appeal in the FCAT requesting certification.
Entertainment
The film has been sent to The Tribunal to contest the CBFC's claim that Lipstick Under My Burkha is too 'lady oriented' and therefore cannot be released. The verdict is expected today.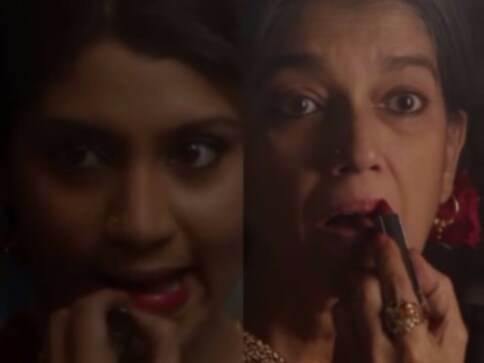 Bollywood
FIlms like Lipstick Under my Burkha, The Lunchbox and Queen could point to a deeper malaise in the publicly held notion of the 'independent woman'.
Entertainment
The Film Certification Appellate Tribunal (FCAT) has directed the CBFC to grant an 'A' certificate to Lipstick Under My Burkha, which was denied a certificate for its sexual content earlier this year.