Kyaa Kool Hain Hum 3 review: 'Censored' dialogues make this a porn com without the comedy
The Censor Board has spoilt most of the horny fun of Kyaa Kool Hain Hum 3; it's quite like watching a soap opera without the lather.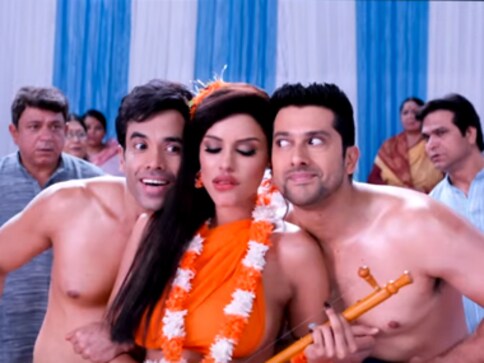 (Warning: Some of the content of this review is not suitable for juveniles including those who put together this….errrr, sexy phillum)
I have to confess I was shy of seeing Kyaa Kool Hain Hum 3, for the same reason that Ranbir Kapoor opted out of doing Delhi Belly. What would people say if they saw me watching this…this…thing about bouncing busts and phallic gestures?
It was my wife who reminded me of my duties. "You can't shy away from seeing a film just because it is advertised by its makers as a porn-com. Think of how inventive they are, to have come up with an entirely new genre. You can't pre-judge their efforts. You must see what they have done."
For once I am glad I listened to my wife.
Kyaa Kool Hain Hum 3 (henceforth referred to as Porn Com 3) proved to be such an educational experience for me! I came away with facts and….umm… figures that my mind had never calculated, let alone experienced. There were bouncing breasts and penis references and allusions all across the two-hour film. In fact this…errr.. phillum opened with Aftab Shivdasani playing Rocky. He wakes up with what looks like a massive erection under the sheets. Rocky then climbs down six to seven floors (I stopped counting after four) and each floor has a woman waiting in bed for him.
Lucky guy, I thought. Here we are, ordinary mortals with barely a roof over our heads and one partner in bed. Having made us sufficiently jealous, the clever script (written by Mushtaq Sheikh whom I know as Shah Rukh Khan's khaas dost and biographer; hope SRK enjoys Mushtaq's scream-play as much as I did) now introduces us to the film's second hero Kanhaiya, played by the producer's brother Tusshar Kapoor.
That he is related to the producer Ekta Kapoor is a mere coincidence. Anyone would sign this bundle of talent immediately. You saw what Tusshar did with his mouth in Golmaal. Ridiculing the speech impaired is left to Sushmita Mukherjee in Porn Com 3. You simply have to see the things Tusshar does with his eyes in this film every time he sees the colour red on screen.
Tushhar's cock-eyed antics are one of the film's many USPs (along with the heaving chests of the two leading ladies, more of them later). In fact I wonder why Tusshar was not named Cocky alongside Aftab's Rocky. Besides the fact that the two names rhyme, they also convey a direct and clear phallic message. You see, our two heroes end up acting in porn films made by Krushna Abhishek (he, of Comedy Nights Bachao fame) after Abhishek sees their assets in the swimming pool. We don't, Censor Board comes in the way. In fact, the Censor Board has spoilt most of the horny fun by taking out all the gandi baat from the dialogues. Quite like watching a soap opera without the lather or a porn-com without the com, porn intended.
So Rocky and Cocky would have been appropriate. But then who am I teach the film's makers what to do? They are so clever and inventive that in the second-half (yes, we've reached the mid-point of this fascinating pelvic pilgrimage) they take the porn into Sooraj Barjatya territory. Yes! Who but the most daring would venture where no man has been before?
Enter Darshan Jariwala (who once was Mahatma Gandhi, but we shall not go there) as a patriarch named Surya Karjatya — yes, you read that right!—father to Bigg Boss beauty Mandana Karimi (who acts much better in Bigg Boss than she does in this film, probably because she speaks in her own voice on the reality show). Karjatya carries a parrot, called a popat. This gives the film's hugely clever writers a chance to make unending penile jokes.
I have to thank director Umesh Ghadge and dialogue writer Milap Zaveri for the wide-scale sex education provided by the film. I also have to thank the film's makers and the cinematographer (Manoj Soni) for showing us the many unexplored camera angles from which women's breasts can be shot in all their heaving thrusting glory. The film is quite a trip down mammary lane. Glad that I undertook the journey. Full marks to Claudia Ciesla, Gizele Thakral and Mandana Karimi; the three are so inspiring that even the older actresses Meghna Naidu (remember Kaliyon ka chaman?) and Sushmita Mukherjee (she once played Karamchand's sidekick) join the raunchy revelry.
My favourite line is said by Meghna Naidu to Aftab Shivdasani: "Aap gira ke toh dekhiye main sambhaal lungi" (or something to that effect, the words had my head swimming in spermatic sensations).
By the time the film…ahem…climaxed I was already waiting for Kya Kool Hain Hum 4. Bring it on.
Entertainment
The protagonist is the most sketchily written character in Chattambi, a film that is distinguished more by its technical excellence and atmospherics than depth.
Entertainment
R Madhavan, Khushalii Kumar and Aparshakti Khurana's Dhokha Round D Corner keeps you at the edge of your seat with its solid twists and turns.
Entertainment
The film is a teen revenge drama set against the backdrop of high school shaming and ostracising.