Kyaa Kool Hain Hum 3 review: Forget pornography or comedy, this is just a terrible film
Even most 12 year olds will struggle to find anything of value in Kyaa Kool Hain Hum 3.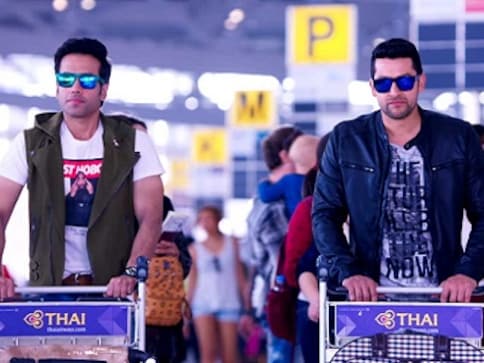 The most, possibly the only, interesting bit about Kyaa Kool Hain Hum 3 is the wide gap between the rating given to the film by the censor board and its real target audience. The film's been rated A, suitable for public viewing by adults, but the film's true audience is 12-year-olds, ones who have possibly just discovered porn and masturbation, and have been hit by puberty like a sack of heavy bricks. But even most 12-year-olds will struggle to find anything valuable in this movie.
Kyaa Kool Hain Hum 3 has also been marketed in the most disingenuous manner possible; its makers are calling it "porn-com" — a mix of pornography and comedy — while the truth is, there's nothing pornographic (or let's just call it erotic) or funny about it.
What the film does have is brand placements: of the e-commerce website PassMyOrder, to begin with. Let's see how that's done. Quite early in the film, Rocky (Aftab Shivdasani) goes online to buy a gift for his friend's grandmother's 69th birthday (yes, "69" is supposed to be a joke; I am not kidding). Rocky, of course, lands up on PassMyOrder. The camera lingers on the website's landing page, which prominently displays its name, for a good few seconds. And as if that wasn't enough, Rocky goes, "Yeh website toh amazing hai (this website is amazing)." He pays for the gift, and the camera stays for a few seconds on the page that processes the payment. Subtle.
There's brand placement of the Mumbai restaurant Bora Bora. Rocky and his friend Kanhaiyya (Tusshar Kapoor) meet at that restaurant more than once. How do we know this? Because those scenes' exteriors are established by camera focusing on the restaurant's logo from close, just so we know who's funded a part of this thoroughly inept film. Then there's a scene in the film's second half, where Kanhaiyya proposes marriage to his girlfriend, and she goes, "Lucera! Wow, Lucera ka diamond (Wow, a diamond from Lucera)?"
The camera then goes near the jewel case, which has Lucera written on it, just in case, you know, like the subtle PassMyOrder plug, you didn't get it the first time. But wait, there's more, because, Kanhaiyya's girlfriend continues, "Itna chhota? Lucera ke diamonds toh bade hote hain (So small? Lucera's diamonds are usually big)!" At this point, I wasn't sure if I was watching a film or shopping online on Amazon or something.
Then there's the "porn-com" bit in the film, revolving around a director called Mickey (Krishna Abhishek) — Rocky and Kanhaiyya's childhood friend — who makes porn parodies of famous Bollywood films. Chennai Sexpress, Lick, Kholay, Cockstar, Ek Milan and Boobsurat are names of some of the films that Mickey's made. Very funny. I might have laughed if the film's e-commerce coup hadn't kept me occupied. The makers also try their hands at meta jokes; there are digs at Ekta Kapoor, Jeetendra, Tusshar Kapoor and Shakti Kapoor (people who are associated with the film as either producers or actors), but none of them are funny.
I was one of the few people who didn't mind the film's first trailer. I thought it was very silly and stupid but funny, and, I kid you not, I went into this film with a smidgen of hope, thinking maybe, just maybe, it would be funny to the extent that would make the 12-year-old in me tickle.
But it's patched together by such thoughtless and mirthless writing — inane, predictable gags are planted throughout the movie — unbelievably bad, and gratuitously over-the-top performances, that I struggled to sit through the entire film. It's also ironic that a film that takes digs at the director Sooraj Barjatya (one of the main characters in the film is called Karjatya), and his conservative worldviews, itself turns sheepish when it comes to depicting sex scenes.
The film's so apologetic in these portions, and tries to mask that by making its sex scenes superficially funny, that you wonder who's the butt of a joke here. Kyaa Kool Hain Hum 3 is a terrible film, not just because it's neither funny nor erotic, but also because it discredits an entire genre. Sex comedies can be fun, too; they can also be intelligent, engaging, and original. Dear 12 year olds, who might discover this film online and regret their onset of puberty, don't worry. Life gets better.
Entertainment
The film is a teen revenge drama set against the backdrop of high school shaming and ostracising.
Entertainment
Mia Goth's dual role proves to be the X-factor in Ti West's ode to low-budget filmmaking of all stripes.
Photos
The other names that have been involved in legal cases are Sanjay Dutt, Sooraj Pancholi, Fardeen Khan, and more recently, Ekta Kapoor.