Kangana Ranaut adopts a no-holds-barred attitude during Rangoon promotions
Kangana Ranaut has taken some nasty potshots recently on a host of celebrities, including Karan Johar, Hrithik Roshan, Shahid Kapoor and Deepika Padukone.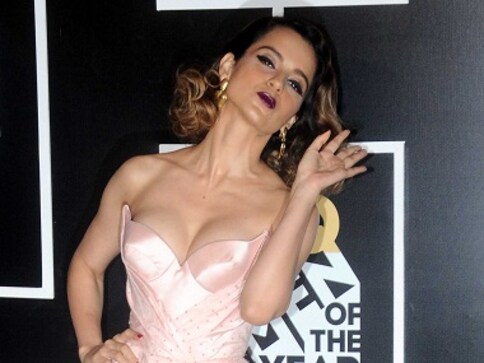 Kangana Ranaut is on fire. Her allegations of nepotism on filmmaker Karan Johar on his chat show, Koffee with Karan Season 5, bear testimony to her recent spate of no-holds-barred comments on members of the Hindi film industry, including her contemporaries and co-stars.
Her public spat with Hrithik Roshan dominated headlines for the majority of last year. She confessed that it was a conscious decision on her part not to remain guarded as she did not have any emotional pressure to remain quiet.
However, some of that heat also finds itself directed towards her co-star in Vishal Bhardwaj's upcoming period war drama Rangoon, Shahid Kapoor. From narrating anecdotes of her unpleasant working experience with Shahid to comparing him to Hrithik, she has chosen not to mince even a single word.
NDTV reports that she also described the experience of kissing Shahid as a 'tragedy', owing to his cold and her general discomfort of doing personal scenes with professional peers. "You have a formal equation with someone and suddenly you are into each other's mouth. That big moustache of Shahid is horrible. It was such a ... not a turn-off but a tragedy of different level," said Ranaut.
In his defense, Shahid dubbed Ranaut's statement as a product of her 'vivid imagination', to which she retorted rather spitefully. She compared him to Hrithik, referring to her spat with her Krrish 3 co-star from last year.
She also clarified that she described the kissing experience as a 'tragedy', only in the capacity of an artiste. She said that she does not like to make personal comments on her co-stars and added that her statement was at least better than saying that she loves Shahid's boxers. Ranaut was referring to Deepika Padukone's statement in Koffee with Karan Season 3 when she confessed her love for Ranbir Kapoor's boxers, days after splitting with him.
She also passed an indirect comment on Padukone and Priyanka Chopra, by stating in an interview that it was a stupid move for Hindi film celebrities to turn to Hollywood at this juncture, as reported by Hindustan Times. She went on to say that she does not want to offer herself 'on a platter' to the USA and wants to focus on the domestic industry instead.
Entertainment
The incident occurred on the set of Rust in the southwestern US state, where Alec Baldwin is playing the lead in a 19th-century western
Entertainment
Kanye West has earlier said in interviews that, along with the shortening of his first name he likes, Ye is a word used throughout the Bible.
Entertainment
Sixteen years after writing her bestselling memoir Autobiography of a Sex Worker, Nalini Jameela has won the Kerala State Film Award for costume designing for Malayalam film Bharathapuzha.