Joy review: Even Jennifer Lawrence and Bradley Cooper can't save this bland film
Joy, the third collaboration between Jennifer Lawrence, Bradley Cooper and David O Russell, is a sign of fatigue setting in.
When Silver Linings Playbook came out it was a wonderful new surprise to the world. It introduced us to Jennifer Lawrence, a young super talent you can't help fall in love with and Bradley Cooper, a guy you want to see more of.
It re-introduced us to Robert DeNiro, who had been playing crappy roles in unfunny comedies over the last decade, and even made us realize that we'd forgotten about director David O Russell, who is capable of making genuinely great films. In some way the power of that film seems to have backfired on its makers because they keep making films together now. Joy, the third collaboration between Lawrence, Cooper and O Russell, is a sign of fatigue setting in. It's O Russell's first (and hopefully only) bad film.
The most surprising aspect of Joy is how mundane it feels. This is a story about the woman who invented the mop. It's unclear whether this is a deliberately tongue in cheek attempt by the makers to give the audience something completely bland, but even if it is there's still little in the movie to be excited about.
Lawrence plays Joy Mangano, a woman in late 80's burdened with a divorce, child she can't afford and dysfunctional parents obsessed with soap operas. And then she invents the mop, struggles to sell it, and eventually succeeds and becomes a big shot. That's about it. There's nothing exciting to subvert the mundaneness of the plot - the film plays out in a simplistic fashion.
O Russell actually caught our attention because he was so good at injecting ridiculous, unexpected humour in mundane circumstances (like in Flirting with Disaster) but the tone he chooses for this film is strange.
The film plays out in a form of a grandma reciting a story to children, and it is neither charming nor funny – it just feels tonally off. There are cutaways to soap opera actors hamming it up royally on TV but the intended humor falls flat in the face of the disconnected universe of the world outside the TV. The tone of the film is also deterrent to the big success story that plays on the screen. Because Joy never really seems to be in much trouble you don't feel anything when she does achieve something.
What is really grating about the film is how O Russell cops out on detailing. Mangano is supposed to be a struggler but she never seems like it. The whole time we see Jennifer Lawrence clad in sublime makeup, wearing clothes with obviously fake stains to showcase grime. It feels like a diva trying to play the common woman and failing miserably at it.
There's a scene where she's trying to sell a mop at a parking garage while her hungry kid watches in expectation but it just feels manipulative and fake rather than endearing. A struggling woman does not hold the mop like a Diva does.
This is not the Lawrence we know from Winters Bone; this feels like the Lawrence who got caught up in her own celebrity and is afraid to get into any dirt. Cooper's cameo as a big company exec feels like he's doing a favor to O Russell – there's not an iota of interest on his face. It's time O Russell, Lawrence and Cooper break up and do other, more interesting movies.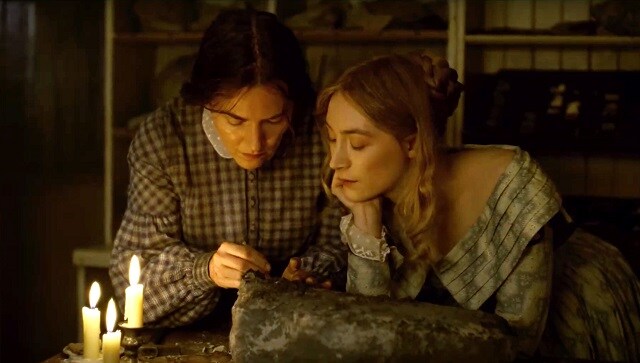 Entertainment
Ammonite suffers from a slowness, that intends to mimic the pace of life, but does not build or culminate into anything profound or satisfying.
Entertainment
Photo-Prem is a funny, quintessential take on what we leave behind for memories but quickly loses potential with half-baked writing and slow pace.
Entertainment
Time to Dance is pulled down by its unexceptional story, prosaic dialogues and colourless performances by the leads