Shilpa Shetty and Raj Kundra's excellent IPL adventure
Shilpa Shetty has been waxing indignant about her trial by media. But celebrities who live in glass houses should not throw stones. The colourful love story of Shilpa Shetty and Raj Kundra is now media fodder like a real life pati, patni aur woh.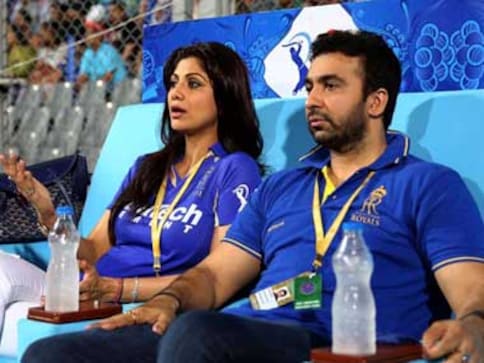 "Husbands abroad, was proud 2 b Indian till he saw the intl news channels condemning India for its CWG crisis! Truly Disgraceful!! grrrrr."
That was Shilpa Shetty tweeting indignant during the Commonwealth Games scandal. Now it's a different scandal and a different tweet tune.
As Delhi police claim her husband and Rajasthan Royals co-owner Raj Kundra has admitted to betting on IPL matches, Shetty is again waxing indignant, not about the disgrace to cricket and India's reputation, but about the trial by media.
"STOP PRESS" literally! Getting on my nerves to c to wht extent the press wud go to make Headlines! It's annoying n distressing fr family…"
To be fair, Raj Kundra has not been accused of fixing matches though he has not been given a clean chit either. His friend and alleged bookie Umesh Goenka has claimed Shilpa Shetty also bet on one match which Shetty tweet-denies vehemently.
"For those who care, my apparent involvement in betting is complete nonsense nd I have never bet on any cricket match ever. Truth will prevail."
The truth is like the other Bollywood star turned team owners, Shilpa Shetty used her Bolly-glamour to add oomph to her team's profile when the going was good. Stars don't just happen to own IPL teams. They are supposed to lend their glamour to those teams and provide them with Bolly razzle-dazzle. And they take full advantage of the insatiable celebrity appetite of a starstruck public and a star-hungry media. A celebrity is always good news fodder. A celebrity getting knocked off the pedestal is even better news fodder. Now Shetty and Kundra get to experience the flip side of that celebrity. For example, a colourful story by Amit Roy in The Telegraph calling Raj Kundra "the bunny rabbit dazzled by the Bollywood glamour of the girl with the longest legs in showbiz." (Read the entire story here).
It has all the ingredients of a Bollywood blockbuster writes Roy – pati, patni aur woh. And a perfume.
Pati is Raj Kundra, son of Punjabi immigrants, "moderately successful businessman", a college drop out, who started his entrepreneurial journey at the age of 19, importing pashminas from Nepal to London, and moved on to trading in rough and polished diamonds.
Patni is Kavita who had just given birth to their daughter Deleena and getting huffy about her husband's "business meetings" with Shilpa Shetty.
Woh is Shetty, a bigger Bollywood star in London than she was in Bollywood, having won Celebrity Big Brother after surviving racist taunts.
And there was a perfume called S2 which Kundra was apparently helping Shetty launch because of his "Dubai connection."
Wife smelled a rat and told The News of the World: "Shilpa is a cultural icon in the Indian community but she's not what she appears. She can have any man she wants – there are plenty of single men. She doesn't need to go after my husband."
It's not clear why Kavita wanted to hold on to the husband who bragged to her over a Sunday roast pub lunch "Guess what? Shilpa and her mother have been asking personal questions about me – liking me for a potential husband."
Then came the four stages of a Bollywood affair. First, denial. Shetty threatened to take legal action for the rumours that she'd broken up the marriage. Second, demureness. She said there was no romance until he got his divorce. Third, Ishq in Surrey. Shilpa and Raj invited the media to his seven-bedroom home in Weybridge, Surrey for a Hello! magazine spread. Finally, love from the beginning of time. She said "To be honest, I think I was in love with Raj from day one – but I was in denial."
The fairy tale continued with a musical called Miss Bollywood in which Shetty starred and Kundra invested. It threw in everything that had made Shilpa Shetty a celebrity – from Big Brother to kissing Richard Gere.
The critics were not kind. The Times art critic Stephen Marlowe wrote:
It's a shame that, having endured Celebrity Big Brother with such dignity, she has gone on to capitalise on the experience with a substandard project that reeks of cynicism…. The dancers are mechanical, the script diabolical, the acting amateurish and the costumes look nastily cheap."
Then came the Rajasthan Royals. Roy writes:
One cannot be sure about this but it was probably Shilpa's idea to get involved in the Indian Premier League since a number of Bollywood stars had also seen the venture as a way of making money… The couple hoped to use Shilpa's image and status as a 'global brand' as a means of boosting the image of the team through merchandising and media exposure, as well as attracting sponsors.
Now that same high-profile image is coming back to bite the carefully-cultivated global brand. It is true that in its rush for juicy headlines the media can print aspersions without substantiation but it's not just schadenfreude. Unfortunately for Shilpa Shetty, she's left a long trail of juicy tidbits for the media to feast upon.
For example, this other tweet from the CWG days when she was still on a moral high horse.
"This cudve been a great opp 2 make r country proud, unfortunately CWG hasn't brought us the pride and honour v thot it would. SAD:(Wake up india!)"
Wonder if Shilpa Shetty ever thinks about RTing that simply swapping the letters IPL for CWG?
Alas, the last tweet we saw from @TheShilpaShetty read simply "Won't be saying anymore as the case is sub-judice…☹ ☹ ☹"
Read Amit Roy's entire story for The Telegraph here.

First Cricket News
The BCCI did not take any action against the Rajasthan Royals over the allegations against Kundra.
First Cricket News
Kundra has been facing tough times ever since being questioned by the Delhi Police.
Sports
We first heard of Kundra when Shetty, an already established Bollywood actress, announced that she is going to marry him.