'Inception' made from the POV of a child: The 10 commandments of watching Pixar's 'Inside Out'
Along with Inside Out comes the ten commandments of watching the film.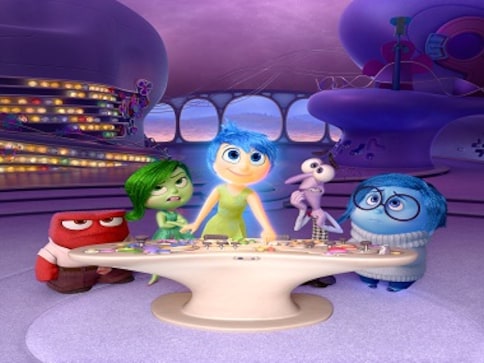 Pixar's first movie in two years Inside Out isn't just a movie, it's so good it's scripture. Along with it come the ten commandments of watching the film.
Thou Shall Take Your Kids With You
Pixar's greatest strength has always been finding that balance between making films that both kids and adults love equally. Inside Out has the quality that Wall.E did – having fun goofy stuff that kids can laugh at, and also having a layer of beautiful arthouse stuff that adults will dig.
Thou Shall be Blown Away by the Animation
If Brave was the gold standard of animation, then Inside Out wipes the floor with that. This is truly another level of computer graphics – from the way the central characters buzz on the outline to the fabric of their hair, it's imaginative and almost photorealistic stuff, despite being cartoony.
Thou Shall Admire the Intricacy of the Film
Inside Out is probably the most complex children's film ever made. Think Inception made from the POV of a child, but having the same complex ideas and layers. The amount of imagination is insane – from emotions traveling on an actual train of thoughts, to islands made of the most significant behavioral patterns, to little memory globes that trigger actions – it's jaw-dropping stuff.
Thou Shall Carry Tissues
There are high chances you forgot to bring tissues during Up, and paid dearly for it. Do not make the same mistake this time – there are at least two scenes in Inside Out that are bound to make you weep like a baby.
Thou Shall Genuflect to Lord Pete Docter
The director proved that he could wrench your heart and make you laugh uncontrollably at the same time with Up, and on a storytelling level Inside Out is a couple of notches higher than his previous film. The fact that he managed to bring out the same combo of emotions from a totally different setting in a different movie only proves he understands precisely how the human mind works.
Thou Shall Reunite with Imaginary Friend
The concept of an imaginary friend has seldom been explored in kids' films, and Pixar subverts the idea in a big way. The imaginary friend in this movie is fading away because the child whose mind he exists within is growing up. It's quite lovely, and heartbreaking, so if you've ever had an imaginary friend as a kid, this film will make you recall your childhood memories with him or her.
Thou Shall Learn a Thing or Two about Life
The most stunning achievement of the film is that it renders a life lesson to both kids and adults, about being a child, how it is ok to express sadness, and what a parent must do to keep their child happy or to make an effort to understand their child. Few films manage to render such heavy elements with humor and genuine emotion, and Inside Out knocks it out of the park in that regard.
Thou Shall Reaffirm Faith in Pixar
Since Toy Story 3 Pixar has been doling out a string of disappointments like Cars 2, Monsters University and Brave. It looks like the year long break was worth it because Pixar has yet again delivered a masterpiece that will be referenced in the future as a benchmark for filmmaking.
Thou Shall see it in 2D
The 3D is not altogether bad, but the animation is so gorgeous and the colors are so eye popping you'll want to see it on a nice 2D screen that doesn't dim the colors. Fortunately the film released in a film 2D screens, so make the most of it.
Thou Shall Recommend it to Everyone
This is an event movie, everyone deserves to watch it, and everyone is expected to tell everyone else to see it. It's that good.
India
They informed that while the cops are still recording statements, all the cheques given to them as support have bounced, including the UP Congress Committee's two cheques for Rs 2 lakh each and Congress MLA's cheque for Rs 1 lakh
India
Singh played major role in pacifying protesters in Lakhimpur Kheri who had gone against the BJP government after the death of 4 farmers. She took many important decisions like convincing the farmers, after which her exemplary service came into limelight
India
Victim Sonu was allegedly pushed from the Dibrugarh-New Delhi Rajdhani Express on Platform Number 2 of Bareilly Junction railway station here in the morning, officials said