How Bajrangi Bhaijaan turned a hater and cynic into a Salman Khan fan
Bajrangi Bhaijaan firmly establishes Salman Khan as the anti-Sunny Deol.
I come to praise Salman Khan, not to bury him. Who would have thought that Bajrangi Bhaijaan would be a commentary on how social media has replaced traditional journalism? And a study in communal harmony and the need to shun jingoism? But most importantly, Bajrangi Bhaijaan is the best PR job for Salman Khan – or any actor found guilty of mowing down unsuspecting pavement dwellers – that money could buy. And it's a PR job which will bring in hundreds of crores and a million more fans.
Let's get the basics straight: I am not a fan of the man Salman Khan and if possible, I am even less of a fan of the actor. The last solo Khan film I saw was Hum Dil De Chuke Sanam, which was as regressive as it came. The last double-starrer of his that I endured was Hum Tumhare Hain Sanam. It was impossible to sit through either Wanted or Dabangg.
That Khan isn't known for his acting chops or films with interesting story lines is a known fact. What he is known for is over-the-top entertainment. Although some of his characters have dubious morals – who can forget Chulbul Pandey's cheerful corruption or Devi's thievery or that Khan played a gangster in Wanted? – Khan has steadfastly ensured his on-screen image is as far removed from his off-screen image as possible. None of his characters mow down homeless people sleeping on pavements or hunt endangered species for fun. Instead, they work for the greater good, even when they're on the wrong side of the law.
And Bajrangi Bhaijaan polishes that halo a little brighter and fixes it more firmly on Bhai's head.
What's more, this is done by winning over un-fans like me. I loved Bajrangi Bhaijaan. Yes, and I write this while eating a humble pie filled with crow. This is a film that everyone should watch – especially the right-wing bhakts we've grown to love on Twitter. This film could not have been released at a better time for Khan, so close on the heels of his guilty verdict. If you believe in the dreams celluloid sells you, then there's no way you'll believe that this man on screen has been found guilty of murder.
Bajrangi Bhaijaan firmly establishes Khan as the anti-Sunny Deol. His Bajrangi is our Aman Ki Asha. A wonderful hybrid of Manoj Kumar, Gurmeet Ram Rahim Singh, Bear Grylls and RSS' Mohan Bhagwat. In him resides all that is good and pure in the world. A hark back to a lost innocence where people cared for one another, irrespective of race, creed, nationality; whether you were vegetarian or liked kukkad; whether or not you could clear your school-leaving exams.
In and as Bajrangi Bhaijaan, Khan embodies the world that John Lennon envisioned in 'Imagine'. He is an Indian man who moves past his own prejudices of religion and vegetarianism, to accept another religion and chicken – all for the sake of returning a Pakistani child to her home. And he does all this without preaching or taking a feather out of the other sanctimonious, diminutive Khan's hat. So more power to him for that.
Even when he romances Rasika (Kareena Kapoor Khan), he does so purely; without a hint of lechery or lasciviousness, and shows us that his intentions are always honourable. And he does all this while actually managing to look quite handsome and attractive – yes, I'm choking while writing that.
Khan as Bajrangi may be the only contender we will ever have for both the Nobel Peace Prize and The Bachelor. If I was Khan, I'd sack my PR agency and hire director Kabir Khan as image consultant and spin doctor pronto.
Being a peacenik and general do-gooder isn't the only message Bajrangi Bhaijaan carries. It carries another one which will be close to the hearts of anyone reading an article on a website. Half-way through the film, we are suddenly given a lesson on how social media can be used for independent journalism, especially when jaded news channels and newspapers are only interested in TRPs and stories that highlight cross-border rivalry.
Nawazuddin Siddiqui – stellar as usual – plays a freelance TV reporter in Pakistan. He is pivotal in helping Bajrangi find the lost girl's family and in correcting the misinformation about Bajrangi's presence in Pakistan – all thanks to YouTube and social media. We are shown news editors who have no time for a feel-good story about an Indian in Pakistan and channels that show Indian and Pakistani spokespeople screaming at each other.
Those in Khan's audiences who have never heard of YouTube or "views" or social media will emerge suddenly wiser – both about newsworthiness and the power of social media.
Did you ever think a Salman Khan film would be educational and act as a commentary on the media? Or provide a view on how army chiefs decide deal with diplomatic situations and play Twister with the truth? But here you have it. Bajrangi Bhaijaan is infotainment at its best. You get Salman Khan, a moral science lesson, unending entertainment, and some general knowledge and current affairs thrown in for good measure.
Should you watch this film? I say, you must. It's an intelligent entertainer with wonderful messages – and delightful acting by the young girl who plays the lost child from Pakistan. Make sure to take your bhakt and mujahideen friends along as well, and any members of PETA you may know. And don't forget the neighbourhood aunty who doesn't want to hire a "Mohammedan" or the Hindu and Muslim uncles who think entering a masjid or temple respectively will immediately make them spontaneously combust.
This is a film everyone should watch. And the next time someone behaves like a bigot – or sleeps on a pavement in Bandra – remember, Bajrangi Bhaijaan is still out there.
Find latest and upcoming tech gadgets online on Tech2 Gadgets. Get technology news, gadgets reviews & ratings. Popular gadgets including laptop, tablet and mobile specifications, features, prices, comparison.
Lifestyle
To study the popularity of TikTok in India is to study an emergent Indian class, a group of individuals for whom the platform is a space inclusive of all kinds of sensibilities and contradictions.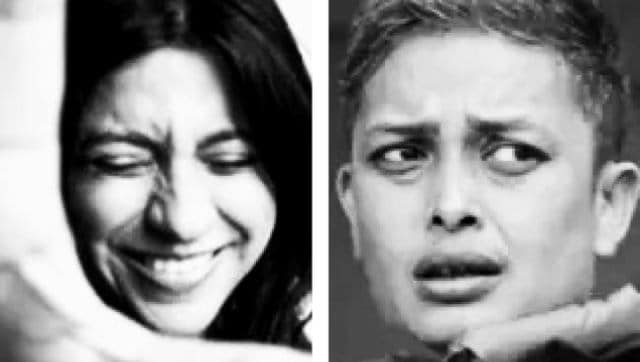 Entertainment
Before Zoya Akhtar and Reema Kagti, filmmakers Kabir Khan, Bejoy Nambiar, Vasan Bala, Shakun Batra, Ruchi Narain, actor Parvathy Thiruvothu, and editor Shweta Venkat Mathew have previously appeared on Dial M for Films series.
India
The court rejected the petition that said a few Bollywood celebrities were responsible for allegedly abetting Sushant Singh Rajput's suicide, citing jurisdictional limitations.