'Has Mat Pagli' from Toilet: Ek Prem Katha is a light, upbeat number; but what's with the odd video?
Listen to the new song from Akshay Kumar and Bhumi Pednekar starrer Toilet: Ek Prem Katha.
The first song from Akshay Kumar's eagerly anticipated film Toilet: Ek Prem Katha is out. The song 'Has Mat Pagli' shows Akshay Kumar's character who is madly in love with Bhumi Pednekar's character.
The film is inspired by Prime Minister Narendra Modi's Swachh Bharat Abhiyan and brings to the forefront the issue of inadequate sanitation facilities that plague the country.
(Also Read: Toilet: Ek Prem Katha trailer is gripping; Akshay Kumar takes on an important issue)
The story follows Akshay Kumar, a country bumpkin who gets married to the independent and fiery Bhumi Pednekar. After their wedding, Pednekar discovers there are no toilets in his house and she has to humiliatingly travel a great distance every early morning to relive herself. Because of this, she sets him off to fight for bathroom rights in the village. The film is about how she compels Kumar to take on a political battle over sanitation rights.
The song 'Has Mat Pagli' is a nice soft, upbeat number. The acoustic guitar riffs in the background make Sonu Nigam and Shreya Ghoshal voices sound fresh. The lyrics too, are simple and reflect the rural setting of the film.
Bhumi Pandekar looks ravishing, and the song makes for easy listening, no doubt, but the video of the song is a bit confusing.
The 2 minute song has Akshay Kumar following Pandekar around in what looks like an almost stalker-ish fashion. He hangs from a tree to gleefully take a picture, waits for her outside her house, follows her around till she gets home and then there is more secretly taking pictures of her. All the while he has a creepy, toothy grin that would generally make people uncomfortable rather than feel welcome. It gives off the same stalkerish vibe Maroon 5's 'Animals' did, in the stalking part.
This is why the song comes off as a bit creepy rather than the intended romantic effect.
Here's the first song 'Has Mat Pagli' for Toilet: Ek Prem Katha that comes out on 11 August:
India
Prime Minister Narendra Modi in his address to the nation on last Independence Day had announced that a new university would be established in Ladakh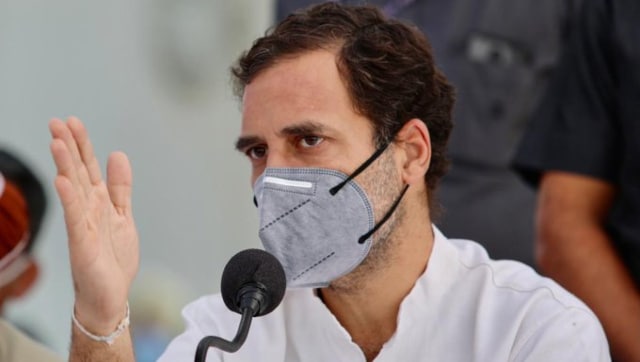 India
The former Congress president also shared a video on Twitter highlighting the alleged slow vaccination rate and media reports where people were not getting vaccines
India
The ''Mann Ki Baat'' programme is broadcast at 11 am on the last Sunday of each month through various channels of the All India Radio and Doordarshan