Half Girlfriend's 'Phir Bhi Tumko Chaahunga' brings Arjun Kapoor, Shraddha Kapoor's romance to life
Phir Bhi Tumko Chahunga was released days earlier than planned because of the buzz around Half Girlfriend.
After the quintessential romantic song in the rain, Baarish, the makers of Shraddha Kapoor, Arjun Kapoor-starrer Half Girlfriend have finally released the much-awaited video song which shows up in the trailer, 'Phir Bhi Tumko Chaahunga'.
Fans have been waiting for the song so badly that the makers decided to release the song prior to the planned date, reports Hindustan Times.
The film is an adaptation of Chetan Bhagat's book of the same name, which sees the Bhojpuri speaking Madhav Jha (played by Arjun Kapoor) fall in love with the elite Riya Somani (Shraddha Kapoor).
The soulful song is written by Manoj Muntashir, who has written songs for Baahubali: The Beginning and Wazir in the past.
He wrote this song 16 years ago on a trip to Kashmir, he says in a tweet:
I wrote #PhirBhiTumkoChahunga 16 years back while I was on my Kashmir trip. I had no intention or idea about... https://t.co/2IxQ05yFlp

— PhirBhiTumkoChahunga (@manojmuntashir) April 18, 2017
Composed by Mithoon, the song has the beautiful voices of Arijit and Shashaa T.
The song takes us on a journey from the city of Patna, to the streets of Dumrao to New York.
It follows the second part of the story (from what we know of Chetan Bhagat's book) where Arjun Kapoor and Shraddha Kapoor spend time together in Dumrao and Patna after being away from each other for a few years, then cuts to New York where Arjun Kapoor tries to find Shraddha Kapoor among the millions of faces.
Arijit Singh's voice is very soothing and helps lift the melody of the love ballad. But it is Shashaa T's voice that takes your breath away.
Here's the very anticipated 'Phir Bhi Tumko Chaahunga' from Half Girlfriend which releases in cinemas on 19 May:
Entertainment
Malaika Arora made her television debut as a judge of Nach Baliye 1.
Entertainment
Chetan Bhagat claims that he is being targeted as he is in the midst of the release of Half Girlfriend.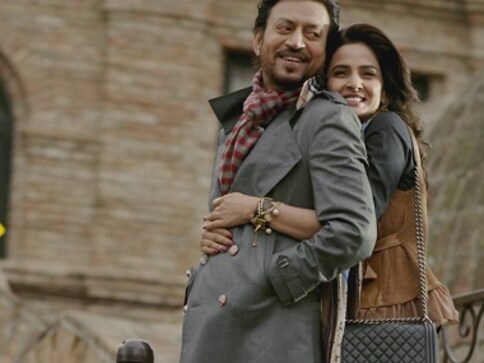 Bollywood
Irrfan Khan and the makers of Hindi Medium mutually decided to release the film a week later as they want to promote it aggressively on a pan-India level.