Half Girlfriend trailer: Arjun Kapoor, Shraddha Kapoor journey to different cities in search of love
Half Girlfriend is set to hit the theatres on 19 May.
After the success of 2 States and 3 Idiots, the new film adaptation of Chetan Bhagat's book Half Girlfriend is set to hit the screens on 19 May. Starring Shraddha Kapoor and Arjun Kapoor in the lead roles, Mohit Suri is the one helming the film.
The book is the love story between Madhav Jha and Riya Somani. Riya Somani, played by Shraddha Kapoor, is a Delhi girl who comes from a very affluent family, and Arjun Kapoor plays Madhav Jha, the Bihari prince who cannot speak English very well. The two meet at St Stephens College in Delhi and bond over their love of basketball.
From the looks of the newly released first trailer, it looks like the film is a blow-by-blow adaptation of the book, which might not be such a bad idea since Bhagat had made sure the book reads like a Bollywood film script as well.
The first shot of the trailer mimics the first chapter of the book, where Madhav tries to pass his college interview by trying to answer questions in Hindi, because he feels more comfortable with the language.
Then we are introduced to Riya Somani, the basketball playing Shraddha Kapoor who challenges Madhav to a basketball match and then tells him later on in the trailer that she can't be his girlfriend, but will be his 'half girlfriend.'
Then as seen in the book, the trailer shows us glimpses of Madhav's journey from the campus of Delhi University, the city of Patna, to the streets of New York, where the last act of the book is set. The trailer does summarise the film pretty well, but one question we are dying to have answered: Will Chetan Bhagat make an appearance in the film like he does in the book?
The trailer is a barrage of romantic cliches, like an 'unconditional love story', that 'inspires you never to give up', which means it might be the usual Mohit Suri fare, given the fact that he has directed films like Hamari Adhuri Kahani, Aashiqui 2 in the past.
As for Arjun Kapoor, his Bihari accent is a bit wonky but he plays the role of a star-crossed lover perfectly. But we hope there would be more of Shraddha Kapoor in the next trailer because this trailer is pretty Madhav Jha/Arjun Kapoor centric.
Here's the trailer for Half Girlfriend, which will release fully in theatres on 19 May:
Bollywood
Baarish is the first song from the Arjun Kapoor and Shraddha Kapoor starrer Half Girlfriend
Entertainment
Half Girlfriend is an adaptation of Chetan Bhagat's novel of the same name.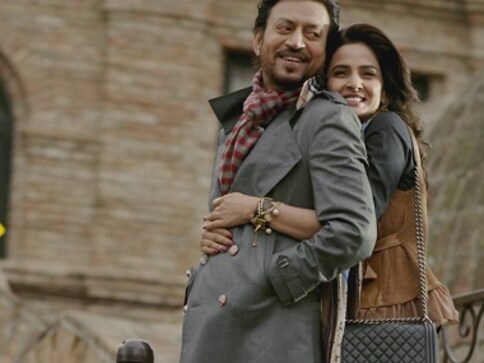 Bollywood
Irrfan Khan and the makers of Hindi Medium mutually decided to release the film a week later as they want to promote it aggressively on a pan-India level.