Gajendra Chauhan's appointment as FTII chief displays Modi govt's disdain for Indian cinema
The appointment of obscure figures like Pahlaj Nihalani and Gajendra Chauhan to head institutions like CBFC and FTII shows that Indian cinema is a trivial medium for the government.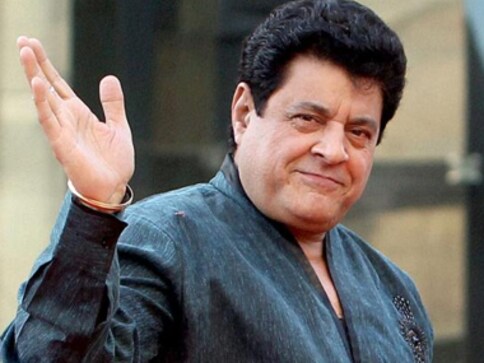 In its annual report of 2011, the Central Board of Film Certification (CBFC) wrote,
"Film production and exhibition occupies an important place in the field of culture as the most widely appreciated and democratic of the arts. Films play a significant role in shaping public opinion and in imparting knowledge and understanding of the lives and traditions of the people. The popular appeal and accessibility of films make them an important instrument of aesthetic education for broad sectors of the population." 
India's devotion for cinema isn't news. It's evident in the hoardings that dot cities and small towns. The smiling face of an actor can sell everything from steel cables to soft drinks. People get tired of cricket, but they look forward to the latest Bollywood release no matter how formulaic it may be. Independent Indian cinema and blockbusters from other parts of the country are are finding audiences outside of their usual spheres of influence. In the past few years, Indian cinema has cultivated a loyal audience abroad for both its populist fare as well as more challenging, arty titles. Things have never looked as good for Indian cinema as it does today.
With all this in mind, you'd think that an administration that is keenly aware of how persuasive publicity campaigns can be would also want a finger in the Indian cinema pie. You'd be forgiven for thinking that this is the intent behind appointing obscure figures like Pahlaj Nihalani and Gajendra Chauhan to head institutions like CBFC and Film and Television Institute of India (FTII). Nihalani's appointment made jaws drop last year and has since been followed by snarls of discontent from boththe Hindi film industry and Nihalani's own board. And now we have the doozy of Chauhan being appointed chairman of Pune's FTII, once considered the golden nest for cinematic talent in India.
There's no doubt that it would be difficult to find someone with less credentials than Chauhan for the job of heading up FTII. It isn't overstating the case to say that Chauhan has done nothing as far as his acting career goes. Nothingness was the defining quality of his performance as Yudhishthira in BR Chopra's tele-serial Mahabharat, which happens to be Chauhan's only recognisable credit.
However, what his and Nihalani's appointments indicate is not so much the current government's eagerness to exert control as much as its dismissal of cultural institutions. Despite its popularity nationally and internationally, Indian cinema is so trivial a medium that people as inept, uncharismatic and unworthy as Chauhan and Nihalani have been appointed its guardians. That's how little the government thinks of Indian cinema and its potential.
The protesting students of FTII have articulated with eloquence how unqualified Chauhan is for the top job.
"You have no connection whatsoever with FTII to understand this space. You are not an alumnus nor have you worked or associated professionally with students or artists from here... 
You have nothing in your body of work that shows any kind of affiliation to the philosophy or aesthetics of cinema we practice here. ...
 You have nothing else in your body of work to show any kind of inclination to arts and aesthetics, or an intellectual or questioning bent of mind."
In addition to this list, we can add that Chauhan's only response to the agitation against his appointment has only cemented his worthiness for the job. Instead of presenting any ideas that he has for improving the state of affairs at FTII, Chauhan has chosen to play the victim card. He also hasn't exhibited much intelligence in his attempts to dismantle the charges that he is a political appointment. "If I wanted to use my connections, I would have asked for a ticket in the parliamentary elections," said Chauhan, thus making it blatant that FTII and cinema are neither his priority nor his passion. His ambitions are — by his own admission — political, rather than cultural.
Chauhan's appointment isn't disappointing only because he's clearly unfit for the job, but because FTII is in desperate need of leadership and good management.
Established in 1960, FTII nurtured some amazing talent in its early decades. Pick a celebrated director, writer, editor or actor from the '70s through to the '90s, and you'll see they have an FTII connection. From Danny Denzongpa to Adoor Gopalakrishnan, everyone with a love for cinema did their best to enter FTII. Mention FTII, and its alumni are inevitably glazed with longing, like Naseeruddin Shah is when he writes about his years in Pune in And Then One Day. This was partly because it was the only institute of its kind in India and because of the vibrant atmosphere that the institute promised its students.
Yet for all this winsomeness, FTII is today a terrible mess and has been that way for years now. Beset by mismanagement, disgruntled students, the lack of reform and internal politics, the institute has been on a steady, downward spiral. Student protests led to ex-chairman Mohan Agashe resigning after they objected to his plan of restructuring courses. The last convocation was held 17 years ago. There are 30 teachers to 400 students. The syllabus is in desperate need of an update.This, ladies and gentlemen, is a Centre of National Excellence.
Chauhan was on the money when he said being chairperson of FTII is not a plum position. It is a position that deserves respect and awe, but it commands neither today. The nation's love for cinema isn't reflected in the way FTII is run. Rather it shows how callously we treat cultural institutions. Complacent in the widespread Indian belief that natural talent doesn't need training and educational discipline, places like FTII have been left to decay. As far as most people are concerned — politicians and everyday folk — cinema's thriving even if FTII isn't. The box office earnings are great. Our filmmakers are getting awards at foreign film festivals. Who needs FTII? Something as trivial and irrelevant as that can be left in the hands of people like Chauhan.
In a country that has one of the most prolific film industries globally, its best known film institute lies hamstrung by controversies and mismanagement. That's a shameful situation, and one that will need Chauhan to channel much more than the fictional, fish-eyed Yudhishthira that he played in Mahabharat.
However, as any true film buff will tell you, cinema is a brilliant, schizophrenic medium. It has a populist side that's tame and formulaic. Then there's the other facet, the sort that gets polished in places like FTII. That cinema is a lot more than 15 minutes of fame and a glamorous selfie. It can entertain, it can educate, it can protest, and it can grab people's attention around the world. Trying to control it is an exercise in failure. Ask the Chinese government. It's been trying to make Chinese alternative cinema behave for decades and yet the films — innocent, incendiary and beautiful — keep getting made and seen.
Let's hope we will be able to say the same for Indian cinema. Because nothing would be more shameful than knowing a tradition that boasts of geniuses like Satyajit Ray, Adoor Gopalakrishnan and Shyam Benegal was bested by those as untalented as Chauhan.

Entertainment
Actor Ranveer Singh shared new posters of his upcoming film Cirkus on Saturday.
Entertainment
Directed by Rohit Shetty, Cirkus is a comedy film featuring Ranveer Singh, Varun Sharma, Pooja Hegde, and Jacqueline Fernandez.
Entertainment
In reaction to Fatima's post, close friend Ira Khan responded with a sweet reaction.