Finding Fanny review: Arjun, Deepika, Naseer star in a film pretending to be offbeat
If you're among those who feel that prettiness and dialogues spoken in English are reason enough to forgive the absence of basics like a story, motivation and nuance in characters, then Finding Fanny is up your alley.
By VN Prasad
At one point in Finding Fanny, a drunk Russian yells, "What is finding fanny? There's nothing funny here." Thanks to his accent, "fanny" and "funny" sound the same, which means this is your cue to laugh and I would have if I hadn't been assailed by an intense sense of identification with the yelling Russian. What indeed is Finding Fanny because truly, there is nothing funny here.
To describe the story of Homi Adajania's new film would be a waste of time and effort because this is not a film that cares about story. It's too "cool" for such old-fashioned conventions. Finding Fanny is about visual splendor and rallying together the English speakers of this country because Adajania has made a film in English. In the world of Bollywood, where only Hindi films are made, this is an act of defiance, SoBo style.
In a line, Finding Fanny is about a road trip that Angie (Deepika Padukone), Ferdie (Naseeruddin Shah), Rosie (Dimple Kapadia), Don Pedro (Pankaj Kapur) and Savio (Arjun Kapoor) take with the hope of Finding Fanny, the girl that Ferdie had wanted to marry 46 years ago. Never mind that he's spent the last four and a half decades not thinking about Fanny because been too busy being a choirboy. (Try not to delve into the subtext suggested by a character who eschews marriage and all apparent signs of growing up in favour of hanging out with choirboys.)
There are some ideas, like infantile men that can be made to do things by 'strong' women, that recur in Adajania's work. The idea that women use sex selfishly and are manipulative has recurred in all his films. Like in Being Cyrus, here too characters kill living things – human and animal – without giving the dead or the act of killing a second thought. There's a random aimlessness that characterizes most of the men, whom Adajania hold up as vaguely heroic. In Adajania's world, being directionless and a washout is not a bad thing; it's more like a badge of innocence. To have ambition is an annoyance.
The more pretentious among us may feel the urge to compare Finding Fanny to road trip movies like Sideways but that isn't fair or fitting because even though English is spoken in Adajania's film, the sensibility is Bollywood through and through. The characters are flat, the plot barely exists, the people are pretty, the settings are fake and there's a lot of screaming in what passes as a climax. If this is not quintessentially Bollywood, then what is?
The Goan village that is the starting point for Finding Fanny feels quaint but artificial. It's the equivalent of the palaces where Karan Johar has made Indian families reside in Europe – picturesque and thoroughly unreal. In Adajania's imaginary Goa, there are no modern communications, even though everyone seems to have a mobile phone. Here, when you want to find out if someone still lives in a neighbouring village, you don't make a call and ask around; you just hit the road with people who aren't your friends.
Of course, as filmmakers like Wes Anderson have shown, unreal need not be a flaw. The problem is not that Adajania's chosen setting doesn't feel authentically Goan. (Who in their right minds expects such a thing of Bollywood after all?) What makes everything about Finding Fanny so dissatisfying is that Adajania didn't spend enough time building this world and its characters. It's like a jar that was once broken and has since been glued together lazily.
This wouldn't matter as much if the roadtrip was an excuse for us to see more of the characters. Unfortunately, there's nothing more to learn about Angie, Ferdie, Don Pedro, Rosie and Savio than their quirks, and those we learn at the very beginning of the film. So it's just more of the same and in case of Don Pedro and Ferdie, it's more of hamming. Kapadia's padded derriere – no one has any trouble finding that fanny – is the butt of many jokes. The idiotic pun in that last line is more sophisticated than most of the jokes cracked in Finding Fanny.
If there was the equivalent of a court martial in the world of films, the most serious charge against Adajania would be that he's taken actors as talented as Pankaj Kapur and Naseeruddin Shah and reduced them to overacting. Particularly in case of Kapur, it's unforgivable because he can do so much more than wave his arms around and make goggly eyes. Shah as Ferdie teeters between seeming mildly autistic, vaguely mentally challenged and just plain stupid. For instance, what kind of a person thinks a woman will not have aged in 46 years?
If you're among those who feel that prettiness and dialogues spoken in English are reason enough to forgive the absence of basics like a story, motivation and nuance in characters, then Finding Fanny is up your alley. Just don't labour under the illusion that you've watched a good film. Adajania has proved with Finding Fanny that rather than being cool and offbeat, he's actually just a chip off the old Bollywood block.

VN Prasad lives in Delhi, spends most of the day contemplating retirement and watches only foreign films that require subtitles.
Entertainment
Photo-Prem is a funny, quintessential take on what we leave behind for memories but quickly loses potential with half-baked writing and slow pace.
Entertainment
Time to Dance is pulled down by its unexceptional story, prosaic dialogues and colourless performances by the leads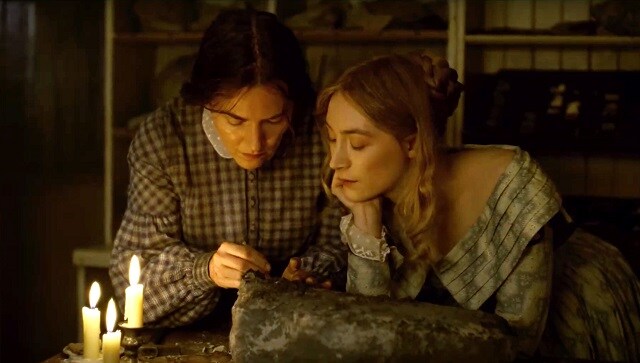 Entertainment
Ammonite suffers from a slowness, that intends to mimic the pace of life, but does not build or culminate into anything profound or satisfying.