'Chalk N Duster' review: Shabana Azmi, Juhi Chawla power through in this classroom drama
Chalk 'N' Duster is not great cinema by any stretch of the imagination. But its heart is in the right place.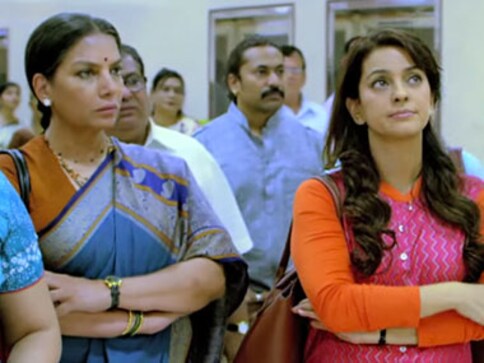 Is calling a film a 'sincere melodrama' an oxymoron? Not necessarily. Sometimes it takes a hammer to drive in a stubborn nail.
Slow clap for Jayant Gilatkar for making a film that moves gingerly, aside from conventional definitions of mainstream entertainment and yet retains the massy genre's flavour and mood. Distinctly old-fashioned in the treatment of its subject, Chalk 'N' Duster seeks narrative sustenance from its heartwarming message of reverence and love for the over-worked under-paid teachers of the country.
The perception of passionately dedicated teachers toiling over the present and future of their students may be seen to be somewhat repetitibe. Chalk N Duster is like To Sir With Love, multiplied by 10 and gender reversed.
However, the convincing performances by Shabana Azmi and Juhi Chawla as schoolteachers who see their vocation as a means to nurture and enlighten impressionable minds, ensures that the film's rough edges and hammered-in message don't get trampled over by our cynicism.
Indeed the two actresses bring so much mutual sincerity to their roles as idealistic knowledge providers that we surrender to the film's simplistic equations of dedicated teachers versus an ogre of principal, played with persuasive relish by Divya Dutta who gives the vampish role a certain distinctive edge. Dutta is the conniving force. Her confrontation scenes with Shabana and Juhi, particularly the former, could have been more dynamic if they weren't so didactic.
Shabana struggles to provide nuances to her uni-dimensional character. Even while mouthing dialogues like, "Everyone knew Sita was pure but she still had to go through agnee-pariksha" she remains in control of her character's schmaltzy bearings. She has a lovely telephonic scene from a hospital bed with her screen husband which reminds us how greatness for an actor is inborn and indelible.
Juhi too is in form here, delivering a lengthy and hardhitting monologue on teacher's right that ought to win the film its tax exemption all over the country.
Chalk N Duster rises to a watchable level from the two actresses. But it never allows us to forget its noble intentions. The teachers wear their halo 24/7. The director sticks to the straight and narrow path of story-telling, opting for a narrative that favours direct homilies.
Yet the film moves you with its forcefully erected moral house of cards. The earnestness with which the director tackles the issue of exploited educationists cannot go unheeded. Chalk 'N' Duster draws attention to itself through sheer transparency directness and straight-talk.
The plot weaves in a domestic life for Shabana and Juhi, with Girish Karnad and Samir Soni as their respective husbands trying hard not to seem like shadowy figures. Unfortunately the male characters are all sketchy and outsourced.
In fact, the most vivacious male character shows up at the climax. Rishi Kapoor's appearance in the finale as quiz host shows how an accomplished actor can create space for himself even when the situation provided is far from convincing. Jackie Shroff, playing a Good Education Entrepreneur(as opposed to Aarya Babbar's Bad Education Entrepreneur) is not only wasted, he also serves up the most hammy salute to womanhood ever put on screen.
The Shabana-Juhi bonding gives the film its special spin. Joining them midway for some more girl power is Richa Chadha as a Barkha Dutta-like tv journalists (why must all female TV journalists in our movies be Barkha-inspired?)
Chalk 'N' Duster is not great cinema by any stretch of the imagination. It is often crude and unapologetic in its melodramatic pitch. But its heart is in the right place. It is a decent conscientious attempt to depict the bond between teachers and the taught. Shabana's Vidya and Juhi's Jyoti (vidya and jyoti, get it?) are more aspirational than real. There is irony there. Because the treatment of the subject is more street-play blunt than aspirational.
Entertainment
Men is heavily allegorical, slathering morbid symbolism on a simple tale of a broken relationship between a couple struggling to wean themselves off each other.
Entertainment
Don plays with lofty ideals, yet it rarely engages with nuance and only deals with extremes.
Entertainment
The 75th edition of Cannes Film Festival opened with French director Michel Hazanavicius's Final Cut (Coupez!), his retelling of the much-loved blockbuster Japanese indie comedy One Cut of the Dead