Bang Bang! review: The remake is even more stupid than the original
Bang Bang!, the official remake of Knight and Day and proof that Bollywood has the singular skill of being able to take even the stupidest of films and make it even stupider.
Here's what happens in the first 10 minutes of Bang Bang!, the official remake of Knight and Day and proof that Bollywood has the singular skill of being able to take even the stupidest of films and make it even stupider.
An Indian army official named Viren Nanda (Jimmy Sheirgill) walks into the MI6 office in London. The British have in their super cool prison a dangerous criminal named Omar Zafar (Danny Denzongpa). The Indian government has been hunting for Omar and now, they're drawing up a new extradition treaty that will let India drag scum like Omar back home from London. Omar, notable for having blue eyebrows, is sitting in his prison cell, eating Pizza Hut pizza, which immediately makes you feel sorry for him. Viren gives Omar a lecture about how his time is up, but his puffed chest is deflated quickly when the MI6 is invaded by Omar's men. Viren is killed while Omar strides into freedom, accompanied by his sidekick Hamid (Jaaved Jaffrey), who — judging from his black harem pants — thinks he's in Aladdin rather than Bang Bang!.
Quite obviously, Viren's death must be avenged and by the power of Pizza Hut, Mountain Dew, Ray Ban, Hokey Pokey and other brands, Rajveer Nanda (Hrithik Roshan) is here to do so. Roshan does manage to keep his shirt on for most of the two and half hour film and his shirts do have buttons, contrary to what the trailers suggested. This is a blessing because Roshan's body has gone way past being muscular. It is now an alien species and this reviewer's first reaction to seeing Roshan without his shirt on big screen, in Bang Bang!, was to send an SOS to Ellen Ripley.
But never mind all that. Look past the boring chase scenes, hilariously bad special effects, deafening songs and plethora of foreign locations, and you'll find some piercing insights in the film. Ostensibly Bang Bang! is about Rajveer's mission to avenge Viren's death, but this is an excuse to fill audiences with patriotic pride because America's NSA has nothing on the government of India when it comes to CCTVs. While the NSA is wasting its time on the internet, Bang Bang! shows us that the Indian government's hush-hush ISS (Indian Secret Service, if you please) has cameras and microphones dangling from all over the place. Are you on the street? In a hotel corridor? Wherever you are, the government has its eyes and ears on you. As a result, it can see everything from a shot of what's on the table when Rajveer sits down at an open-air dhaba — obviously the camera was discreetly camouflaged in the sky. D'uh! — to a close-up of Rajveer popping the Kohinoor diamond into Harleen's little purse.
Yes, one of the subplots of Bang Bang! involves the theft of the Kohinoor diamond. To Omar's mind, stealing the Kohinoor from the Tower of London would somehow affect the passage of the extradition treaty that could lead to him being packed off to India. The things NRIs will do to hold on to their foreign residency... .
But we digress. Bang Bang! is also the story of the virginal Harleen Singh (Katrina Kaif). Harleen is a good girl who lives in a chalet — which is the standard design of houses in Shimla, obviously — with her grandmother. She's single, has never been kissed and likes beanies. Bang Bang! is a two and a half hour treatise that shows the lengths that an Indian virgin will go in order to get, well, banged.
There really is no other reason for Harleen to follow Rajveer as he bounces from city to city, stunt to stunt, in pursuit of Omar. She has one bad experience in the Shimla version of Tinder, known as TrueLuvv.com. It doesn't go well, but she does meet Rajveer. He's fit, flexible, can swivel his hips and handle a gun — that's enough to convince Harleen that this man has the experience from which she would like to benefit.
So she tags along while Rajveer drives around the Shimla area (which looks weirdly Alpine rather than Himachali), goes to a secluded island with him, swims to what looks like another continent and lands up staying in Rajveer's hotel room in Prague. In fact, at one point in the film, when Rajveer is about to go for a critically important meeting with Hamid, all Harleen wants to know is whether they will have sex when he comes back. This is just a few minutes after she's been kissed for the first time, by Rajveer.
Unfortunately for Harleen, all this is to no avail. Two hours have passed, Harleen has worn clothes with varying necklines and hemlines, been so authentic a bimbo that her behaviour would make Barbie feel insecure, but she remains a virgin. All Rajdeep has done is stolen her bronzer, flashed his abs occasionally, held her hand and kissed her once. (That said, he has paid for a rather extensive wardrobe and travel.)
This is clearly frustrating for Harleen because when she's injected with a truth serum soon after, all Harleen talks about is how Rajveer isn't attracted to her because she's boring. "You don't want me because I'm not exciting," she wails, while multiple bombs go off and men in black are shooting at her and Rajveer. The only way Rajveer can get her to shut up and focus on killing the bad guys is by getting her to straddle him, ask her to unzip his (calm down) jacket and reach for the guns he's carrying. He coos, "Tum bahut exciting ho, Harleen. Now shoot!"
The last lines of the film go like this:
Rajveer: Bas ek cheez baaki hai. [There's just one thing left to do.]
Harleen: Kya [What?]
Rajveer: Bang bang.
We can only hope that it's worth the wait and effort that Harleen has put into the project (although the fact that Rajveer refers to it as "bang bang" isn't entirely heartening). But there you have it — Bang Bang! shows you the lengths that a woman has to go to convince an Indian man to make love to her. Silver lining: few men or women are as stupid as Rajveer, Harleen, so there's hope yet for the rest of us.
Entertainment
Tom Clancy's Without Remorse does the bare minimum to stand out in an already cluttered genre of rogue spies seeking vengeance.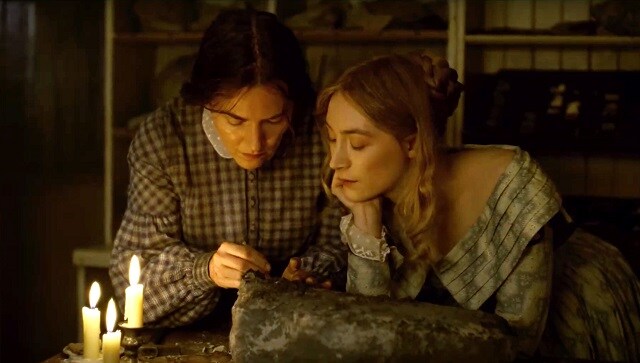 Entertainment
Ammonite suffers from a slowness, that intends to mimic the pace of life, but does not build or culminate into anything profound or satisfying.
Entertainment
Photo-Prem is a funny, quintessential take on what we leave behind for memories but quickly loses potential with half-baked writing and slow pace.