Bajrangi Bhaijaan review: Salman as Hanuman bhakt is so good you'll be surprised
When Salman Khan folds his hands in a namaste pose and says, "Jai Shree Ram" in Bajrangi Bhaijaan, he takes his 'Being Human' image to the next level.
By Gayatri Gauri
When Salman Khan folds his hands in a namaste pose and says, "Jai Shree Ram" in Bajrangi Bhaijaan, he  takes his 'Being Human' image to the next level. He says these three words with such sincerity, that it actually shows him in the most unimaginable role : that of a fine actor.
Now why would a simple greeting would be termed as acting? Because this is no Aamir Khan with the Mr Holier-Than-Roast image or attitude. This is the Dabangg cop, who shakes his shoulders and cackles like a teenager after cracking crass jokes. Silly behaviour, along with a pair of glares, a moustache, a popular pelvic move and most importantly, his muscles ripping his shirt open — this is what has made Khan an unmatched superstar. No one has expected acting from Khan in years. Instead, his fans were more than happy to watch Khan simply being himself.
Then, with Kick, Khan took a step towards being human in a way that made him the new King Uncle. He continued to crack silly jokes and play the action hero. But, he also cried and he saved little children.
Director Kabir Khan has been sharp enough to spot the soft boy in the tough guy image and has given Khan a complete makeover as the innocent Hanuman bhakt who never lies. Raj Kumar Hirani made bad boy Sanjay Dutt a Munnabhai and the ambassador of Gandhigiri, but Kabir Khan's Bajrangi may well be the one who takes Gandhi's peaceful ways across Indo-Pak borders.
And to give Kabir Khan credit, Bajrangi Bhaijaan far less preachy and more effective than PK.
Since truth is his policy, Pawan Kumar Chaturvedi aka Bajrangi (Salman Khan), tells every Pakistani man and soldier how he has crossed the border from under a tunnel hidden underneath the border gate. Fortunately for him, this earns him the title of 'Bhaijaan', from a Pakistani journalist, Chand Nawab (Nawazuddin Siddiqui).
Bajrangi never lies because he is a devotee of Hanuman.This means he takes selfies and dances around Hanuman's statues in loose clothes that make him look like he has tucked into a dozen laddoos first. He doesn't even bother with Salman Khan's trademark pelvic moves. He simply slaps his thigh and kicks up some gulaal, which gives cinematographer Aseem Mishra some great photographic moments. Lo and behold, our man is a hero.
At least the cute little girl staring at him believes in this hero, even though his RSS member dad called him a "zero". She doesn't care that the 50-year-old actor is playing a schoolboy who continues to fail his 10th class.
So, the cute and mute girl, whom Bajrangi christens Munni (Harshaali Malhotra), happens to be a Pakistani, by the name of Shahida. (Cricketer Shahid Afridi has something to do with her name.) What we know about Shahida is that she was born mute and has a tendency to fall off cliffs, get miraculously saved by trees or jump off trains to save little lambs and land up on Indian soil. She needs a miracle to help her back to her sobbing mother, who is somewhere in Sultanpur.
Our Bajrangi, being Hanuman bhakt believes in miracles, but first, he must dilly-dally. How else can we see him win over Rasika (Kareena Kapoor, delightful with her kohl laden eyes), by calling her a "behenji". He must express shock over little Munni gorging chicken legs. Why? Because he was happy assuming that she is a Brahmin going by her fair skin. The biggest shock to the Hanuman bhakt is when Munni runs into mosques to pray.
Behenji girlfriend rightly lectures him about not judging little children by their faiths. Toss in a couple of songs and Kapoor's role is over. It is now time for Bajrangi to become Bhaijaan.
So begins a walk across the border, which is more like a stroll in the park and what can only be described as child's play over snow-clad peaks. There is some entertainment, thanks to Nawazuddin Siddiqui's comic act, which includes Siddiqui calling a burkha-clad Bajrangi his "begum".
The two together make a great team. Instead of performing typical fight stunts, Khan cries and bows with hands folded. The whistle-and-clap moment comes when he finally changes from this greeting to a salaam.
Does this simple story bordering on the dumb with a simpleton character work? Strangely, yes. Thanks to Khan's uncharacteristic convincing performance and intelligent direction by the Ek Tha Tiger director who seemed to have forgotten his craft after his first film, Kabul Express.
If Salman Khan and Kabir Khan were politicians, they would certainly win both the Hindu and Muslim vote banks. Prime Minister Modi, are you listening? If not, just watch the next hottest potential secular BJP candidate say in all humility, "Jai Shri Ram".
Oh and by the way, Khan keeps his shirt on.
Entertainment
Time to Dance is pulled down by its unexceptional story, prosaic dialogues and colourless performances by the leads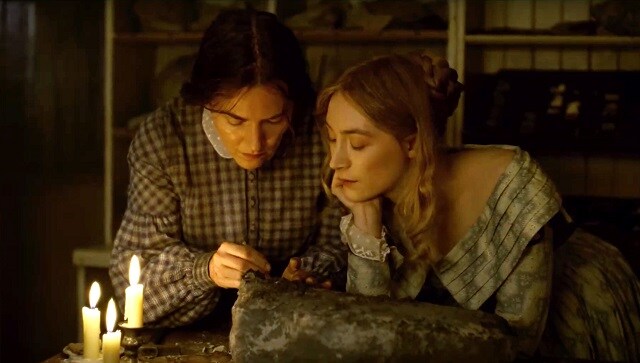 Entertainment
Ammonite suffers from a slowness, that intends to mimic the pace of life, but does not build or culminate into anything profound or satisfying.
Entertainment
The Disciple is a thoroughly Indian film, rooted in the space and cinematic time that director Chaitanya Tamhane creates.