Baby Review: Akshay is brutal yet funny in Neeraj Pandey's gory film
While Baby is not a bad film, particularly by Bollywood standards, it is manipulative, ill-informed and lazily written.
Baby begins with the a man tied to a chair, being punched to pulp. It goes on and on, and on. That, ladies and gentleman, is roughly what director Neeraj Pandey and his cast of testosterone-fuelled patriots will do to logic and common sense over the course of nearly three hours, in Baby.
Starring Akshay Kumar, his stick-on moustache and Danny Denzongpa's voice, Baby is about a super-secret and incredibly effective anti terrorism cell that was set up after the 2008 terrorist attacks in Mumbai, better known as "26/11". You are, of course, meant to notice there's nothing babyish about muscled men hunting down bad guys. However, after seeing how the Baby gang go around making a mess — cafes in Istanbul are destroyed, hotel rooms in Kathmandu are trashed — look tremendously chuffed once they're done and calmly move on, leaving the government of India to clean up and pay for the mess presumably, Baby seems to be a very apt name for this unit.
Five years after its setup, Baby is the Indian government's most lethal weapon against terrorism. Feroze Ali Khan (Danny Denzongpa) is the moustachioed government servant who heads up this elite unit and yet is stupid enough to stand at an open balcony and chat about Baby's latest mission. In the real world, men like Feroze live closely-guarded lives and even then are often unable to evade bullets. Fortunately for Feroze, the terrorists in Baby are mostly idiots, which is why he can saunter about freely. They don't know how to evade CCTV or hide their virtual footprints, their skills at making bomb triggers is highly suspect, and they don't seem to be particularly good at keeping an eye on their young recruits.
Baby starts off in Istanbul, where Ajay (Akshay Kumar) has the task of catching a double agent who knows the details of an impending bomb blast in Delhi. Ajay is able to do so by pummelling the double agent. Before killing himself, the double agent tells Ajay that Baby may have stopped this blast, but there are many Diwalis planned this year.
Clearly, no one in Baby has got the memo that torture doesn't actually work and if painful abuse does make someone talk, it's likely to be whatever the interrogator wants to hear. However, Baby is not realistic even though it does claim to be inspired by reality. This is amply proven by how reliable Ajay's international roaming network is. (Since Madhurima Tuli plays Ajay's wife in Baby and continues to have the same problem of being home while her hardworking husband is away, maybe it's Airtel?)
Back in India, the much-wanted terrorist Bilal Khan (Kay Kay Menon) is not happy that he's rotting in a humble jail cell while small fry like Kasab get air conditioned accommodation. Looking at Bilal's perfect blow dry and contact lenses, it looks like he's scored one over Kasab by getting a personal stylist in jail. Still, that's not enough for him and his grumblings swiftly reach the ears of Mullah Maulana Mohammed (Rasheed Naz), who lives in "border areas". The Mullah hates India but has enough strings in faraway Mumbai to ensure Bilal is able to escape while leaving court by killing three policemen and crashing one police van and a jeep. On Mumbai's Marine Drive. These terrorists are nothing if not subtle.
Ajay learns that another terrorist they'd thought was dead is actually thriving as a travel agent in Kathmandu and is in touch with Bilal who has disappeared since giving Mumbai police the middle finger salute. A quick trip to Kathmandu is organised and Ajay learns Bilal has gone into hiding in Saudi Arabia. So now our intrepid hero heads for the deserts of the Middle East, accompanied by Shuklaji (Anupam Kher and an unnecessary wig) and Groot, sorry Jai (Rana Dagubatti). There's a shower curtain in Baby that gets more screen time than Dagubatti does. However, the actor does do something that few have managed: bulked up and enormous, he makes Kumar look puny.
There are a couple of twists in Baby, but all of it is predictable. Despite that, Baby holds one's attention for most of its running time. Pandey deserves praise for how he's made Kumar shed melodrama and instead play the cool, unflappable agent. Kumar is both funny and brutal as Ajay, reminding us that even the worst of acting talent can seem passable in the hands of a clever director.
More than Kumar, though, what keeps Baby tense are the superbly executed action sequences that follow one another at breakneck speed. Perhaps Pandey was hoping that the chases and punches would distract audiences from noticing the enormous lapses in logic and how lazily the script deals with plot holes. This is particularly evident in the latter half of the film, when Deep Asset Ashfaq (Mikaal Zulfiqar) enters the story and is the answer to pretty much every problem that Ajay faces. Need a cover in Saudi Arabia? Or a hotel booking, a car, a way through Saudi Arabian bureacracy, a band-aid? We have Deep Asset Ashfaq to do the needful. From travel agent to intelligence gatherer, driver and general eye candy, he's doing it all. Considering how much Ashfaq manages by the end of Baby, you'd think he's the real hero, rather than Ajay who spends his screen time jumping, punching and on one occasion, leaving his DNA behind.
Baby's chest-thumping glorification of violence is intensely disturbing, particularly when you watch the film with people who giggle at the sound of words like "ch*tiya" (uncaring of the fact that this is not being said as a joke) and cheer when Ajay, for no reason, slams a man so hard that he dislodges a tooth in his victim. When the bleeding man points out that he's cooperated with Ajay and didn't deserve to be hit, Ajay's response is "Aadat hai" [It's a habit]. The audience erupted in laughter and applause. Apparently, it's reassuring to us that people with uncontrollable lust for violence are out there, supposedly keeping us safe by lashing out unnecessarily.
The most appalling and laughable twisting of fact in Baby has to be the way Pandey casts Saudi Arabia in the global terror drama. The country has and continues to fund some of the most notorious and violent extremist organisations and if Saudi money stopped supporting Islamist terrorist agencies, it's fair to argue a lot of threats would be rendered toothless. In Baby, however, the Saudi law enforcement turns a blind eye to an Islamic radical being smuggled out by three foreigners who have killed a terrorist last seen hugging sheikhs. That's about as likely as the possibility of Kumar growing a real moustache to become Ajay.
Then again, maybe it's not Saudi Arabia behaving out of character. After all, we had the rather dishy Deep Asset Ashfaq over there and from the look of things, that man can do anything.
While Baby is not a bad film, particularly by Bollywood standards, it is manipulative, ill-informed and lazily written. Its admiration and advocacy of violence is juvenile at best and irresponsible at worst. That said, Pandey, who is credited with story, script and direction, did have the good sense to show us that not all Muslims are terrorists, whether in India or anywhere else. For that, we're thankful. He could have pulled a Clint Eastwood on us (see: American Sniper) and we're relieved that he didn't.
However, Baby does go some distance in confirming a different stereotype: that Pakistan makes hotter men than India. You see Mikaal "Deep Asset" Zulfiqar, who makes Dagubatti and Kumar look like wallpaper, is a Pakistani actor. Ladies (and gentlemen so inclined), you may now go hunting for him on Zindagi.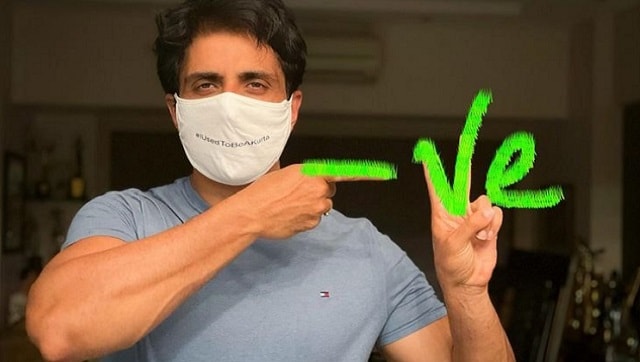 Entertainment
Beyond the dominant silence from Bollywood, many celebrities are responding to the coronavirus crisis in their own ways: by donating money and oxygen cylinders, by amplifying SOS messages on social media, and by employing damage control after receiving flak for a vacation in the Maldives.
Entertainment
Photo-Prem is a funny, quintessential take on what we leave behind for memories but quickly loses potential with half-baked writing and slow pace.
Entertainment
Time to Dance is pulled down by its unexceptional story, prosaic dialogues and colourless performances by the leads