Azhar vs MS Dhoni biopics: Will Emraan Hashmi score over Sushant Singh Rajput?
The comparisons are inevitable for Emraan Hashmi and Sushant Singh Rajput.
By Seema Sinha
In this cricket frenzied environment, Hindi film industry churning out not one, but two biopics on Indian cricket captains is certainly a treat considering our long-standing love affair with both, Cricket and Bollywood - the two aspects of pop culture that are nothing short of religion in India.
So we have films on the life of two cricket legends, Mohammad Azharuddin and Mahendra Singh Dhoni - Azhar and M. S. Dhoni: The Untold Story scheduled to release in May and September this year, respectively.
Though Emraan Hashmi and Sushant Singh Rajput are portraying two different cricketers - Azharuddin and Dhoni - in their respective biopics with a different plot altogether, the comparisons are inevitable.
Both the actors are working extremely hard by spending lot of time with the cricket legends and have got the nuances right for their flicks, but let's take a closer look at the factors that may work for, and the ones that may work against the two films, and of course, which one may have an edge over the other.
Azhar, based on the life and times of Azharuddin chronicles his tremendous highs and his tumultuous lows which undoubtedly is a life meant for the big screen. Not many Indian cricketers have the fortune of being the subject of a biopic, but Azharuddin is one of them.
His life has got all the 'right' ingredients for a Bollywood masala pot-boiler – a failed marriage, rejection by his own parents, who favoured their daughter-in-law, affair with an actress, break-up, rumours of an affair with a Badminton champion, accused in match-fixing and tragic death of a teenager son in an accident.
And it's said that more than focusing on his cricketing exploit, the movie will probably dwell on the colourful life of one of Indian cricket's most enigmatic, controversial and flamboyant personalities off the field, who was otherwise quite restrained with a brooding demeanour. With India's staid media changing post 1991, Azhar was the perfect fodder for tabloids. Columns were devoted to his second marriage, to Bollywood actress Sangeeta Bijlani.
Cricket and Bollywood have always made for eye-grabbing headlines and Bijlani's earlier engagement to controversy's favourite child Salman Khan made the new couple even more gossip-worthy.
Then, of course, Azhar's mighty fall from grace when the Central Bureau of Investigation (CBI) found him guilty of match-fixing, banning him for life some time in 2000 brings in more drama. Further, the cricketer denying the allegations and fighting tooth and nail to shrug off the match fixing controversy while claiming that he was being targeted because he belonged to a minority community perhaps made his case worse.
Mahesh Bhatt speaks about which film he prefers, "I would place my million dollar bet on Azhar. He's a national icon who saw his meteoric rise and heartbreaking fall. Such stories are the life blood of entertainment and Emraan has performed with all his passion. It is truly dazzling. Yes, Dhoni is also a star, a small town boy, rags to riches, certainly a success story, but the dramatic narrative of Azhar's life would engage the audience. Any story showing the rise and fall is a winner."
Adds another filmmaker requesting anonymity, "Azhar's not a goody goody story, there is lot of masala, there is the Bollywood angle. There are big highs and big lows. Also, Emraan is looking more convincing as Azhar. He perfectly resembles the former cricketer and he's quite successfully picked up the mannerisms of Azhar."
But, one can't deny that Dhoni is the present hero and is undoubtedly one of the biggest sports personalities in the world. The Champions Trophy, the 2007 T20 World Cup and the 2011 World Cup are just a few of his achievements as the captain of Indian cricket team. While his magic on the field is well known not much is known about Dhoni's personal life and his struggle.
The film has a trump card in the form of Neeraj Pandey - who is known for films like A Wednesday, Special 26 and Baby while Azhar's director, Tony D'Souza has been previously associated with Box Office duds like Blue and Boss.
While Neeraj remained unavailable to comment, Tony said, "Neeraj Pandey is a fantastic director and Dhoni is a star. Each film has its own merit. I am not competing here with anybody, am not here to score some brownie points. It's for the audience to judge. Well, talking about Azhar's controversial life, we are hoping that the film turns out interesting, let the film speak. These are two separate films and two different audience to reach. There is no need to compare the two."
Komal Nahta, film trade analyst, adds "Both are legendary figures with their own struggles. Yes, Azhar's life is more scandalous but not many know that Dhoni was a ticket checker which is also an interesting story."
Meanwhile, Suparn Verma, film director says, "I'm excited about both. If Azhar's has lot of masala and ups and downs, Dhoni is aspirational and inspirational for the youth. Both have different emotional graph."
But here lies the catch. It's heard that the biopic on Dhoni is more personalised and may disappoint the youngsters who are looking to derive motivation and inspiration and are expecting to watch a film about Dhoni, the cricket legend.
But people who are in the know of the project say that the biopic seeks to focus on the personal aspect of Dhoni's life, including his struggle to achieve cricketing stardom and his love life. And perhaps, the film may also lose out on viewers who feel that it is too early to make a biopic on Dhoni. He still has a long way to go.
Seema Sinha is a Mumbai-based journalist.
Entertainment
Jackie Shroff discusses dabbling into comedy with Radhe and his upcoming movie Phone Booth, and why more filmmakers are opting to direct iight-hearted movies now.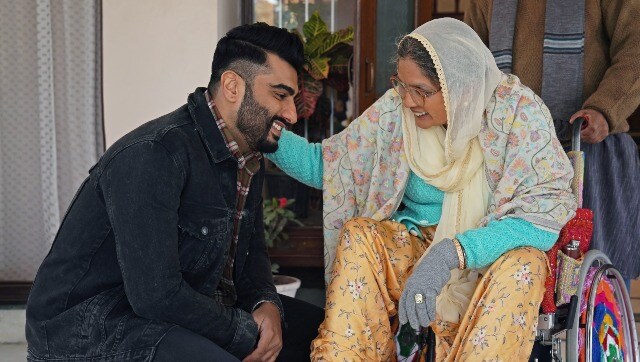 Entertainment
Kaashvi Nair speaks about anchoring the film around a grandparent-grandchild relationship, which she believes is the most "sacrosanct" of all bonds, and the importance of family in an ever-transient world.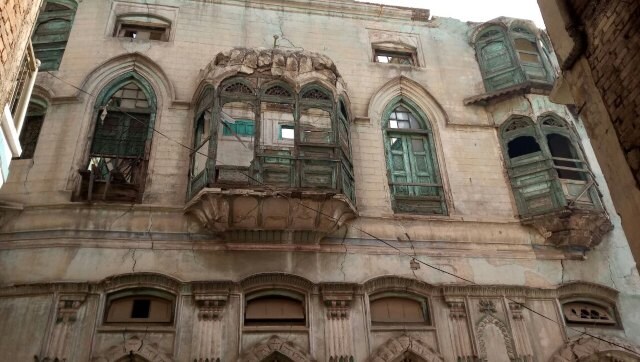 Entertainment
The director of Khyber Pakhtunkhwa Archaeology and Museums Department said the restoration work will take place after Eid-ul-Fitr following the takeover of the two houses.