Afeemi: This song from Meri Pyaari Bindu is a 'sweet' reminder of love's toxicity
The lyrics of 'Afeemi' suggest how toxic love can be but the vocals and Sachin-Jigar's music sugarcoat this song from Meri Pyaari Bindu.
Whatever we have seen of Abhimanyu, the character played by Ayushmann Khurrana, and Bindu, played by Parineeti Chopra, in Akshay Roy's upcoming romantic comedy Meri Pyari Bindu is mostly all about the two of them indulging in pranks, antics and dancing to retro beats.
However, the new song of the film — 'Afeemi' — explores the softer side of their love story. It throws light on the phase when the lovers start falling in love, deeply and irrevocably. Khurrana infuses every frame with freshness owing to his infectious energy. His warm grin flashes like the crack of dawn. To see him dance in joy is to take a ride back to when you fell in love for the first time.
Parineeti is the more restrained lover as hinted by the trailer of the film. But while she is in Khurrana's company, she comes across as the most loved girl in the world. Watch out for her 'I-have-arrived' expression when she sees her music DVDs stack up an entire shelf of a music store.
The lyrics of the song, penned down by Kausar Munir, suggest that love is intoxicating which probably explains why Khurrana's character could never get over the character of Bindu. The lyrics hint at the fact that love is like slow poison. While it caters to your momentary needs, it kills you slowly and surely from within.
But Sanah Moidutty's breezy vocals and Jigar Saraiya's soulful voice camouflage the side effects of love and project it as candyfloss and bubblegum. The music by Sachin-Jigar only amplifies this effect as it leaves you with wanting for more at the end of the video. The last visual of the video is a brilliant shot.
Meri Pyaari Bindu is co-produced by Maneesh Sharma and Aditya Chopra's Yash Raj Films. It is slated to release on 12 May.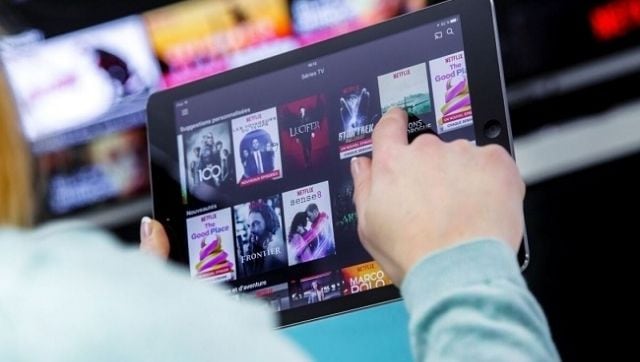 Entertainment
The recently-formed Digital Publisher Content Grievances Council currently has 14 publishers of online curated content as members, which include Amazon Prime Video, Hoichoi, Hungama, Lionsgate Play and Netflix, among others.
Entertainment
Based on The New York Times' best-selling novel. Nine Perfect Strangers will premiere exclusively on 20 August.
Entertainment
The Hong Kong government now have the power to ban films from exhibition to "prevent or suppress any act or activity endangering national security," it said in a statement.