'1920 London' review: This Sharman Joshi-starrer is a poor attempt at horror
1920 London is a drab effort with hardly any shock.
1920 seems to have been a particularly spooky year.
Directed by Tinu Suresh Desai, 1920 London is the third supernatural drama produced by Vikram Bhatt set in that year. The fascination began in 2008 with 1920, which was centred around a ghostly stately manor and an exorcism.
In 2012's 1920: The Evil Returns, the director, cast and locations were new, but the story revisited the themes of possession and evil spirits idea. Desai's 2016 film is set between in 1920s London and Rajasthan.
However period correctness is clearly not a priority with the filmmaker as we see Shivangi, a royal married woman with her head uncovered in a Rajput court, and gliding around her manor in the UK with her knees and arms exposed.
This is a fashion forward Victorian era! If one were to dwell on authenticity, it would be hard to get past the changing length of Sharman Joshi's beard and hair.
So let's cut to the plot instead. The life of a happily married young couple in London changes horrifyingly after the arrival of a surprise gift from India. A spirit seeps out and possesses the husband. Shivangi (Meera Chopra) returns to India to seek help as she sees her husband Veer Singh's (Vishal Karwal) health decline dramatically.
Fearing that a dangerous spirit has possessed him, she approaches a renowned exorcist. He turns out to be none other than her former lover, Jai (Sharman Joshi). In spite of having been dumped and served jail term because of Shivangi's betrayal, Jai travels to London to save Veer.
The story relies on pulling off one major twist, but it's a rather obvious one and once you figure it out the sporadic and half-hearted attempts at grisly, jumpy scares ebb away. A jilted lover with black magic expertise is hardly likely to be a saint.
Sharman Joshi tries hard to play menacing, mysterious and repentant but he's just out of step in the part of an exorcist. Meera Chopra is unimpressive as the helpless wife while Karwal spends most of the film lying in a bed being eaten away by the evil spirit.
Besides one extended exorcism scene, and the painstaking make-up that shows Veer's gradual degradation by the spirit, this is a drab effort with hardly a shock sandwiched between all the frills, frocks and Rajput finery.
Perhaps all the horror there was, has been sucked out of 1920.
Entertainment
Tom Clancy's Without Remorse does the bare minimum to stand out in an already cluttered genre of rogue spies seeking vengeance.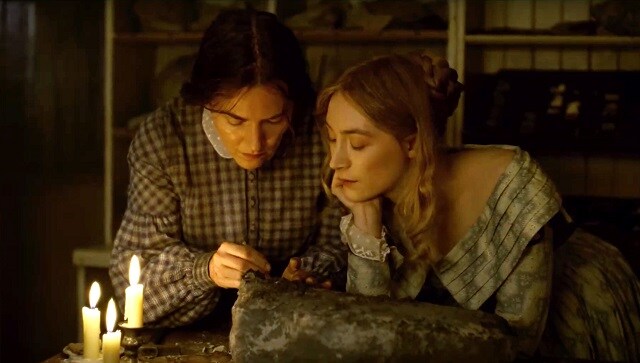 Entertainment
Ammonite suffers from a slowness, that intends to mimic the pace of life, but does not build or culminate into anything profound or satisfying.
Entertainment
Photo-Prem is a funny, quintessential take on what we leave behind for memories but quickly loses potential with half-baked writing and slow pace.