John Abraham has always been the sexiest man in the Hindi movie business. He has shed a lot of his inhibitions along with a lot of his clothes, and emerged as the country's favorite pin-up boy. He also proved the myth wrong that supermodels can't be stars.
However, he opened up about a lot more when he featured on The Firstpost Show with Renil Abraham.
The actor was recently announced as the brand ambassador of ​Arunachal Pradesh tourism in association with Viacom18. In a discussion about the brands he chooses to endorse, which includes Arunachal Pradesh tourism and Garnier Men, he mentioned that it's highly important for the ideology and identity of the brand to resonate with that of his.
Abraham openly spoke about his personal life, relationships and commitments on the show. The Dishoom actor also played a few rounds of 'Five Second Summaries' with our host and turns out he is quite good at it!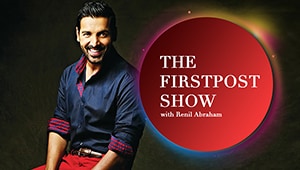 Updated Date: May 23, 2017 18:01 PM