by S Giridhar and VJ Raghunath
Many years ago, in the winter of 1969 to be precise, both of us saw two of the best ever spells of off-spin bowling, within a week of each other. The younger of us, not yet 13 saw Erapalli Prasanna, bring Australia down to its knees with a spell of six for 14 in 11 overs, as South Zone almost pulled off a nail biting victory at Bangalore. A few days later, the elder among us, watched the same Prasanna reduce the same Australians to 24 for 6 at Chepauk in Chennai. Whenever we discuss off-spin bowling, our mind's eye takes us back to those magical moments. Prasanna beating the batsman who survives; Prasanna then cockily walking 'backwards' to his bowing mark, with mincing steps, a teasing smirk on his face and his taunting eyes never leaving the batsman!
If Prasanna represents the ultimate artist among off-spinners then surely the finest of craftsmen among them has to be Venkataraghavan. People talk of the floater as the supreme weapon of beguilement in an off-spinner's armoury. In his first Test series, and not yet out of his teens, Venkat had the skill to bowl that ball to claim Jarvis of New Zealand in the Kotla Test of 1965. It was a delivery that was so good that newspapers next morning waxed eloquent about the prodigious talent of the young man. People, who think Venkat was quick and flat, cannot be more wrong.
Off-spin has always been an integral part of a good bowling attack. Good leg spin provides the X Factor, fast bowlers provide the essential cutting edge but plugging and plotting away on friendly and unfriendly tracks, with patience, resilience and guile is the off-spinner. Some will be the quickish type, almost medium pace and quite deadly on helpful tracks. The others will be slow, accurate and relentless. Both are every captain's dream. On a hot day, on a benign track, it will be the off-spinner who will bowl for figures of 1 for 75 in 33 overs!
Over the years, tons of wickets have been taken by the off-spinners. There are at this moment in August 2012, 35 off-spinners who have taken at least 50 Test wickets. All of them have been valiant servants of the game, and the spectrum ranges from the wide eyed Muralitharan on a summit of 800 wickets that no bowler will ever surpass (the cliché that records are meant to be broken will not apply here) to W Bates who took 50 wickets more than 125 years ago, surely forgotten even in his own homeland but whom Wisden in its almanac describes with a lot of respect for exceptional ability.
If we were to poll cricketers and knowledgeable cricket followers to rank these 35 off-spinners, there will never be any kind of agreement. And yet, cricket statistics has its own fatal charm, seducing the keen follower of the game to try and stack cricketers on some key statistical parameters. We were no exceptions. We created a composite effectiveness index using five parameters — Number of Wickets, Strike Rate, Bowling Average, 5 and 10 Wicket hauls, and proportion of wickets taken away from home — and ranked all the 35 off-spinners with over 50 Test wickets. Based on this composite effectiveness index the top 20 off-spinners were: Muralitharan, Jim Laker, Harbhajan Singh, Hugh Trumble, William Bates, Graeme Swann, Saqlain Mushtaq, Lance Gibbs, Tayfield, EAS Prasanna, GE Palmer, Saeed Ajmal, Ashley Mallett, IWG Johnson, Fred Titmus, DA Allen, Roy Tattersall, Shivlal Yadav, Venkataraghavan and Tauseef Ahmed. All too predictably, while we agreed with some of the rankings our statistical massaging threw up, we vehemently disagreed with others.
We realised that we must stick our neck out and make our own subjective but informed estimates of quality. While facts and figures were at the back of our mind we brought in our own assessment of factors such as guile, the beauty of their bowling action and so on. To begin with we agreed that the three spinners of the long ago generation — Trumble, Bates and Palmer — would be included in the top-20 but will not be ranked, for we were in a no position to argue one way or the other about their place. But for the remaining 17 we would rank them.
And so we arrived at our own list of the 17 greatest off spinners of all time: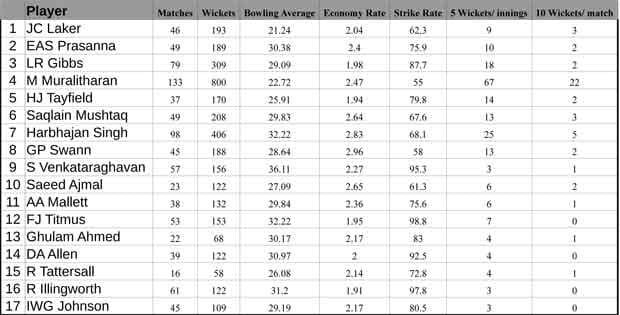 Off-spin unfortunately has regularly thrown up — with good reason — controversial actions. A leg-spinner's action has never been questioned and our theory is that it is simply because one uses the wrist to bowl leg-spin and it would be impossible to do so with a bent arm. Off-spin however is finger spin and there is always the likelihood of a bent arm, even more so if the bowler is not quite side on and gets more open chested. To add to its woes, recently the Doosra has become the single biggest reason for off-spinners to be under scrutiny. In the days before Saqlain demonstrated the Doosra with the cleanest of actions and with wonderful subterfuge, our classical off-spinners had the beautiful over spinner, the floater and the leg cutter. Today, every off-spinner bowls the doosra and sorry, we find many of these deliveries obnoxiously suspicious. Which is why, the two of us place such a premium on the bowling action.
Who had the loveliest actions? Venkat had the most languid effortless action. Five easy steps, the fifth a short one to allow him to pivot and as his bowling arm reached high, the left arm would be right down, all weight on his front foot, the left foot. He was a tall man and yet his release was so beautifully calibrated that not only was his bounce menacing, he also caught batsmen short on the drive. Prasanna's action was divine, for the sheer merriment and drama of it all. The busy small steps of a short man and then the toss of the ball with such a wonderful pivot that the ball would hum, buzz and then change flight as if pulled on a string. Many years after he has retired, very perceptively, like a litany, Prasanna says that for an off-spinner, length is mandatory, line is optional.
Gibbs had a long career and many wickets, in fact for a long time after he overtook Trueman, his record stood unchallenged. Gibbs, one remembers had a unique bowling action, a springy loopy style and at the end of his follow through, the weight was not fully transferred to the front foot. He had a more square on action unlike the side on actions of Venkat or Prasanna. Gibbs had very long fingers and spun and bounced the ball prodigiously. He was relentlessly accurate and had wickets in every country he played in. And of course we cannot resist adding that a certain Mr Sobers often stood at short leg to pluck catches of Gibbs' bowling.
Saqlain Mushtaq is remembered most as the bowler who unfurled the Doosra but he deserves much more than that. For a few years, between 1998 and 2002, he was the world's outstanding off-spinner. He was deceptive and often got batsmen committed to the wrong shot. He was the fastest bowler to 100 wickets in One-Day Internationals. He was the reason Pakistan beat India in the Chennai Test of January 1999 and thus Tendulkar's fabulous century in that match is unfortunately remembered as among the greatest in a losing cause. Saqlain bowled with a long last stride with his bowling arm coming over in a manner that no eyebrows could be raised.
Why is Laker on top of the pile for us? Not for his immortal 19 for 90 against Australia at Manchester in 1956, which feat anyway would rank as the most remarkable in the entire history of Test cricket. He was for us indisputably the first ever off-spinner of great impact and the most complete off-spinner. The Wisden Illustrated History of Cricket, 1989, by Vic Marks (English off spinner incidentally), says, "Laker possessed all the necessary qualities – a classical action, superb control of flight and spin, and the ability to assess swiftly his opponent's strengths and weaknesses…." Apparently batsmen could hear the ball fizzing on its way to them and many found the ball was not really there when they went to drive it. We have this memorable story about Laker: After finishing off Australia at Manchester (the 19 wickets) Laker quietly drove off home. On his way, he stopped at a pub for a pint of ale. A group of people at the pub were watching the Test match highlights, saw Laker on the bar stool and remarked that the chap looks like Laker. Laker, enigmatic as ever, quietly continued quaffing on his ale!
Laker, incredibly had taken all 10 wickets earlier that season for Surrey against the Australians on a not particularly spiteful wicket — a fact that many do not remember. So his subsequent performance in the Manchester Test was not a flash in the pan. Five years earlier in a Test trial at Bradford, he had the unbelievable figures of 8 wickets for 2 runs against the Rest of England. In spite of all these figures and the fact that from 1948 he was the best off-spinner in the country over the next decade, Laker was overlooked for both the 1951 tour and the 54-55 trips to Australia. Simply because he was always viewed distrustfully by the establishment! So whimsical selection policies everywhere seems to be a part of cricket history.
Laker's shoes were impossible to fill for the Englishmen who followed him. Titmus and Allen no doubt had their own golden moments. Titmus was such a chirpy loquacious character, that one of his teammates memorably said, that he probably took catches in mid-sentence! But these bowlers had clean classical actions as does Graeme Swann today. Swann has never bowled the Doosra, but he has a wicked well-disguised straighter one and complete control of his spin, flight and pace. He is right up there among the greatest for us although the recent Tests against Sri Lanka and South Africa in 2012 are forgettable for him.
Saeed Ajmal, to be honest has grown on us. He has bloomed late, making his debut at 32 and uncharitably looked like a poor clone of Saqlain when we first saw him. But he is now destroying opposition everywhere and getting a bucketful of wickets. His is not the classical off-spinner's action to put it mildly and the Doosra is his preferred weapon of destruction which in our books does not get the greatest of marks. Be that as it may, Ajmal is today Pakistan's main strike bowler irrespective of playing conditions. He bowls long spells with hostility and gives his captain the comfort that one end is taken care of and wickets will come from there. What more could a captain want?
Young readers might be puzzled to see Ghulam Ahmed's name in our list. But know thee well; he was a lovely off-spinner, one of the wiliest. While Gupte and Mankad provided India with leg-spin and left-arm spin in the 1950s, Ghulam was the counter foil to both of them. His action was known for its complete economy and seemingly minimal effort that enabled him to bowl long spells without fatigue. But he was a terrible fielder and one could safely predict he would drop the ball if a catch came towards him.
Toey Tayfield is South Africa's finest spinner ever and so accurate that, as we have written earlier, a batsman could wait all day for a bad ball to hit. He was not a prodigious turner of the ball but he bowled from close to the stumps, over the wicket, to get maximum drift. The drift ensured that the spin he generated was enough to make batsmen commit errors. Tayfield would set very strange but remarkably well-planned fields with two short mid–ons, one straighter and one squarer to the right hander and two silly mid-offs similarly for the left-hander. There is a remarkable sequence of photographs that captures Tayfield make a sensational return catch of his bowling. Arthur Morris, the Australian drove Tayfield and it hit the silly mid-off fielder and rebounded. The next picture shows Tayfield diving full length to catch this. Tayfield got his nickname Toey because he would stub his toes into the ground after every delivery. It became a mannerism that never left him. And unlike Ghulam, this man was an excellent fielder, one of the best! Actually some of these off-spinners in our list are absolutely top drawer fielders. Tayfield of course and then Mallett and Venkat right there among the best.
Murali on sheer numbers is so far and above the rest that he can sit on the summit impervious to anything that people might say about his bowling. The interesting thing is that Murali was probably as much a wrist spinner as a finger spinner which is why he could spin the ball on a marble top. Harbhajan, second in the wicket list enjoyed his greatest moments when he single-handedly bowled India to a series win against Australia in 2001. Harbhajan relies greatly on bounce, not so much on drift. If he gets a wicket early he is terror but if denied a wicket early, he gets fretful. As purists, both of us, give a lot of emphasis to the purity of action and on that count alone we are unable to rate both these giants above Laker and Prasanna.
Finally, let us look at Hugh Trumble, one of the three great off-spinners who played more than 100 years ago. Trumble played 32 Test matches between 1890 and 1904. His 141 Test wickets came at less than 22 runs apiece.  He was tall and his quickish off-spin was unplayable on wet wickets. His exploits are best encapsulated in the Australia–England Ashes series of 1902. Two of the three Tests were nail bitingly close. Australia beat England by 3 runs at Manchester and then England beat Australia by one wicket a few days later at Oval. In both matches Trumble was simply marvellous, 10 wickets in the win at Manchester and then 12 wickets in the heartbreak at Oval.
Off-spin is no bridesmaid. There is as much guile, cunning, skill and art in this as in any other form of bowling. And to add to it is the fact is that the off-spinner is the ultimate soldier — ready for the long battle. On flat unresponsive pitches, in hot and unhelpful conditions; the fast bowler may flag, the leg spinner may feel deflated but the off-spinner will go on. Right arm over the wicket most times, sometimes round the wicket……probing away.
Updated Date: Aug 31, 2012 14:04 PM