Why Indian politics is a badly run family business
Dynastic politics was always a major part of the nation's politics but is it growing in India and making the second generation political leaders richer?
Rahul Gandhi's ascension from a state of meaningless nothingness to an elevated orbit of meaningful nothingness is almost signed, sealed and delivered, if the dynasty-worshippers from Congress are to be believed. September will mark the lift-off, as he assumes a larger role in the party and/or cabinet, if one were to go by the various reports that we have read over the past week or so.
Of course, booster rockets may launch him deeper into the political stratosphere, if UPA manages to string together a majority in the next general election; but that is purely speculative.
While on speculation, that being the zeitgeist, it is being allegedly said in hushed tones in certain quarters, that the recent NCP posturing and tantrums (not "petty" and certainly not over "petty" issues, as Praful Patel has tirelessly re-assured us) may yield rich dividends for Sharad Pawar's daughter Supriya Sule.
She, of course, is an unabashed supporter of dynastic politics, and I quote "What's wrong, if people want to support and elect members of a particular family".
She said that in May 2012.
Something else happened in May 2012, which snuggles smugly into the smugness, of dynasty baba-logs and baby-logs. In what can be viewed as a brazen example of how certain institutions in India have been waylaid by the low and the fallen, the Indian polity closed ranks 6 weeks ago and delivered a resounding slap on the face of the Indian electorate.
A small little gigantic farce was played out in the Lok Sabha by-poll in Kannauj, UP.  In a shocking display of how democracy truly works in India, we had this rather strange situation where the 3 leading parties in UP (other than SP), fielded no candidate of their own to put up a fight against Dimple Yadav. Two lightweight independents, who could have provided some semblance of credibility – however titillatingly flimsy - to the election, decided to "pull out" at the last moment as well.
Dimple Yadav romped home unchallenged, as the defenders of democracy meekly threw in the towel in what can be seen as an abominable display of spineless respect to sasurji, chote neta and bahu-rani.
Here is some more fodder for thought. The worst manifestation of this phenomenon was perhaps Rabri Devi. The lady who, 15 years ago (1997-2005), shone the light of her intellect on the denizens of the state of Bihar, and dazzled them all with her not so formidable administrative and governance skills as the CM of Bihar. Thrice. Three times too many?
Politics, ladies and gentlemen, is family dhanda. And I am happy to state in no unequivocal terms, that the dadagiri of dynastic politics is alive and kicking. Let us now delve deeper into this phenomenon (Lok Sabha MPs are being covered in this post) to examine for ourselves how unrepresentative our representative Parliamentary system has become, as power gets increasingly concentrated in the hands of a few families.
Key Highlights:
- Nearly 29% of the MPs are hereditary MPs.
- Among the national parties, Congress is numero uno on this count – 37% of their MPs are hereditary MPs.
- A state-wise analysis reveals that UP (39%), AP (38%), J&K (33%), Punjab (77%), Maharashtra (30%), Delhi Union Territory (71%) and Orissa (38%) lead the charts in terms of %age of hereditary MPs within the respective states.
- When it comes to hyper-hereditary MPs (MPs with multiple family members lodged in the dark under-belly of Indian Polity), Congress has 3.5 times as many hyper-hereditary MPs as BJP.
- If one were to hazard a broad generalization (based on data), trend-lines point towards the northern parts of the country as being more conducive to this family dhanda.
- Among the regional parties, RLD, SAD, BJD, National Conference and NCP look like almost completely family owned dhandas – figures vary between 42-100% with RLD and NCP coming in towards the top end of that band.
- The proportion of hereditary Ministers is significantly higher than the proportion of hereditary MPs. Ditto for hyper-hereditary Ministers.
- There is a near perfect linear relationship between hereditary MPs and age – 100% of the MPs below 30 are hereditary, 65% of the 31-40 lot are hereditary and 37% of those in the 41-50 age bracket are hereditary. Congress is the usual suspect on this front too, with 88% of its sub-40 year old MPs being hereditary.
- Hereditary MPs are about 4 times richer than those who have no family background in politics.
- Hyper-hereditary MPs are now threatening to overtake the wealth of even those MPs who have a business background. Mull over it a tad – this dhanda rocks baby!
It is too early to assign any causal relationship between a constituency "belonging" to a hereditary MP and the overall development of that constituency. But if one is so inclined, one can even explore this aspect of the equation – my initial study and research shows that the constituencies lorded over by hereditary MPs fare worse than others (is there causality? I do not know yet).
How many more slaps are we willing to subject our cheeks to? Or perhaps, that is a rhetorical question.
Sources & References: ADR reports, Patrick French & Aaditya Dar data sets.
(shining.path.notperu@gmail.com)
Politics
For the first time in 22 years, Congress will elect its new party president on 17 October. Notably, in 2000, party veteran Jitendra Prasada contested against incumbent Congress president Sonia Gandhi but was defeated
Politics
He assured that the Congress, if elected to power in Gujarat, will restore the old pension scheme, saying it is the right of government employees who strengthen the nation.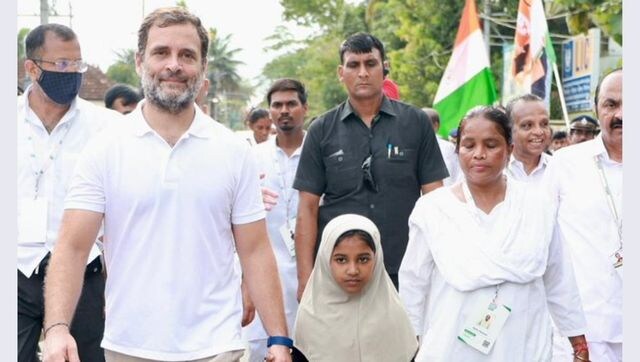 Politics
BJP accused Congress of appeasement politics and communalisation. The party shared a photo of Rahul Gandhi from Bharat Jodo Yatra walking along with a burqa and hijab clad girl