This could be Sahara Force India's best year in F1
With the midfield battle so close there is a big possibility that teams who get it right during race weekend can spring a surprise and finish in the Top 5.
If the opening round of the 2012 Formula One season is anything to go by, we are in for one cracker of a championship ahead of us. There was a lot of hype leading into the first race in Albert Park, Melbourne, and going by the race itself, this was definitely justified. While Australia is just a one-off in terms of car performance, it does look like this year's championship will be decided between Sebastian Vettel's Red Bull Racing and the Vodafone McLaren Mercedes of Jenson Button and Lewis Hamilton. Red Bull is definitely still the favourite but it is good to see McLaren taking the fight to them from the onset.
While all eyes will be on the championship contenders I think the midfield battle will be where all the action will happen. In the second part of qualifying the gap was so close that the difference between 5th place and 15th place was about 6/10ths of a second. Last year the gap between these positions was 1.5 seconds. While the top two teams were in a league of their own, amazingly the next 7 teams were closer than ever before, all jostling for points and positions until the chequered flag came down. Ferrari, Lotus Renault, Sauber, Mercedes, Sahara Force India and Scuderia Toro Rosso were all within striking distance of each other. The last lap of the Australian GP saw mayhem with positions 6-12 change from the lap before.
This is what fans love F1 for, not just the top 4 guys battling, but drivers all through the grid giving it a go the flag. While Mercedes and Lotus are definitely ahead of this pack in qualifying trim their race pace seems to be on par or just ahead of the other teams. Due to Michael Schumacher and Romain Grosjean's retirement it is tough to predict where they would have finished but am sure their tyres would have suffered degradation like their team-mates.
Ferrari is definitely struggling and don't look like they will be able to close in on the top two teams to launch an assault on the Championship. The only reason they finished in 5th place was because of Alonso's brilliance. Mercedes will be on the pace in the races to come due to their version of the F-Duct so Michael Schumacher fans can come alive again.
With the midfield battle so close there is a big possibility that teams who get it right during race
weekend can spring a surprise and finish in the Top 5. This could turn out to be Sahara Force India's best year in F1 with the car showing a lot of promise. I believe they have one of the most exciting driver line-ups this year even though they dumped Adrian Sutil last year. Nico Hulkenberg is a World Champion in the making without a doubt and Paul Di Resta showed us his potential last year. Hulkenberg should have finished in the points in Australia but for his collision with Daniel Ricciardo in the first lap. They managed to develop the car extremely well last year so should be on course for a good year this time around.
The Australian GP saw the return of Kimi Raikkonen and he showed us what 2 years away from the game can do. There was lack of communication between the team and him which led him to missing Qualifying 2 as he thought he had time to do another lap when he did not. Then during the race he was asked why the marshals kept showing him the blue flag (maybe thought it was used for different reasons now) as he was not being lapped by the leaders.
But to his credit Jenson Button was also being shown the blue flag and complained about the same. However Kimi has been missed in F1 sorely over the past couple of years and did not fail to disappoint on his return. His team-mate Romain Grosjean qualified in 3rd place and will be one to watch out in this year so expect a lot more from the Frenchman.
On a last note, we are just one race down so expect a lot of changes in the development cycle of all the teams over the next couple of months. With the Malaysian GP taking place this weekend and teams having no time to make big changes to the car expect the same midfield battle again.
But I for one am extremely excited about this year's championship and now can't wait for Sepang, Malaysia this weekend.
Find latest and upcoming tech gadgets online on Tech2 Gadgets. Get technology news, gadgets reviews & ratings. Popular gadgets including laptop, tablet and mobile specifications, features, prices, comparison.
Sports
Laurent Rossi, director of strategy and business development for Renault, will take over the motor sports unit which will be rebranded Alpine.
Sports
Leclerc, 23, added that he had "mild symptoms" and was isolating at his home in his native Monaco.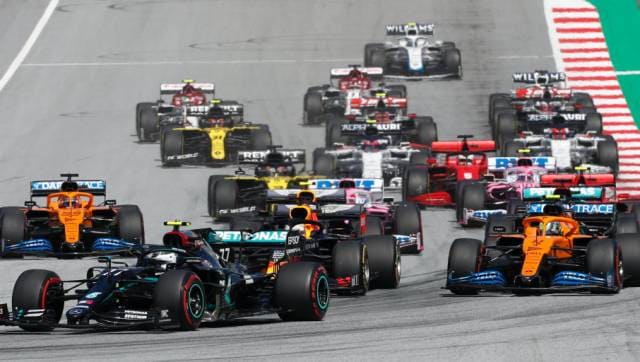 Sports
The Italian circuit of Imola, which returned last year as the calendar was hastily rearranged in the face of the pandemic, is expected to fill China's slot, AFP learned on Monday, confirming information from several specialised media.