Thirty and fabulous: How Priyanka, Vidya and Kareena redefined aging
Actresses are making the decision to transform their appearance to do new kinds of roles, be it a plump sex siren, autistic woman, or falling Bollywood star.
Last year Vidya Balan put on 15 kilos of weight, cheek pouches and some heavy makeup to play soft porn actress Silk in The Dirty Picture. Audiences gasped as she brazenly displayed rolls of fat. She then went on to strap on a (spoiler alert) prosthetic stomach in her next film Kahaani and cemented her position as an actress with the rare ability to pull in audiences to a film without the support of a leading male hero. She also swept all of the major acting awards that year.
Balan has been acting in Bollywood for 7 years now, but was never considered part of the A-list until Dirty Picture and Kahaani happened, and positioned her as an actress with clout despite having no size zero to her credit. It was a unique achievement in an industry teeming with superfit Desi girls, Sheilas, Chamelis and Chammak Challos.
Now other actresses seem to be following suit. We have Priyanka Chopra who is getting the best reviews of her career for her portrayal of Jhilmil, an autistic person in Anurag Basu's Barfi! None of her usual mini-skirts or gold monokinis were harmed in this process, and Chopra is barely recognizable as her usual glamorous self.
Last Friday also saw the release of Heroine, in which Kareena Kapoor plays the ultra glam superstar Mahi. But Mahi is also neurotic, drinks scotch by the gallon, smokes furiously, has a lesbian one night-stand and looks decidedly deranged with mascara leaking, raccoon eyes in some scenes. She is in short, an unattractive character who nevertheless looks attractive for most of the film.
For too long in Bollywood, in the case of actresses, critical appreciation has been poles apart from box office street cred. It used to be that a 'deglam role' was code for 'performance-oriented role'. When Kareena Kapoor did Chameli, the entire focus was on her lack of make-up and that she wore an actual Rs 400 sari brought off the streets, because those are the symbols that define an actress in Bollywood, and to sacrifice those, must mean she is serious.
Aishwarya Rai did Raincoat directed by Rituparno Ghosh, which was again a so-called 'no make-up' role. Actresses basically, had brief flings with the arthouse, and then came back to masala movies to do their requisite 4 songs and 5 scenes.
What is different now with TDP, Kahaani, Barfi and to a lesser extent Heroine, is that they seem more inclined than ever to let go of vanity in mainstream movies aimed at the masses-as opposed to smaller niche movies that won't affect their image or brand.
Vidya Balan, Priyanka Chopra and Kareena Kapoor are with TDP, Kahaani, Barfi! and Heroine, making the decision to transform their appearance to do new kinds of roles, be it a plump sex siren, autistic woman, or falling Bollywood star. This is a significant shift in an industry where an actress' brand value is determined solely by her ability to meet a narrow definition of glamour, from the size of her waist to her designer wardrobe.
Looking at this trend then, it is tempting to think that this means the dawn of less constricting times for all Bollywood actresses. But there is perhaps a less charitable explanation which is that that all these actresses are either thirty (in Priyanka's case or 32 in Kareena's) and are aware that the shelf life of a glamour doll cannot be stretched much further than that.
It is all very well to be in denial and say that 30 is the new 20 for a Bollywood heroine. But the fact is that while you can be a working actress in Bollywood after 35 depending on which one comes first, you definitely can't be the most successful working actress in Bollywood. And a good way of negotiating the botoxed pitfalls of an ageist industry is this increasing attempt to play characters that the average male doesn't want to take home to your mother or sleep with, but does perhaps want to get to know better.
In an earlier Bollywood they would have perhaps fallen back on the warped practice (also spoofed in TDP) of having heroines who were considered past their sell-by dates play mothers to heroes who were elder to them in real life. Rakhee for example. Was 35 when she played mother to a 37 year old Amitabh Bachchan in Shakti.
In that sense now 35 might be the best time to be a 'hit' Bollywood heroine. They have by then, usually paid their dues as agents of beauty and glamour. It's almost like a relay, where you have to pass the baton of box office before you can get to the stage of playing a character without thinking too much of how it will affect the dreams of millions of adolescent fans.
All eyes then on the reigning queen of glamour Katrina Kaif who at a reported 28, seems alarmingly content skipping around in gorgeous locations looking stunning with assembly line precision.
Find latest and upcoming tech gadgets online on Tech2 Gadgets. Get technology news, gadgets reviews & ratings. Popular gadgets including laptop, tablet and mobile specifications, features, prices, comparison.
Entertainment
The actresses join the likes of Idris Elba, Oscar Isaac and Nicole Kidman in lending their voices to A World of Calm.
Photos
As Nick Jonas turns 28 today, remembering his and Priyanka Chopra's most memorable moments, from their first-ever Met Gala appearance in 2017 to their Holi 2020 celebrations in India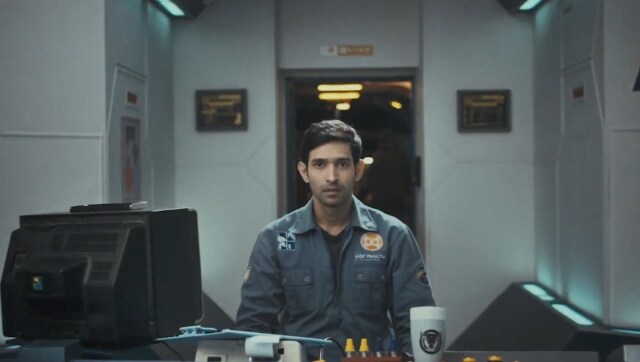 Entertainment
The London Indian Film Festival (LIFF) returns to cinemas across the UK capital from Thursday amid a coronavirus-secure setting