The true cost of John Terry's trial
The ramifications here do not affect just two families, but all of British football.
On July 13, Chelsea and England defender John Terry was cleared of charges of racism levied against him by Queens Park Rangers centre-back Anton Ferdinand, who is the brother of Terry's one-time England colleague Rio.
Had he been found guilty for using 'threatening, abusive or insulting words or behaviour or disorderly behaviour within the hearing or sight of a person likely to be caused harassment, alarm or distress and the offence was racially aggravated', as reported by The Telegraph, under Section 28 of the Crime and Disorder Act 1998, contrary to Section 5 of the Public Order Act 1986 and section 31(1)(c) and (5) of the Crime and Disorder Act 1998, Terry would have been fined the grand sum of 2500 Pounds Sterling.
To a man who earns more than 150,000 Pounds a week, the above some would be akin to what his kids receive as pocket money. The financial costs on the surface, therefore, are negligible.
It's when one digs a little deeper that one finds out about the true cost of John Terry's trial. The ramifications here do not affect just two families, but all of British football.
John Terry was in court because on the 23rd of October at Loftus Road stadium, Terry had hurled the words "f**k off, f**k off, yeah, yeah and you f**king black c**t, f**king knobhead," after Anton Ferdinand had made a fist pumping gesture towards Terry.
"He called me a c**t and I called him a c**t back," is Ferdinand's account of the story as reported in The Guardian. "How can you call me a c**t? You sh***ed your team-mate's missus, you're a c**t."
Terry admitted to using those words against Ferdinand, and under the circumstances, should they not be considered racist? John Terry claimed he was being 'sarcastic' but I fail to see the funny side of that expletive.
For one, had he been proven guilty, his England career would've been over, and his Chelsea career would have come under intense scrutiny. Article 6.5 of the Club's official charter states that Chelsea Football Club are working towards "a zero-tolerance policy towards discrimination". (Source: The Guardian)
Chelsea have always run a very strong anti-racist campaign behind the scenes, and this would surely undermine their effors. It would've been a 'damned if you do, damned if you don't scenario' for them, wherein keeping him would mean their captain was a racist, releasing him would mean losing one of their best defenders.
As Tom Flanagan of law firm Irwin-Mitchell in the UK says, "It would have been usual for an employee in Terry's position to have been suspended pending the investigation. He could have been disciplined, even dismissed, for bringing the club into disrepute, whether or not guilty of the charge in the criminal case, and whether or not the case had even been heard."
"Football sometimes appears to cocoon itself from the real world," Flanagan was quoted as saying in The Guardian.
And what of the other consequences of this trial? Has everybody already forgotten that this was what led to the resignation of Fabio Capello, one of Europe's finest coaches, after the FA had decided to go their own way on how to deal with the Terry saga?
Soon after Ferdinand decided to press charges, he received a bullet in the post, with a threatening note telling him he would be shot.
Speaking of ending England careers, Roy Hodgson, Capello's replacement, saw it fit to call up Terry, who was in the middle of the scandal, at the expense of Ferdinand on the basis of 'football reasons'. We all know that Hodgson needed to keep the peace in his squad, and had decided to stick to his decision once he'd made up his mind. Had I been England manager, I would've ensured the only participation Terry had at the Euros would be watching it on television from his couch.
The Ferdinand family has been put through trauma during the course of this trial. Speaking in Malaysia before facing a local football side in the city of Kota Kinabalu, his Club boss Mark Hughes said, "Anton gave his side of what happened in court and it was certainly a traumatic experience for him. So far he has reacted well and is committed to the Asian tour, where we have three friendly matches to play." (Source: The Telegraph)
Everybody is surely well-acquainted with elder brother Rio's 'Liar Liar' tweet now, and that was soon followed up with one calling left-back Ashley Cole a 'choc ice' on another tweet. Ferdinand then went on to explain that the statement had no racist intonation, but was slang used to describe someone who was fake. Cole had been summoned to speak in favour of Terry at the hearing
Soon after the incident itself had occured, Rio Ferdinand was on Football Focus. "Anton is my little brother... At the end of the day, my brother has not brought any accusations to anyone. He is not the accused," he told the BBC show "But he has had to sit there and take abuse from some small-minded people, which has been very disappointing."
Terry is 'Mr. Chelsea, their Captain, their Leader. Millions of children throughout the world idolise him. To them, he is a role-model, one you look up to, one whose principles you adhere to. What impact will this verdict have on them? That it's okay to racially insult someone and then get away with it?
Chelsea adopted the 'Right to Play' slogan on the back of their Champions League jersey's last year. And yet Terry is their Captain. And let's look at the bigger picture here. What of England's Kick it Out anti-racism campaign? What of UEFA's 'Respect' campaign?
Terry's explanation was that he had none. "It was just something I done," he said.
John Terry might've thought he'd left the courthouse that day with his honour intact. What he doesn't know is that British football's honour is now in tatters.
Find latest and upcoming tech gadgets online on Tech2 Gadgets. Get technology news, gadgets reviews & ratings. Popular gadgets including laptop, tablet and mobile specifications, features, prices, comparison.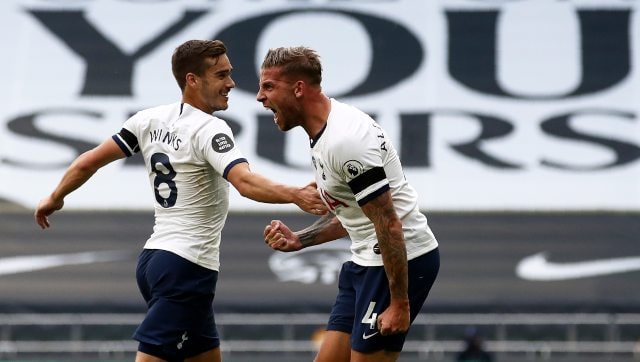 Sports
Alderweireld sustained an adductor injury in Saturday's win against Manchester City.
Sports
Costa will miss Atletico's Champions League game at home to Lokomotiv Moscow on Wednesday and is expected to be out for at least a month.
Sports
Silva, 34, has started eight of 10 league matches for La Real following his summer arrival from Manchester City on a free transfer.