"If ye love wealth better than liberty, the tranquility of servitude better than the animating contest of freedom, go home from us in peace. We ask not your counsels or arms. Crouch down and lick the hands which feed you. May your chains set lightly upon you, and may posterity forget that ye were our countrymen."
- Samuel Adams
India has been reduced to a Scamrashtra. Laughably fatuous protestations to the contrary, by formulaic polemicists notwithstanding.
They call it a representative democracy. On paper, it appears to bear a striking resemblance to one; in spirit, nothing could be further from the truth. A theme I have touched upon often over the last few months.
For more on the mutant rotting versions of democracy that the powers that be, caught in an incestuous carnal embrace with crime and business, have transmogrified India into over the past 4 decades or so, click here and here.
Take Jamai-raja for instance. [Did I just hear Mister Chaar-kaam, who thinks that the meek, nay drivers should inherit the earth, heave a sigh of relief? Excellent - his complacency is our friend].
Cruising along on the autobahn of crony lootism, which is often Brian de palmed off as free-market capitalism by those whose ranks include PAN card non-holders, defaulters on IT returns, alleged murderers, rapists and swindlers. Click here for more on that.
And then, there are these half-penny, garden variety thugs who, when the cellophane of Oxford crinkles away under pressure-generated heat, resort to saying things like come to thisFbaad or thatFbaad, you third-grade nobody.
Ah, the cowardly infernal smugness extending till infinity….and then some.
Of course, remove the heat, and he morphs into a Cabinet Minister. Suave and charming, some say. Also a true do-gooder and an able philanthropist looking at the disabled with tear-evoking, heart-rending tenderness.
Even as some look askance at him.
Random thought: Note to Over-achieving non-poodle, non-tragically so - you are not only in office but you are also in power. So while you are parked there - democratically I believe - stop dabbling with words like ethics and instead show us some concrete action beyond a committee hither and a panel thither, on Electoral Reforms and on Real Estate Regulation. No? How about doing something on that white paper on black money? No? Whistleblower's Bill, then? No? Dang! Show me your KRAs again please?!
I crack myself up with these random thoughts sometimes.
Back to Jamai-raja and the autobahn.
So he is cruising, wind in the Schwarzkopffed hair, cheeks fluttering comically as they often do at high speeds when one achieves Zen on a Harley, oversized shades [Versace?] lending a certain darkly tainted hubris to the apparition, as he flirts with vivid thoughts, some involving sucking on mangoes, sweet and soaked in the blood of dead farmers from places he has never been to, and places which, I suspect, won't even dignify his presence.
No banana peels en route. Cruising like cruisers cruise. Thumbing his nose at the aam aadmis who inhabit his family-run banana republic.
Till one fine and glorious morning, Arvind wakes up, and decides to fire away a booming shot across the autobahn, possibly changing the rules of the game forever. Power often depends on the appearance of impregnability – Arvind methinks, has figured that one out.
Cruise forgotten. Replaced by the hangman's noose on TV channels that pass off for the judiciary of late [on almost all matters except those that involve one of their own], as they all go to town with their ephemeral ithyphallic tumescence. Figuratively.
Crash boom bang. Bodies pile up thick and fast. Mostly cabinet ministers and paid government spokespersons who, in a moment of madness, drop all pretensions about who they constitutionally are, and who Jamai-raja constitutionally is. Like they say, those whom the Gods wish to destroy….
And all hell breaks loose. Political parties who were thus far participating in a big fat orgy [the hand does hold the lotus now, steady the bicycle then and stroke the elephant's trunk often, is also the one that waves at the rising sun between the twin peaks…try any permutation of that and the point still holds..….you get the drift], sweating and moaning in delight as they raped and sodomized all four pillars of democracy, gnawing lustily till its innards were reduced to a certain empty fullness [like bloated dead bodies in a river?], its foundations shaken …..Well, they all suddenly go deliriously dopey batty nutty.
Understandably so.
Coitus interruptus can wreak havoc on one's mental equilibrium. Like I said moments ago, those whom the Gods wish to destroy, they make mad first.
Enough has been written about the rich jamai-raja and his maddening love for speed - 50 to 30,000 in 3 years sounds illegal to me -- and a speeding ticket is in order. The howling din of those who have risen to his defence notwithstanding. Unsecured loans, quid pro quo, sweetheart deals, land-use change…..nothing new to add there.
Now let us look at the poor sasu-ma, shall we?
You don't have to take my word for it, but as far as MPs and their declared wealth goes, sasu-maa is about as close to being a panhandling mendicant as an MP could get. You decide for yourselves after going through the facts I am about to share with you.
Here goes.
Break-up of Poor little sasu-ma's wealth: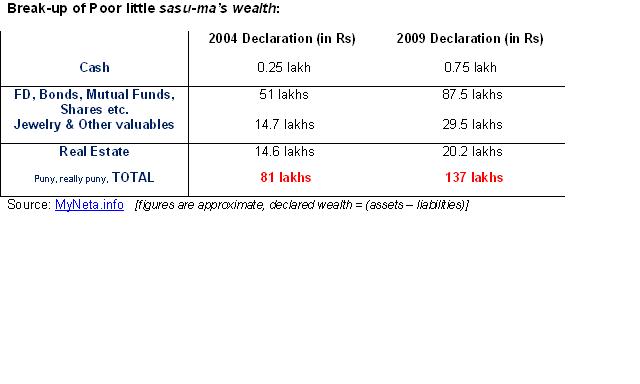 Just for a lark, and on a whim, let us line this up against Mayawati's Rs 112 crores, Renuka Chowdhury's Rs 55.6 crores [self + spouse], Supriya Sule's Rs 50.4 crores [self + spouse + dependents], Ambika Soni's Rs 17.6 crores [self + spouse], Dimple Yadav's Rs 8.6 crores, and Sushma Swaraj's Rs 7.4 crores [self + spouse + dependents].
Poor sasu-ma and her puny fortune of Rs 1.37 crores. Truly an ascetic mendicant.
All those who believe that this figure of Rs 1.37 crore is an accurate reflection of reality, queue up to the right. The doubting Thomases to the left please.
So what do we have here? Let me see…..
Ah, as expected, right has been reduced to nothing. NOTHING.
Another Random Afterthought: I think I will now go watch the Brian de Palma classic "The Untouchables" again…….
Updated Date: Oct 29, 2012 15:43 PM