Rahul Gandhi: PM-in-waiting despite all this?
Given his sketchy record in Indian politics, should Rahul Gandhi be heralded as the next head of the Congress and PM in waiting?
Rahul Gandhi's ascension from a state of meaningless nothingness to an elevated orbit of meaningful nothingness is almost signed, sealed and delivered. The country awaits the seemingly inevitable coronation with bated breath and a whispering trepidation, even as it veers drunkenly on its journey towards perfecting an imperfectible democracy.
Important people like Manmohan Singh, Sushil Shinde, Digvijay Singh, Renuka Chowdhury, Manish Tewari, Salman Khurshid and a few more dynast-o-cracy apologetics, who are the Real McCoys when it comes to unapologetic sycophancy, have dropped enough gorilla-sized hints to us all  on the impending coronation, on numerous occasions.
There are a few minor and inconsequential technicalities involved along the way, of course. Like elections. But I am sanguine those will be efficiently dealt with by the powers that be. Our electoral systems, coupled with the scams-a-week zeitgeist, provide enough play to take care of such annoying obstacles.
So while we wait, let us try and feel good about it.
And there is no better way of feeling good than looking at some widely - very widely, very wary vary very widely - reported facts. We remember that little croak in Parliament when words like game changer were mumbled in that one seminal moment of dazzling brilliance when time stood still.
"Why not elevate the debate and fortify the Lokpal by making it a constitutional body accountable to Parliament like the Election Commission?" he had famously asked.
Proof. Pudding. Eating. 1968.1971.1977.1985.1989.1996.1998.2001.2005.2008.2011.
The string of numbers above, by the way, holds in its fold a Brief History of Lokpal. I don't know about game changers, but I do see how the system keeps getting gamed when it comes to anti-graft or electoral reforms, hard facts pertaining to those two areas having already been covered extensively in some of my earlier write-ups.
Let us forget all that now, shall we? And focus on feeling good? Here goes…..
It goes pretty much downhill from there.
His educational qualifications:
A closer look at his pre-election affidavit filed on 3April 2009, states under the section "My Educational Qualifications are":
M.Phil (Development Economics) from Trinity College, Cambridge University in 1995.
However there are 2 anomalies that one spots immediately.
To understand those one has to read the fine-print in the "To Whomsoever It May Concern" certificate issued to him on 22nd April 2008 [click here to access] by Cambridge University. As against the year of passing mentioned in his pre-election affidavit [click here to access], which happens to be 1995, the certificate from Cambridge shows it to be 2005. Secondly, the "Pass" criteria as mentioned in the certificate happens to be 60%; one can't but help notice that Rahul Gandhi scored 58% in the paper "National Economic Planning & Policy".
So what is the truth here? 1995? 2005? Pass? Fail? Or is this all bunkum? The affidavit, the certificate – imaginary documents all of them?
Be that as it may, let us wrap up the section on his intellectual achievements with this colourful quote by Ram Jethmalani:
 "It will help if you also tell the curious Indian nation what books you have read during the last five years; have you published any articles or any readable material on politics, economics, terrorism, war and peace? Is there any speech in Parliament, to the local Rotary Club or to a bunch of tiny toddlers with a single quotable quote that illumines or inspires and gives us some clue to your intellectual attainments?" [Click here to access complete article]
What explains this rather parsimonious attitude towards utilizing the funds made available to him for developing his constituency? Furthermore, an overwhelmingly large proportion of this spend has been on only one thing – roads! Click here and here for detailed source data.
Roads = Contractors = Development, Mr. Gandhi?
How about performance on some key human development indices? I could dig out an interesting bit of data which clubs Amethi and Rae Bareli, and then compares it to Purulia [one of the relatively poorer and under-developed districts in West Bengal]. Please feel free to build on or fine-tune this with fresh inputs of your own:
1. People below poverty line: Purulia 31%; Rae Bareli-Amethi 54%
2. Families with electricity: Purulia 29%; Rae Bareli-Amethi 14%
3. Per capita expenditure: Purulia Rs 461; Rae Bareli-Amethi Rs 385
4. Vaccinated children: Purulia 84%; Rae Bareli-Amethi 16%
5. Neo-natal deaths: Purulia 46 per 1,000; Rae Bareli-Amethi 83
6. Fatality below five years: Purulia 89 per 1,000; Rae Bareli-Amethi 160
Click here & here for source.
I am feeling pretty good now.
Are you too?
Disclaimer: Data, Sources and references to press-clips/blogs as well as affidavits/documents, in good faith.
[shining.path.notperu@gmail.com]
Find latest and upcoming tech gadgets online on Tech2 Gadgets. Get technology news, gadgets reviews & ratings. Popular gadgets including laptop, tablet and mobile specifications, features, prices, comparison.
Politics
An inter-ministerial team has been setup to probe into alleged violation of rules by three trusts associated with the Nehru-Gandhi family
India
The move comes days after BJP chief JP Nadda targeted the Congress party and the Gandhi family, alleging that funds from the PM's National Relief Fund were diverted to the 'family-run' RGF during the UPA regime.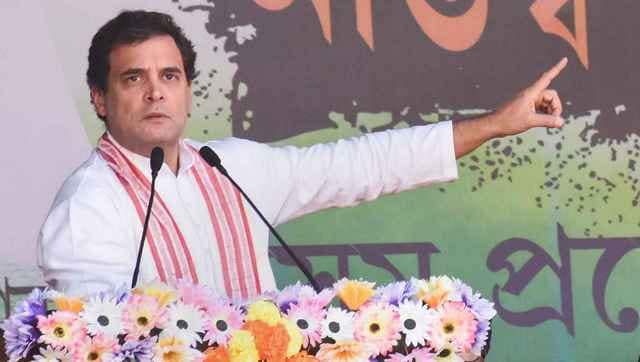 India
While driving the Congress party to dust, Rahul is leading by example on how not to lead it.