Ragini MMS 2 review: Sunny Leone's sex bomb routine can't save film
Watching Ragini MMS 2 feels like being caned and then ordered by your teacher to kneel down on the floor, because you made the mistake of giving money to the first movie.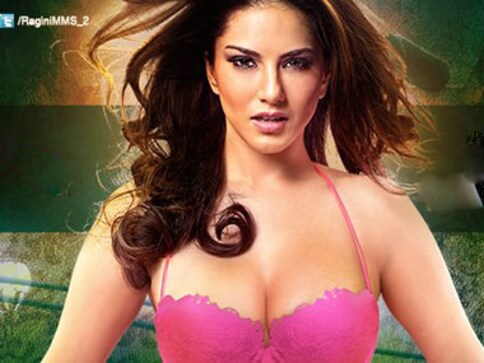 I'm going to keep this review short, since every letter typed is more than what the abhorrent pond of factory effluent known as Ragini MMS 2 deserves.
Good horror films are usually made by horror geeks. They star actors and are scripted by writers who love horror cinema. If not anything else, these people have seen a lot more horror movies than you. They're supposed to be the experts.
I can guarantee that not a single person connected to Ragini MMS 2 can look you in the eye and tell you they've seen even one horror movie in their entire lives. I will also eat my hat if even one person associated with this movie tells me they're proud of it. Nobody with a semblance of self-respect or a shred of knowledge on horror cinema could recommend Ragini MMS 2.
Watching Ragini MMS 2 feels like being caned and then ordered by your teacher to kneel down on the floor, because you made the mistake of giving money to the first movie.
Let's face it, the producers got lucky with part one. It was a crummy film, but it was made for peanuts and some of us bunked college and bought tickets to quench our curiosity. So naturally the producers assumed us to be stupider than we are, and thought they'd get away with it a second time.
This time we have Sunny Leone unhooking, Sunny Leone heaving, Sunny Leone gyrating, Sunny Leone panting, smooching and turning into a ghost. It follows the BFI – Bollywood Formula for Idiots: More cleavage = More box office. Perhaps the geniuses behind this film aren't aware that this is 2014 and that better Leone footage is available for free on laptops and even phones. You can't impress us by simply being faux sexy. The film needs a good story.
And what, pray, does that mean, did you ask? Don't look at Ragini MMS 2 for the answer. All it has by way of plot is that the husky Marathwada ghost from the first movie is back, and it enters Leone. Did you get the innuendo? Good, that's all there is to it.
The first film heavily borrowed from The Blair Witch Project in the finale, this one rips off Blair Witch 2. Like in that movie, a group of filmmakers try to recreate the events from the first movie at the same location and are chased around by the ghostly entity.
But then is it at least scary? I hate to disappoint you but I have seen flower petals that are scarier than Ragini MMS 2. It's one lame and predictable jump scare after another and it gets really tedious really fast. Worse, it ends with a cringe-inducing 'eem breem chamunda shakaal jaadu tona' exorcism sequence conducted by, gasp, a medical doctor. Watching the exorcism I almost expected Robin Williams from Jumanji to pop up and scream, "What year is this?"
Horror and comedy are blood brothers, and yet the film is not even remotely funny enough to please anyone over an IQ of 69. The makeup work is atrocious – the various 'ghostfaces' look like someone slammed a plate of fresh dung on the actors' countenances. The CGI is hilariously cheap and the special effects look like they're competing with Khooni Dracula at the technical frontier.
As far as chief attraction Leone is concerned, her presence here is just wrong. Her painfully-forced sex bomb routine permeates every second of her footage, her belabored torso punctuates every failed dialogue. She's neither good, nor so bad that she'd be funny – she's just boring.
After a great start to the year with a string of good films, the honeymoon has finally ended. Ragini MMS 2 reminds you that Bollywood still is a stinker conveyor belt.
Why someone needs to sully the face of horror cinema and churn out such awful films is a question best left for folks smarter than me. You have no one but yourselves to blame if the words 'One ticket for Ragini MMS 2' exit your mouth.
Even the bloke who made Phoonk and Agyaat would have had the decency to walk away from this one.
Entertainment
On the occassion of Eid, Priyanka Chopra misses biryani and sevaiya back home, while Dia Mirza twins in white with her munchkin.
Entertainment
Vijay Verma Spends Time With His Long Time Pal And Co-star Jaydeep Ahlawat In Dharamshala While Shooting Devotion Of Suspect.
Bollywood
From Shreya in SOTY 2 to Tia in Gehraiyaan, Ananya Panday completes three years in Bollywood.