Move over Schumi and Co, here come the young ones
Among the new drivers, Maldonado, Grosjean and Hulkenberg are former GP2 Champions, while Perez and Senna finished in second place. And they now want to strut their stuff.
Sergio Perez's rise to overnight stardom after the Malaysian Grand Prix shows us two things, firstly that Formula One will continue to thrill in 2012, and secondly that the young drivers are ready to show their worth and will go all out this year to prove their value. While Fernando Alonso drove the wheels of his Ferrari F2012 to win the Malaysian GP, all eyes were on Sauber's Sergio Perez, who almost pulled off an incredible victory. His performance is also testament to the quality of young drivers in F1, most of who are only in their second year of racing in the pinnacle of motorsports.
Sergio Perez, Pastor Maldonado, Romain Grosjean, Paul Di Resta, Nico Hulkenberg, Daniel Ricciardo, Bruno Senna, Jean Eric Vergne are all relatively new kids on the block with a point to prove and I foresee many of them being in F1 for the next 5-6 years atleast based on their talent. The drivers represent the 'New Guard' and if they want to prove a point, this is the year to do it with the teams so closely bunched together. The Australian GP saw great performances by Maldonado, Ricciardo, Hulkenberg, Grosjean, while the Malaysian GP saw stellar performances by Perez, Vergne, Di resta and Senna.
Out of these drivers Maldonado, Grosjean and Hulkenberg are former GP2 Champions, while Perez and Senna have finished in second place. Paul Di Resta is a former DTM Chmapion, while Ricciardo and Vergne have both finished second in the Formula Renault 3.5 2010 & 2011 championships respectively. So it is clear that these guys are talented but making it count in F1 is a completely different ballgame.
It is clear that a couple of years in GP2 is the perfect platform for any aspiring F1 driver as the cars are pretty similar and the best learning tool with the restrictions in testing. Formula Renault 3.5 has also been slowly building itself as a good feeder series for F1 aspirants, but does not enjoy the benefits of the GP2 series, which runs on the same weekend as the F1 Championship.
Since all the above mentioned drivers are very close, in terms of performance of the car, they will have to drive out of their skins to get the attention of the bigger teams. Sergio Perez has already got Ferrari's attention, with a brilliant drive in Melbourne (finished 8th after starting last), and the unforgettable charge in Malaysia, where he almost nipped Alonso to the top step of the podium. There are already rumours swirling around about him replacing Felipe Massa for the next race. It would be wise for Perez to finish this year with Sauber and then move to Ferrari next year but not sure he can turn Ferrari down, if they do come knocking earlier.
Romain Grosjean has been amazing in qualifying but inexperience in the opening laps has left him with no points from the first two rounds. You can definitely expect some great performances from him over the course of the year and yes he is my pick to be the best of the 'New Guard' this year. WilliamsF1 team seem to have recovered from last year's slump with two drivers who are definitely fighting for their careers.
Both Maldonado and Senna know they have to get the upper hand in order to prolong their F1 career. While Senna has had stints with both HRT & Lotus Renault (8 races in 2011), he has failed to heavily impress. However at Sepang he showed what he is capable of as he came from the back of the field to finish in 6th position. Maldonado ran as high as 6th in the Australian GP before he crashed while closing in on Alonso. There is almost nothing to choose between Di Resta & Hulkenberg as this battle for supremacy between the Sahara Force India team-mates will go on for the whole year.
Scuderia Toro Rosso not only shocked the motorsport fraternity but their 2011 drivers as well when they dropped them to take on two young prospects from the Red Bull program. Daniel Ricciardo & Jean Eric Vergne are no strangers to each other as they have battled many times in the FR 3.5 series and will continue to do this year. They have the most to gain from all the young drivers because they are both fighting for Mark Webber's Red Bull seat, should he retire at the end of the season.
The rise of the 'New Guard' has begun and is definitely a huge bonus for the sport itself. With Ferrari, Red Bull, Mercedes most probably having seats available next year, these youngsters will never get a chance like this again, especially since the midfield is so close this year. Perez definitely knows this now it is time for the others to take risks, and stand up and deliver!! Who is your pick?
Find latest and upcoming tech gadgets online on Tech2 Gadgets. Get technology news, gadgets reviews & ratings. Popular gadgets including laptop, tablet and mobile specifications, features, prices, comparison.
Sports
Maya Weug will compete in Formula 4 this year backed by the Ferrari academy.
Sports
The Australian race, usually the season-opener, was delayed from March to November, but no new date was set for the Chinese Grand Prix, normally held in April.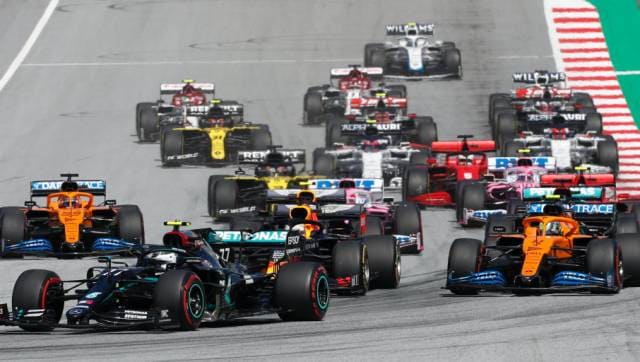 Sports
Testing was originally slated for Barcelona in early March but was moved following the postponement of what should have been the season-opening Australian Grand Prix to November.