Midnight's Twins: Faiz's poignant verses on love and war
On Pakistan's independence day we bring you, Faiz Ahmed Faiz, Pakistan's national poet, heir to Ghalib and his poems of love and war.
Midnight's Twins.
Part I.
But, unheard, it still kept crying out to be heard.
No one had the time to listen, no one the desire,
it kept crying out, this orphan blood,
but there was no witness. No case was filed.
From the beginning this blood was nourished by dust.
Then it turned to ashes, left no trace, became food for dust.
Faiz, In Search of Vanished Blood, translated by Agha Shahid Ali.
The greatest tragedy of the 20th century within the subcontinent, everyone will agree, was Partition. Two nations were born amidst an orgy of violence to rival any invasion into our antique land. Decades later, the violence would repeat itself during the formation of Bangladesh. Millions of people were uprooted and impoverished, families separated, and India was divided. Beyond all the physical pain and material harm, beyond the mutual suspicion in Indo-Pak relations ever since, the largest disservice of all was to history.
While I cannot speak for Pakistani nationalism, I grew up during the heyday of India Shining. My textbooks happily compared Asoka to Akbar with little regard to the millennia that passed between them. They erased Maulana Azad's pivotal role as Congress President during the tumultuous 1940s. More than Gandhi, or Sardar Patel, or even Nehru, he was at the forefront of negotiations during the Cripps Mission and the Quit India movement. Later, as our first Education minister, he founded the IITs and the Sahitya Akademi. And yet, in cruel irony, he's all but forgotten by history textbooks.
Azad, indeed, is one of those unfortunate souls squeezed out of history. Doomed to obscurity in "Hindu" India, he is unlikely to have had a much higher profile within Pakistan. He was, after all, Jinnah's most vocal adversary, and remained opposed to Partition even after most Congress leaders accepted it as a "pragmatic" solution to India's "communal problem". If you wish to remember a discarded hero this Independence weekend, read his memoir India Wins Freedom. It is the story of a lost dream, of a country that sprawled from the Hindu Kush to the Bay of Bengal.
The Partition of British India created nations with alternate and contradicting hagiographies. It split a collaborative tradition down the middle, and subsequent generations in all three nations have felt justified, even patriotic, whilst berating and belittling citizens of the other countries. We ignore, as a natural result, the multifold ways in which we are similar. But can anyone deny that two Punjabis, or two Bengalis, have more in common with each other than with either a Tamilian or a Baluchi?
It is this wellspring of a common culture that the official histories of our countries distort and suppress. Whether this is desirable, or necessary, is a debate best avoided on a weekend celebrating the birth of our nations. In the real world, after all, we are Indians first and Punjabis, Bengalis, and Tamilians later.
This post is one small attempt towards solidarity across national frontiers. Freedom was won, in the final reckoning, by everyone. It was not earned by Indians/Pakistanis/Bangladeshis, but by the Territories Formerly Known as British India. We may be different countries, but we remain a single subcontinent with interconnected pasts and futures. Today, while Pakistan celebrates Independence, I borrow a verse or two from Faiz. Tomorrow, when we do, from Tagore. As Faiz wrote in response to the 1965 Indo-Pak war:
I will then begin a new translation of hope. I will complete the texts of love. Both, I like to believe, are poets that speak across every boundary us lower mortals invent. That one is Punjabi and the other Bengali is pure coincidence. Honest.
Faiz Ahmed Faiz, Ghalib's heir, was born in Sialkot in present day Pakistan. He enlisted with the Army during World War II, being an upstanding socialist out to destroy Fascism. After Independence, he began working as a journalist, and soon found himself in hot water with the military establishment. He spent four years in prison, was released in 1955, only to be jailed again in 1958 by Pakistan's first military dictator, Gen. Ayub Khan. Later in life, he found himself exiled, living in Beirut, Moscow, and London. By the time of his death in 1984, he was renowned as Pakistan's "national" poet, despite (or perhaps because of) his stormy relationship with its government.
Here, for a taste of his gift, is his lovely little "Desire"
I have certainly
no faith in miracles, yet I long
that when death comes to take me
from this great song
of a world, it permits me to return
to your door and knock
and knock
and call out: "if you need someone
To share your anguish, your simplest pain,
then let me be the one.
If not, let me again
embark, this time never
to return, in that final direction,
forever."
(trans. Agha Shahid Ali, from the collection The Rebel's Silhouette)
For all the brilliance of reading (and understanding) Faiz in Agha Shahid Ali's elegant verse, all poetry deserves to be heard in the language in which it is written. The poem below marks the other side of Faiz, who was equally a poet of love and war. A translation can be found over at the history blog Chapati Mystery, where I initially discovered this video:
First Cricket News
For the first time since 2005, England are set to tour Pakistan for a Test series.
World
After the Taliban takeover in neighbouring Afghanistan, TTP extortion racketeering has infested Pakistan's borderlands, locals say, with the group emboldened by its sister movement's success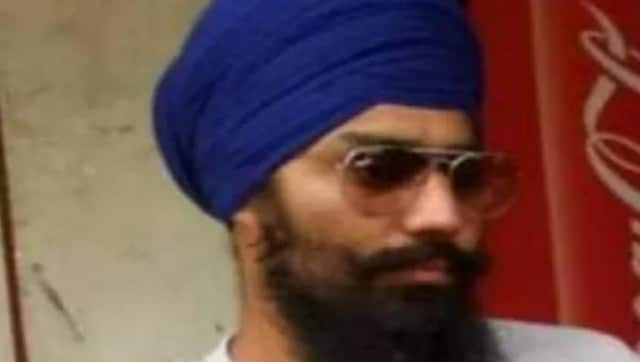 World
The National Investigation Agency (NIA) was tasked with the investigation into the Mohali terrorist attack and the various criminal cases related to Rinda. The Interpol had issued a Red Corner Notice against the Khalistani terrorist