How to use an SMS to know the secrets of our netas
Can an SMS be used to know our netas better and help us make better choices during elections? Evidently.
Nearly 900 million Indians now have the power to call for some critical information about the candidates contesting from their respective constituencies prior to an election.
Nearly 900 million Indians are now tantalizingly close to accessing vital information, access to which can make an impact on the quality of elected representatives who lord over us in the parliament and state assemblies ; information that is, not inexplicably, withheld from us by those who gain the most by withholding such information.
All you need is intent and a mobile phone.
Sample this. It took me less than 15 seconds to get some critical information pertaining to the financial, educational and criminal background of the MP from my constituency.
How?
Do you know the pin-code of the area where you are registered as a voter?
Yes?
We are good to go…..
SMS MYNETA <pin-code> to 56070  or to 92465-56070.
Here is what I got when I sent that text: "Lok Sabha constituency XXXXX, MP YYYY, Party-name ZZZZ, Criminal cases – Yes(1), Assets Rs. 5.4 crore, Liabilities Rs. 3.3 crore, Education 12th Pass"
During elections, the voters can retrieve this basic information on the criminal background, the financial summary and the educational qualifications of the contesting candidates. During non-election period, citizens will be able to access complete background information of sitting MP and MLA of their area.
It is that simple! The power has shifted back to us, and it is up to us how we use this power. Chances are, once we have this basic information, it will trigger us into finding out more about the candidate/contestants, thereby empowering us a wee bit more. It is nobody's case that this in itself will be the magic wand that can clean up the political cesspool; but every small initiative helps.
I would also urge the readers to go through the insightful report titled 'Do Informed Voters Make Better Choices – Experimental Evidence from Urban India' (Tip: focus on pages 1,2,27,40-43).  At the heart of this study was the hypothesis that informed voters vote differently; a treatment sample of voters (Delhi Assembly elections 2008)  was sent pamphlets which highlighted the track record of the contestants on a few  parameters. The control sample received no such intervention. The findings were very encouraging, and I quote:
"First, average voter turnout increased by 3.5% in the treatment constituencies. Second, cash-based vote buying was 19% less likely to occur in treatment polling stations. Third, while the campaign did not influence the average incumbent vote-share, worse performing incumbents and those facing better qualified challengers received significantly fewer votes. The increases in turnout were relatively higher in treatment slums located in jurisdictions where the incumbent was a worse performer".
Information impacts electoral outcome. No wonder political parties vie with each other (in what increasingly appears to be a race to the bottom) during elections, drowning us in meaningless drivel, while withholding critical information that we so desperately need. Ignorance is not a crime; forced ignorance even less so. This new-found disease in our society to lay the blame at the door of a collectivized whole, rather than nail down the actual culprits is sickening.
How about large-ticket electoral reforms, you may be wondering? Well, when law-breakers turn law-makers, the probability of such reforms being initiated looks thin. Electoral Reforms will happen when they happen and there is not much that we can do about it beyond writing blogs, organizing rallies and sending letters to the President and Prime-Minister about the same. Not just ordinary citizens like me – there have been a number of CECs, NGOs and Committees that have done exactly that over the past 22 years. And other than a few more committees and lofty press releases by important people (including the President of India, the head honchos of political parties and, of course, the omnipresent party spokespersons) that all these reports on electoral reforms have resulted in, we have seen no meaningful progress on this front over the last 22 years. For more on that, click here and here.
Later this week, I will share with you another simple thing that we can do as citizens. And rest assured, simple as it may be, it will again be something which the political establishment has given it its all, not to educate us about. They would much rather splurge crores of rupees buying up front-page column centimeters in 50 newspapers to release wasteful advertisements highlighting achievements.
But we can change all that.
If any of you have other such tools which you think can empower the citizens, please do share those with us.
Last Word: US SC judge Felix Frankfurter, one of the top legal luminaries of the 20th century, famously said that "active citizenry is an essential condition for democracy to succeed. Democracy involves hardship, of unceasing responsibility of the active citizen. Where the entire people do not take a continuous and considered part in public life, there can be no democracy in any meaningful sense of the term. Democracy is always a beckoning goal, not a safe harbor. For freedom is an unremitting endeavor, never a final achievement. That is why no office in the land is more important than that of being a citizen".
So then, how many of us are guilty of playing truant from office?
Politics
For the first time in Bengal, thus, a bipolarity has been established between a ruling bloc and a Hindutva force. That's a big step forward for the BJP, whatever anyone says, but it's also a huge victory for the supposedly incumbency-hit TMC.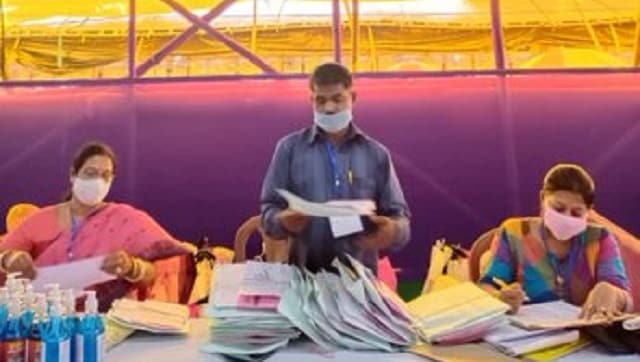 Politics
Voting will be held at 12,068 polling stations spread over nine assembly constituencies each in Murshidabad and Paschim Bardhaman districts, six each in Dakshin Dinajpur and Malda and four in Kolkata
India
The Madras High Court earlier on Monday had held that the poll body allowing political parties to take out rallies and meetings had led to the second wave of the coronavirus pandemic