How to improve India's police - a roadmap
There's a lot that's wrong with the Indian policing system - here are some ways it can be resolved.
By Siddharth Chatterjee and Shining Path
The country's image has been battered by screaming news headlines of human rights abuses, tragic episodes of rapes, spiralling crime rates and endemic violence. Close on the heels of the Delhi gang rape episode, the case of a young woman in Punjab who was recently beaten up by policemen for trying to lodge a case of sexual harassment caused outrage once again.
In many parts of the country, distrust of the police is so high that people either prefer to live with crime/harassment or enter the perceived safety of parallel protection rackets; the police system being often described as inept, malevolent and a political tool.
Is this criticism justified?
- In our view, the litany of problems that beset the police force can be categorised thus:
- Archaic laws – the Institution is governed in accordance with the laws framed in 1861 with few, if any, subsequent modifications
- Sub-optimal staffing compounded by poor selection & training processes; this also includes inability of members to remain in step with technology
- Politicisation, corruption and criminalisation of law-enforcement services;
- Lack of internal checks and balances
- Sub-standard investigative capabilities and infrastructure which taint the subsequent steps of any criminal case when moving through India's criminal justice system, i.e. prosecution and judgement.
- Complete absence of sensitization to women's rights, children's rights and above all human rights.
- A crisis in leadership and command.
"It needs to be emphasised that the duties of the police as prescribed in section 23 of the Indian Police Act, 1861, have become totally out-dated. Much water has flown down the Ganges since then", notes the Malimath Committee Report, before it goes on to highlight how newer dimensions that have been added to the nature of crime compel "the Police Departments to divert a large chunk of their resources to these areas, leaving much less for the routine crime work".
Exacerbating matters is the woefully inadequate manpower strength. A detailed report titled Data on Police Organisations in India by the Bureau of Police Research & Development contains damning statistics.
As of 1 January, 2011 there were 130 police personnel for every 100,000 citizens. In states like Uttar Pradesh and Bihar, which have traditionally had greater law and order issues, the ratio dips to about 65-75 police personnel per 100,000 citizens. Compare this with global norms - 220 as laid down by the United Nations, 220-280 as followed by Sweden, Norway, Canada, Australia and USA. Ironically, while the average Indian reels under the impact of such an abysmal police personnel to population ratio, a clutch of about 15,000 VVIPs are protected by over 47,000 police personnel, many of whom are better trained than the average policemen.
The police selection procedures and training on basic responsibilities, laws and investigative processes are poorly designed and unprofessionally implemented. What one is left with is a structure that is not aligned with the responsibilities it has to shoulder. Above all, morale is low due to overextended work hours, very poor remuneration and poor living standards.
The overall functioning of lower-level officers can be boosted by better training, better pay and allowances and by creating a system that rewards initiative and positive action instead of negative behaviour.
There is not only a need to bolster law-enforcement agencies in order to increase the police-to-citizen ratio, but to also do it in a strategic manner. It is imperative that many more female police officers be recruited to fill the rank and file as well as occupy leadership positions. At present, government rules require only 10% of police personnel to be women; several states report ratios that are well below even the prescribed norm. Senior female officers are rare, causing a significant gender imbalance in key leadership positions. This must be remedied immediately.
Corruption amongst police ranks is the stuff of legend. According to a report, the police in Delhi are the most corrupt. Stories abound about bribery, pre-FIR(First Information Report) doctoring of facts and extortion by the police to file a report. Between 2010 and 2011, complaints against state police officers in the country rose by 5.7%, from 58,438 to 61,765. What's more, in 2011, only 47 of the 61765 complaints ended in conviction.
How about transgressions and police excesses and the mechanisms to address those? An investigative team that has been specifically designed to look into crimes by police officers and one that is modelled after the Internal Affairs divisions of police forces in other countries could be an effective remedial measure. Officers  in these units cannot be subject to the authority of the state ministers or the very police officers they are investigating thereby removing conflict of interest and allowing them to function without fear of retaliation.
India is the target of an ever-growing list of terrorist groups, insurgent forces and criminal networks. Even petty criminals are now in possession of hi-tech gadgets that allow them better access and reduce their chances of being caught. In such an environment, the need for skill and competency up-gradation of the police force is a sine qua non.
Over the past four decades there have been a multitude of Committees, Panel, Reports and Recommendations, with clearly laid out roadmaps and supported by detailed descriptions on the kind of design and overhaul that is needed. Unfortunately, most of these reports end up in a black hole or gather dust in a filing cabinet. In fact, the Chief Justice of India remarked in July 2009:
"Not a single state government is willing to cooperate. What can we do?"
Various state governments presently stand in contempt of court with respect to the seven binding directions that the Supreme Court of India spelled out in 2006. These directives address core issues like transfers, tenure, separating the investigation and law & order functions of the police, unwarranted influence or pressure by the state governments on the police and mechanisms to deal with complaints against the police. These directives, if implemented, could go a long way in improving the performance of one of the most vital institutions of the country.
There is a strong case for the police to be given more independence from the state's political machinery.  The Indian Supreme Court is on record, saying that "many of the deficiencies in the functioning of police had arisen largely due to an overdose of unhealthy and petty political interference" before concluding that it was important and in interest of the nation to "insulate the police from political interference".
Finally, it is imperative to create a 'cradle of leadership' for the police force of India. Like the National Defence Academy in India or West Point in the US, where promising officers from the armed forces are hand-picked for their leadership potential and then trained, India needs to create a similar institution that can focus on leadership building within the police force. Napoleon's credo 'there are no bad soldiers, only bad officers' holds true in India.  Promising individuals in the police must be nurtured and cultivated in an attempt to better the institution overall.
A good starting point would therefore be to push for compliance by the states on the apex court's 7 directives – something that has been pointed out by Dr. Kiran Bedi and others.
The Indian police can be redeemed by a mix of radical reforms and affirmative action. The preservation of human rights and dignity should be the very corner stone for a robust police organization. In addressing these problems, India will restore the police to its original purpose - to not only uphold the rule of law, but to also serve a society where everyone feels safe and protected.
Siddharth Chatterjee (@sidchat1) is a former Special Forces officer in the Indian Army while Shining Path is a regular blogger on FirstPost. Views expressed here are personal and do not reflect those of the organisation (s) they serve or may have served in the past. They can be reached on: sidc@alumni.princeton.edu and shining.path.notperu@gmail.com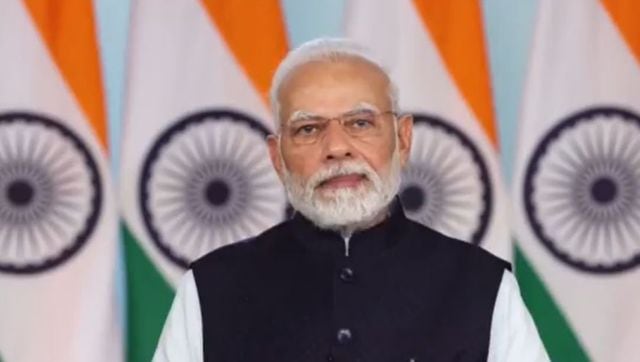 India
Prime Minister Modi will launch various new initiatives under the e-court project, as part of the programme. The e-court project is an attempt by the government to provide services to litigants, lawyers and the judiciary through ICT enablement of courts
India
A five-judge Constitution bench headed by Justice K M Joseph said it wants to know whether there was any "hanky panky" in Goel's appointment as election commissioner as he was only recently given voluntary retirement from service
India
The collegium system is a way to appoint judges of the Supreme Court and High Courts. Recently, the Supreme Court also pressed the Centre to clear recommendations made by the collegium. The central government has sent back 19 names recommended by the group for appointment as HC judges