How more Indians can find their way to Formula One
Remember that only 24 drivers in the world make it to the grid. So, here is a road map to help you along the way.
While it is every kid's dream to be a Formula One driver, I am not sure they understand what it takes to get there. The road is long, full of bumps and unexpected turns and events. Unfortunately, becoming a racing driver is not like one of a cricketer or tennis player or footballer.
While I am not saying it is easier to become a cricketer or a tennis player, what I am saying is that motor racing is the only sport in the world where the financial investment to even participate is very extremely high. It is not about buying a tennis racket and shoes, or a cricket bat and pads. The further you progress in your racing career, the higher your investment is. So, how does one go about and actually start this journey?
The first step for any aspiring driver is on the karting track and any professional racer will tell you that. Senna, Schumacher, Vettel, you name it, have always used karting as a springboard to get into the sport.
Karting in India has improved vastly due to promoters like JK Tyre and Amaran which have been holding karting championships for over 5 years now. When Narain (Karthikeyan) and Karun (Chandhok) started out, they had to go straight into single-seater racing as there were no karting championships in the country at that point. Spending 4-5 years of karting is a crucial step to any aspiring driver's progress in the sport.
The next step for young drivers in the country is to participate in the national championship. Currently, only JK Tyre runs the national championship while MRF has a couple of single-seater race weekends. Drivers wanting to take the single-seater route can participate in the Formula Swift or MRF 1600cc categories while those drivers with touring car aspirations can participate in the Saloon car series. The annual budget for a season in the Formula Swift will be roughly $10,000-12,000.
Since motorsport is at a very nascent stage in India, to further progress any young driver will have to move to an international series after successfully completing the national championship. One option is the JK Racing Asia series which takes place on Asian tracks, including the F1 tracks in Sepang, Malaysia, and the new Noida circuit for the Indian GP.
This is the former Formula BMW Pacific championship which runs with a 140 bhp, 1.2-litre BMW engine and provides drivers a maximum engine speed of 9,250 rpm with a top speed of 145 mph. The other option is heading straight to Europe to participate in the Formula Ford championship which runs with a 125-bhp, 1.6-litre Duratec four cylinder engines with a top speed of 150 mph. The annual budget for both championships is roughly $200,000. The Formula Ford is one of the most closely contested championships in the world.
After a successful run in either one of these championships, the next step is either Formula 3 Euroseries or the heavily competitive British Formula 3 championship.  British F3 cars run with a 2-litre four cylinder Mercedes/Mugen Honda/Volkswagen engines with a top speed of 165 mph and 210 bhp.
The annual budget here is close to $900,000 for a season. The alternative Formula 3 Euroseries is similar in specifications, but comes at around $550,000 for the entire season. The British F3 has provided more graduates to Formula 1 than any other single-seater series worldwide, including Ayrton Senna, Jackie Stewart, David Coulthard, Mika Hakkinen, Rubens Barrichello and the like.
The British F3 championship is extremely tough, but a good performance there can do wonders to a young driver's career. F3 Euroseries has gained importance recently with drivers like Sebastian Vettel Lewis Hamilton, Nico Rosberg, Adrian Sutil being very successful in the series. If affordable, a driver should spend a minimum of two years in the F3 category. It is important to note that it is not necessary to win in every category, but as long as you can acclimatise and impress in each category, that is what counts.
After completing the F3 category, the next step is a crucial one as there are 3 choices a driver can make – Formula Two (F2), GP3, or Superleague Formula. All three of these championships are new and not more than 3-4 years old, but have become popular for aspiring drivers.
The GP3 series is the most expensive of the lot with an annual budget of around $800,000, with Renault engines and 280 bhp. Superleague Formula cars are powered by 750-bhp, 4.2-litre, V12 engines, designed by US-owned Menard Competition Technologies with an annual budget of $700,000. F2 was designed to help young talented drivers with lower budgets and at the same time competitive cars. The F2 car has a 1.6 four cylinder turbo engine developed by Audi with 500 bhp and a top speed of 170 mph. The budget for an entire season is $350,000 which is a lot less than most championships. While all three categories are good, GP3 might offer drivers the best route to the next level, which is GP2, the level just below Formula One.
GP2 has been around for almost six years now and is the ultimate feeder series to impress team owners for an F1 drive. GP2 has taken over from the now defunct F3000 series and all GP2 drivers have been in F1 at some point or the other and out of the current crop of 24 drivers 10 are from GP2.  All but three races have taken place as support races at Formula One race weekends to boost the series profile, to give drivers experience on the Grand Prix environment, and to take advantage of the infrastructure -- marshalls, medical facilities and the like -- in place for a Formula One event.
The annual budget is a whopping $2.2 million and is the closest car to an F1 car. The GP2 cars are only about 8-10 seconds slower than an F1 car over a single lap while at Monaco this year the pole time for the GP2 car was one second away from the HRT cars in F1. GP2 has made the transition to F1 much simpler at a time where testing is very minimal. If GP2 is too expensive a route, the World Series Renault is an option for drivers.
It is very important to map out one's career properly and patiently when progressing up the field. The series that young drivers choose will depend on their availability of budgets, how good the team is, and look for a category where they are in a position to win races and not just compete. Very few drivers have made it to F1 without going through most of these categories with the most notable one being Kimi Raikkonen, who made the jump after winning the very junior Formula Renault championship in the UK. He was given a chance by F1 team boss Peter Sauber who saw potential in him.
My recommendation would be a good foundation in karting for about 4-5 years as a kid before moving on to the national championship. If budgets permit, move to the JK Racing Asia series before heading to England for the British F3 championship for 2 years. Then, next move to GP3, make the transition to GP2 before finally realising your dream. Remember that only 24 drivers in the world make it to the grid. So, the only way to get here is through undying commitment, hard work and luck.
So, as said before, the road to Formula One is long and windy, so be prepared to fight it out!!
Find latest and upcoming tech gadgets online on Tech2 Gadgets. Get technology news, gadgets reviews & ratings. Popular gadgets including laptop, tablet and mobile specifications, features, prices, comparison.
Sports
The 55-year-old Mini driver, aided by co-pilot Edouard Boulanger, finished 14min 51sec ahead of Qatari Nasser al-Attiyah (Toyota), with Spain's Carlos Sainz rounding out the podium in another Mini.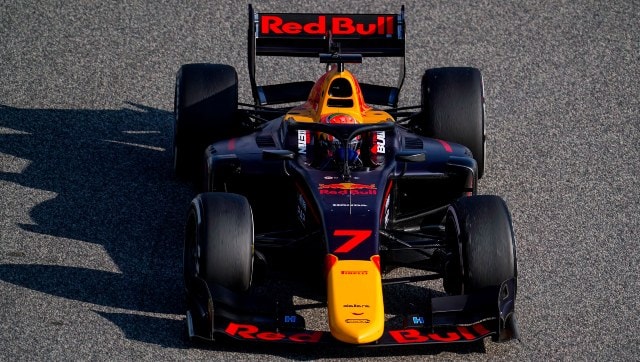 Sports
Daruvala, who is being hailed as the next big thing in Indian motorsport, created history last month, when he successfully culminated his maiden FIA Formula 2 Championship with a well-deserved victory.
Sports
Laurent Rossi, director of strategy and business development for Renault, will take over the motor sports unit which will be rebranded Alpine.