From Monaco to the Indy 500, a weekend to cherish
Along with the Le Mans 24 hour race, the Monaco GP and Indy 500 are unofficially regarded as the Triple Crown in any driver's career.
Sunday was a double-header with two of the most prestigious races in motorsport providing terrific entertainment for any sports fan. Along with the Le Mans 24-hour race, the Monaco GP and Indy 500 are unofficially regarded as the Triple Crown in any driver's career. Both races were closely fought and while the Monaco GP finish was ruined due to a red flag, the Indy 500 more than made up for it with a last corner thriller.
Vettel (Sebastian) continued his domination of this year's championship by taking his fifth win out of six races. Both Alonso (Fernando) and Button (Jenson) will feel let down by the red flag as they both thought they had a shot at winning.
There was little to choose between the top three drivers as they headed into the final ten laps. In the end, Vettel managed to do a staggering 54 laps on the soft tyre which was remarkable and only possible at Monaco, where track position is everything and overtaking is close to impossible. The irony here is that Red Bull actually made a mistake in their pit stop by putting Vettel on the soft tyres instead of the super soft tyres.
But I guess when luck is on your side, nothing can stop you. I am not sure if Alonso or Button would have actually got past Vettel but his tyres were in a really bad shape and it would have been anyone's race. While most of the drivers have concluded that nothing can stop Vettel from taking the title, let us hope that even if he does, McLaren and Ferrari ensure that they take the battle to the last race like last year.
This weekend was not with controversy and the FIA should have a look into some of the following areas. Firstly from a fan's perspective, there should be a change to the red flag rule where the teams are allowed to make changes to their car, be it tyres, wing adjustments etc.
Without these changes, we would have surely had a race to the finish with things similar to what they were before the flag came out. Secondly when the safety car does come out the lapped cars should move aside for those on the lead lap. This was the case earlier but looks like they FIA have changed the rule once again.
Thirdly and most important is the stewards view on penalties for overtaking or attempting to overtake. Some of the penalties that are being handed out this year are ridiculous and discourage the drivers from taking risks. Alonso's move on Hamilton in Malaysia this year, Paul Di Resta's move on Jaime Alguesuari and Hamilton's move on Felipe Massa are good examples from this year.
Drivers are paid to race and to overtake and if penalties are always handed out for cars touching each other no one is going to attempt a move. Each race should have an ex-F1 driver as a guest steward which should give the other stewards the driver's perspective.
On one side the FIA and the F1 teams are looking to increase overtaking in F1 and on the other side they are discouraging it. I agree extreme cases should be penalised but the milder cases can be given a reprimand and three reprimands can then be worth a penalty.
This is a perfect time to talk about Lewis Hamilton's Monaco GP and subsequent outburst. Hamilton started on the back foot when he got caught out in qualifying and started only in 9th position. He was then given a drive-through penalty for trying to overtake Massa (Felipe) and then yet another penalty for his move on Maldonado (Pastor).
Hamilton is a born racer and one of the best overtakers in F1 today, if not the best. Hamilton went on to blast the FIA stewards accusing them of bias and call them a 'joke'. It was very uncharacteristic of the modern racer and will definitely have repercussions, but something had to be said and Lewis said it.
Now away from F1 and a quick note on the Indy 500 which was a classic with the last 5 laps having 5 lead changes. Finally it was a first timer JR Hildebrand who took the lead from 2-time winner Dario Franchitti at the Brickyard with 3 laps to go.
When Hildebrand was trying to get past a backmarker in the final corner on the last lap he hit the wall and finished the race in second place with his damaged car as eventual winner Dan Wheldon drove past. It was Wheldon's second win here. Please see the video below to see the unbelievable finish to the race...
Find latest and upcoming tech gadgets online on Tech2 Gadgets. Get technology news, gadgets reviews & ratings. Popular gadgets including laptop, tablet and mobile specifications, features, prices, comparison.
Sports
The 55-year-old Mini driver, aided by co-pilot Edouard Boulanger, finished 14min 51sec ahead of Qatari Nasser al-Attiyah (Toyota), with Spain's Carlos Sainz rounding out the podium in another Mini.
Sports
The Australian race, usually the season-opener, was delayed from March to November, but no new date was set for the Chinese Grand Prix, normally held in April.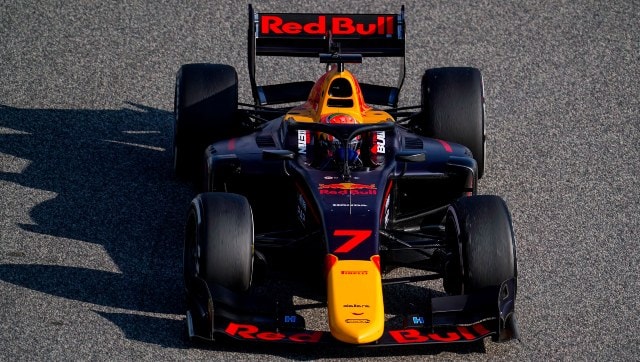 Sports
Daruvala, who is being hailed as the next big thing in Indian motorsport, created history last month, when he successfully culminated his maiden FIA Formula 2 Championship with a well-deserved victory.