FirstVote, which offers users an unique opportunity to participate in a live online poll has seen over 8000 votes in less than two weeks. Users can log-in via Facebook and Twitter to register their vote, spell out their reasons for why they voted for a particular party and also register for your voter card for 2014.
In today's post, we look at the age groups who voted most on FirstVote. The two age groups who had the maximum participation were 20-25 and 25-30. We had over 2360 voters in the age group of 25-30 and nearly 2215 voters in the age bracket of 20-25. Some in the 20-25 age group will perhaps be voting for the first time.
Given that this is the section of Indian population that is most active on Facebook and Twitter, it's not very surprising that they were the most participative on FirstVote. Of course, this is also the generation for which Facebook and Twitter are natural outlets for their political opinions. And yes, this is the section of society, that feels acutely affected by the economy as they wonder whether they will get jobs or even have job security despite possessing multiple educational qualifications.
If you look at the chart below you can the drastic difference in the number of voters from 30-35 and 35+ voters. We had over 1341 in the 30-35 group and nearly 1282 voters in the 30+ group which is almost half of the two other age-groups.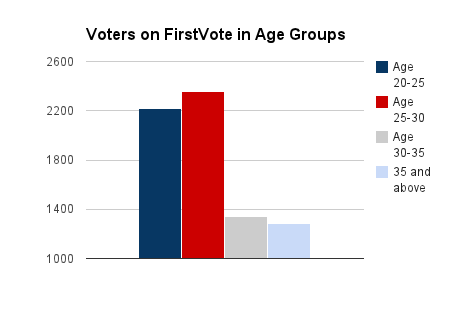 The other factor that emerged from the voting was that most of the voters between 25-30 were voting for BJP, followed by the 20-25 age bracket. In fact even in the two 30+ age brackets, BJP have so far, more than 50 percent of the votes that were cast.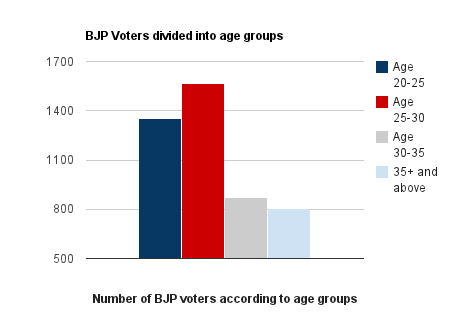 The reasons for this could be that the ensuing economic crisis is influencing the online population to vote for change, ie BJP. It should be highlighted that most of India's netizens are middle-class people based in cities.
This could perhaps be the first time in India's election history that the digital middle class feels angry and betrayed by its government and is looking for a change through vote.
Will it convert its anger into real ballot votes in 2014, still remains to be seen.
Updated Date: Aug 30, 2013 15:44 PM