When I first started out writing this four part series, the hypothesis at the back of my mind was: All Parliamentarians, and by extension, all others in the state legislative assemblies are supreme (how supreme? Click here) and are God's gift to this country.
Unfortunate as it may be for a few of those supreme souls who scream the loudest when Team Anna or anyone else goes on the offensive, Parts 1, 2 & 3 established - with some degree of certitude, I am hoping – that this particular hypothesis is a load of double-distilled balderdash. So now, one can safely say "vanish" to that particular hypothesis – and please, this is not a murder conspiracy!
I am aware I may have dragged things a tad too far, and hence this final piece will focus on just 2 aspects:
1) Dark Clouds - What is the difference in assets between a contestant, winner and an office-holder (Minister)
2) Silver Lining - Do informed voters make better choices (is lack of information repeatedly leading us to elect the wrong kind of people?).
Firstpost dug up two incredibly fascinating research studies, which I will lean on heavily. If statistical analysis could ever be termed sexy, these two reports are right up there with the best of them on this subject. Those of you who don't fall prey to hallucinations about monsters under your bed when you encounter esoteric terms like regression analysis, standard deviation, 4th order polynomials, kernel density, randomization inference p-values & scatter plots, can click on this hyperlink straight away and ignore the rest of my write-up.
As for the rest of you, I am glad that I am not the only mathematically challenged idiot around!
Jez  Kiddin'. No offence – anyway, there already has been too much of it taken in the corridors of power lately….
Dark Clouds -The Payoffs & the Endgame
In Parts 2 & 3, I touched upon the quantum of assets which most of our politicians declare in their affidavits and returns. It would be naïve to assume perhaps, that kind of wealth to have been accumulated just from their salaries and/or ancestral property. However, those issues have already been dealt with; let us now see if there is any statistical evidence which points the needle of suspicion towards this endgame (culmination of the race to the bottom of the cesspool, if you please) being actually fuelled by ambitions for adding the "M" word – Mister/Madame Minister – before one's name.
"Private Returns to Public Office", a research study (May 2012) by Raymond Fisman (Columbia University), Florian Schulz (UCLA Anderson) & Vikrant Vig (London Business School) takes a deep, hard look at this phenomenon.
"Models of politician behavior suggest many reasons for seeking office, including non-pecuniary benefits of public service, financial gains that accrue after leaving office, and both salary and non-salary earnings, legal or otherwise, while in office. Understanding politicians' motivations is crucial for modeling the pool of candidates – both the number and quality – that will seek office, and is also important for designing policies to constrain politician behavior while in office……In this paper we look at the understudied though widely discussed issue of non-salary earnings of public officeholders", they write in the introduction.
Being research scholars, their language is guarded and politically correct – what they really may mean is more on the lines of "How on earth do some of you achieve such high CAGR on your personal wealth, you wretched beings"?
Without getting into the full details of the study which centers around Indian Parliamentarians and not surprisingly lacks any embedded encomiums, let me share with you the key findings: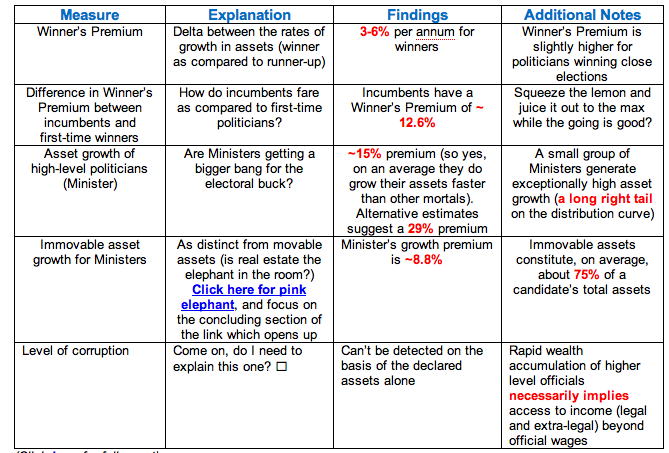 (Click here for full report)
So then Dear Supreme Ones, you were saying…..whatever! Let us now move to the ray of hope, the silver lining….
Continues on the next page

Silver Lining - Information is Power:
Before I attempt to construct the narrative here, a quick question – How do we vote? Are we empowered enough by way of the critical information we need, before we punch the EVM like automatons? Think about it for a whisper – honestly - and then read on….
2008 Delhi assembly elections witnessed a live experiment (click here for full report), that went largely unreported by the mainstream media (and that does not surprise me anymore); political parties, not to be left behind, shied away from giving it any importance and desisted from implementing the best practices elsewhere (and that surprises me even less).
A Study titled "Do Informed Voters Make Better Choices? Experimental Evidence from Urban India" (November, 2011) by Abhijit Banerjee (MIT), Selvan Kumar (Carnegie Mellon) & Rohini Pande (Harvard) makes for inspirational reading. And it offers a ray of hope to those of us who have every reason to believe that it is in the best interests of some Parliamentarians NOT TO institutionalize good practices pertaining to anti-graft, electoral reforms and judicial reforms.
The power shifts back to the citizens – albeit in a small way – if one goes by the findings of this research report.
The methodology is stunningly simple. It goes back to the question I asked at the beginning of this section – How do we vote?
Imagine there is a report card for the incumbent as well as the 2 key challengers in a constituency. This report card captures 1) committee attendance 2) legislative activity 3) spend track of discretionary development funds across eight categories 4) declaration and information on personal wealth 5) declarations about educational qualifications 6) information on criminal record(s).
The researchers used a series of well-orchestrated interventions to ensure that these report cards were delivered to EVERY household within a treatment sample (control sample received NO such interventions). I will not go into further details, as they are will take up too much space….suffice to say, the results were favorable in terms of voters making far superior choices in the treatment constituencies.
"First, average voter turnout increased by 3.5%" in the treatment constituencies. Voters feeling more like  stake-holders in the electoral process rather than acting like automatons punching the EVM?
"Second, cash-based vote buying was 19% less likely to occur in treatment polling stations".
"Third, while the campaign did not influence the average incumbent vote-share, worse performing incumbents and those facing better qualified challengers received significantly fewer votes. The increases in turnout were relatively higher in treatment slums located in jurisdictions where the incumbent was a worse performer".
Wow! And all this due to a few pamphlets and newspaper inserts? A pamphlet which can possibly be printed for 35 paise apiece (do factor in the huge print runs). How much will something like this cost if we were to divide the entire country into 3 zones using a heat map – "Red" for those constituencies which have a chronically pathetic track record for the wrong kind of candidates, "Orange" for those with relatively better track records and "Yellow" for the ones which are well within acceptable norms?
And start this process in the constituencies marked "Red"? 2,000 Cr? 5,000 Cr? Take the darned money from our taxes! And what is the quantum that the nation has lost on account of corruption and black money because of people of questionable credentials getting inside the temples of democracy? The cost-benefit analysis proves the final decision to be a no-brainer really.
Wait a minute…..could these pamphlets give rise to further corruption, in a strangely cruel twist of fate?
Nah….we have just become too cynical and hope-deprived. The research study offers hope….and it does not need any major reforms to push this through. In fact it needs NO reforms…..please do read the full report to comprehend the sheer beauty and relevance of this experiment.
Updated Date: May 23, 2012 09:59:22 IST