Dear Nitish, remove criminal politicians in Bihar, then aspire to be PM
Not surprisingly, despite claims of having cleaned up in the state Bihar's legislators, Nitish Kumar presides over an assembly which has a large number of leaders with criminal cases against them.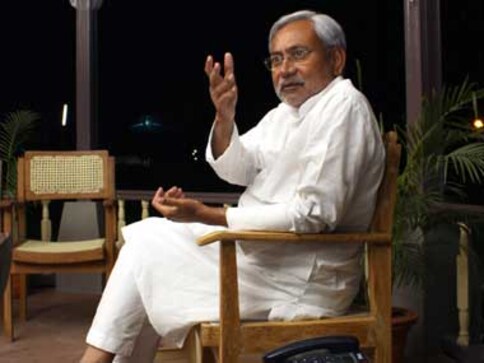 "The world is a dangerous place, not because of those who do evil, but because of those who look on and do nothing". (Albert Einstein)
Ten rupees says Nitish Kumar has not made his acquaintance with the quote mentioned above. He is more focused on angling for the PM's job in 2014, fooled by randomness as he appears to be, by the success story of Bihar. Well, he is entitled to his delusions and cognitive biases - as long as those biases and delusions do not cost us taxpayers anything.
More on why I call his ambitions delusional, later.
First, let me introduce you to Pradip Kumar, MLA, Warsaliganj (Nawada), Bihar. This gentleman has many feathers in his cap:
10 charges related to murder (IPC section-302)
8 charges related to attempt to murder (IPC section-307)
2 charges related to dacoity (IPC section-395)
2 charges related to theft (IPC section-379)
1 charge related to Theft in dwelling house, etc. (IPC section-380)
1 charge related to robbery (IPC section-392)
1 charge related to voluntarily causing hurt by dangerous weapons or means (IPC section-324)
1 charge related to voluntarily causing grievous hurt by dangerous weapons or means (IPC section-326)
1 charge related to Kidnapping or abducting in order to murder (IPC section-364)
With so many feathers in his cap, is it any wonder that some of the esteemed members (such as Pradip Kumar)  of the political establishment arrogantly taunt democracy with credentials, such as those listed above?I really do not know what is worse – the fact that he was given a ticket to contest the elections, or the fact that he won.
Welcome to Nitish Kumar's Bihar Assembly.
The Starting Point: As per Bihar Election Watch (BEW) and Association for Democratic Reforms (ADR), which analyzed affidavits of 2235 candidates (out of 3523) who contested the Bihar 2010 elections, political parties for some strange reason continue to dish out party tickets to an overwhelming number of tainted candidates. Either India is completely bankrupt in terms of talent, or there is no political outfit in India which wishes to correct this anomaly. Does it require a huge leap of imagination to comprehend the damage being done to the nation as we merrily falter at the very first step of the electoral process?
Let us now see what was poured into the electoral funnel in Bihar (2010 assembly elections)….
This trend has been consistent across assemblies, and the same applies to the House of the People as well as the House of the Elders; and if in 60 years, the Parliament and the Judiciary have not been able to address this root cause, what do they expect us to bow down reverently to when they say Parliament is Supreme? How long before the already shaky temporal authority - such shakiness being exposed almost on a daily basis lately - topples over and lies in the sand like Ozymandias?
Reap as you sow: Given the facts and figures above which capture the essence and quality of seeds being planted in the electoral badlands, is it any wonder then that the MLAs who spring to life (as you and I die a little bit each day), would carry a DNA any different from what was sowed? Here is a look at the MLAs from the 3 largest parties in Bihar – JD(U), BJP and RJD.
( LJP and INC with less than half a dozen MLAs each, have not been included here in this table for obvious reasons – they hardly have any representation in the assembly)
The awesome threesome of Bihar…. JD(U), BJP, RJD:
(INC and LJP, with 7 MLAs between them, boast of 11 serious cases – so don't go by the fact that I have not highlighted them in the main table ; they are fringe players currently, with a DNA that is uncannily similar to the other parties in Bihar)
And what chances do the relatively poor have of becoming an MLA? As if the data on criminality in Bihar polity is not depressing enough, here is a quick check on how the wealth of a candidate and his/her chances of winning an election bear a positive correlation….
Crime, Money & Politics - what a heady concoction! A sip, anyone?
Will Nitish Kumar, who captains the ship called Bihar, please explain now as to why we should allow him his dreams of running a ship called India? Is India to be run to ground, like Titanic? Consigned to a moribund state of suspended locomotion?
Final Word: This was the concluding part of a series of articles which attempted to lay bare certain facts about the Lok Sabha, the Rajya Sabha and a few representative state assemblies. The intent was NOT TO trash democracy. On the contrary, I would like to believe that raising the questions that I have raised in the write-ups - however clumsily at times, as I squandered away my precious ignorance - reflect an honest desire in an increasing number of citizens, to see things improve.
And things that can't be measured can't be improved upon.
(shining.path.notperu@gmail.com)
World
Soldiers stood behind wrought-iron barricades and next to burnt-out buses in the heart of Sri Lanka's capital Colombo Wednesday, guarding almost deserted streets after a convulsion of deadly clashes
Politics
Sidhu, the cricketer-turned-politician was sentenced to one year in jail by the Supreme Court in a 1988 road rage case on 19 May
Politics
The building was situated in Aurai panchayat and it was razed upon the instructions of Umashankar Gupta, the local mukhiya, who has claimed that the structure was in a state of disuse