On Whistle-Blowers first…..Here is the opening salvo. A sense of the collateral damage, if you will; the responsibility for which could be laid, squarely and firmly, at the door of the unholy troika of crime, business and politics. Even as I am writing this, news that S.P. Mahantesh, Deputy Director of the audit wing (Cooperative housing, Karnataka) succumbed to his injuries. He was, reportedly, a whistle-blower.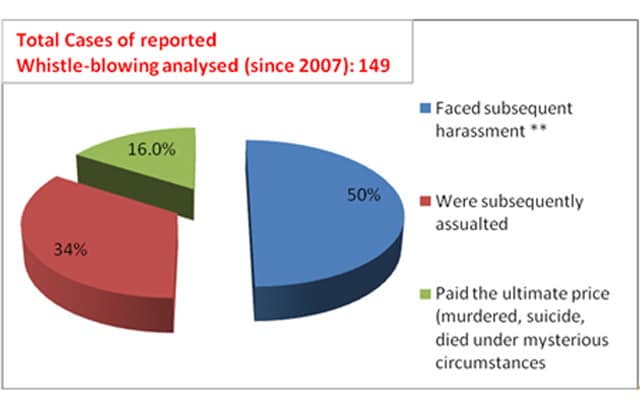 (**There was one who was thrown into a mental asylum by Mayawati ; that case is not included in these 149)
Once the reality about whistle-blowers socked me on my nose, I started looking for hope. And I found some……hidden in the rhetoric and tautology of lofty words earnestly spoken; by important people, on important   occasions.
Commence lofty words (pregnant with Hope) -----  "We need to do more in contending with the influence of money and muscle power...We also need to build a consensus on how to prevent individuals with a criminal record from contesting elections." (Sonia Gandhi, January 2011)
"Corruption is the enemy of development and of good governance…it is necessary to rise above it and seriously look at bringing systemic changes to deal more effectively with corruption…...The Parliament of the country is the repository of the sovereign will of the people…..It is important that the decorum and dignity of the House is upheld at all times. The image of Parliament in the public mind should be one where proceedings, debates and discussions take place with a view to resolve issues through a constructive and co-operative approach. If this does not happen, people's faith in democratic institutions can be affected, resulting in a feeling of despondency which is unacceptable in a healthy democracy, as it may derail democratic institutions." (Pratibha Devisingh Patil, January 2011)
Not to be left behind, in February 2011, the BJP-led NDA said it would direct its MPs, chief ministers and senior most party leaders to declare their assets. ---- End lofty words.
Commence counter-narrative ---- "Over time, the money power thus acquired (by organized crime/mafia) is used for building up contacts with bureaucrats and politicians and expansion of activities with impunity. The money power is used to develop a network of muscle power which is also used by the politicians during elections…. The nexus between the criminal gangs, police, bureaucracy and politicians"(one could add unethical business establishments to this list) "has come out clearly in various parts of the country" (Vohra Committee Report, 1993).
I have a sneaking suspicion - what was true back in 1993, is true in 2012 as well. Think Bellary. Think 2G. Think Coal-gate. Think Fodder. Think CWG. Think Adarsh. Think land de-notification. Think BEML. Think NHAI. Think NRHM. Think Shehla Mehsood. Think Narendra K Singh. Think Satyendra Dubey. Think Manjunath Shanmugam. ---- End counter-narrative (Hope is a still-born baby, it appears)
Part 1 and Part 2 of the series that Firstpost carried last week, threw up some questions as to whether any progress has been made on the twin fronts of criminalization and eye-brow raising wealth accumulation in the House of People. (Click here and here to access – you are reading Part 3 currently)
Taking the analysis further, let us now look at some illustrative data/facts/figures pertaining to the Rajya Sabha and the state assemblies.
Declarations and disclaimers as to the source(s) and accuracy of data, skewed averages due to outliers, possibility of "politically motivated false cases"?  Same as those stated last week.
Bird's Eye View (Click here for source) of the Rajya Sabha (House of Elders?)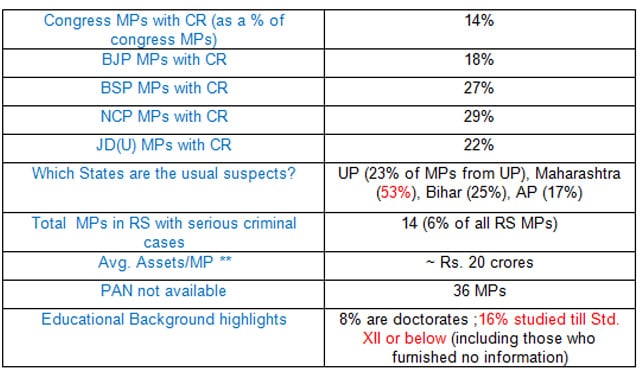 ** Avg. Assets/MP are about 4 times higher than the corresponding figure for Lok Sabha; the business tycoons, lawyers, sportsmen, movie stars of yore etc. are undoubtedly pulling the mean in one direction. And yes, there is Mayawati too!
Vidhan Sabha – Training & Grooming Schools?
Let us now see, if the entry barriers which were supposed to have been erected (better screening of the candidates whom political outfits give tickets to), have actually gone beyond the rhetorical and lip-service stage. What is the background of candidates who were dropped into the electoral funnel by political parties during the 2012 assembly elections in the 5 states of UP, Uttarakhand, Manipur, Goa & Punjab? Are we seeing better screening and selection?
National Election Watch analyzed the affidavits of 3268 out of the 9210 contesting candidates, and the key findings do not warm the cockles of one's heart:
-28% of all contesting candidates had pending criminal cases
-42% out of those who declared pending cases, indicated the charges to be of a serious nature
-In U.P, 35% of all candidates who contested the election, had criminal cases pending against them; 45% of these tainted candidates had cases of a serious nature.
Progress ?? You decide.
So then, does the screening kick in when the Council Of Ministers is decided?
Apparently not, contrary to the intuitive belief some of us may have that only men and women of the highest integrity should actually be given ministerial berths. After having examined the criminal antecedents and quantum of declared assets of the Ministers from a few states, I am afraid the situation is reliably terrible on that front as well. Here is a sample – from where else, but U.P Vidhan Sabha.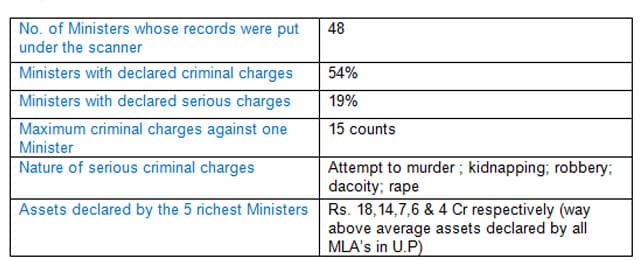 (So, if you are looking for hope, look elsewhere. Electoral Reforms would be a good place to start)
The final part of the series, which I hope to put up here by tomorrow, will take a look at the theme I have touched upon at the end (Ministers) – what is the endgame, where are the payoffs highest and what is the kind of research on the Indian political landscape that is being carried out by research scholars the world over?
Minerva's owl, it appears, has been keeping vigil while we were sleeping. And that gives me a warm, fuzzy feeling and brings a smile to my lips…
If any of you have any data, research reports, figures and facts to share (on this subject), you could mail those to Firstpost; or you could reach me at shining.path.notperu@gmail.com
Updated Date: May 21, 2012 13:09 PM