Centrestage Festival: A week of theatre at the NCPA
Hope the festival, with its awkward mix of art and commerce, delivers another round of exemplary theatre through its 15 premiering plays starting today.
by Vikram Phukan
Last year's edition of the Centrestage Festival at the NCPA saw a slew of reasonably good productions, which included Manav Kaul's take on latter-day dystopia, Haath Ka Aaya... Shunya, and the Sufi melodrama Aaj Rang Hai, which went on to have quite the run in the national circuit. Productions like The Interview and Tichee Satra Prakarne swept the META awards in Delhi earlier in the year. It wouldn't be wrong to say that expectations from this year's edition are rather high.
With the recent hike in its hire costs, the NCPA's Experimental Theatre seems to have priced itself out of the reach of several theatre companies that struggle to make ends meet at the best of times, and the festival will probably be the only time some of the showcased performances will be performed at the NCPA, unless they prove to be commercially viable. This year's festival also has on board as partner, Ashwin Gidwani Productions, known for its splashy productions like the recent Kennedy Bridge, that brought the crowds in, but was a critical dud.
At last week's press conference where most of the plays were previewed in bite-sized fashion (with a scene here, a song and a dance there), there seems to be a shift from the eclectic fare at last year's festival to a more middle-brow, entertainment-oriented selection. One musical too many perhaps, and more than a few plays that appeared to be short set-pieces strung together into a narrative, and not quite fully-realised offerings. Time will tell.
Putting aside the technical glitches that may have caused some of the productions to appear in poor shape at the press conference, some of the material that stood out were Achyut Vaze's return to stage writing (after 25 years) with the Marathi play Sadu, Saduchi Bayko, Ani Urlela Jag which had the small gathering of scribes and theatre professionals in splits throughout its five-minute tease; and acclaimed playwright Tanika Gupta's Mind Walking (by Brighton-based BandBazi in conjuction with Q Theatre Productions), which has been described as an 'aerial drama' (it employs trapeze artists to great effect) and focuses on a British Indian man, in a care home, who slowly loses grip of the immediate reality around him, but in that unraveling uncovers a forgotten (and spellbinding) past as a young Parsi boy in 1940s Bombay.
The publicity material of Purva Naresh's Preth, evokes the late Mani Kaul's beautifully lyrical Duvidha which was based on a ghost story set in Rajasthan written by Vijay Dan Dehta, that was recently made into a film starring Shah Rukh Khan — Paheli. Preth also deals with a ghost still caught up in human concerns, and given its folksy underpinnings, Naresh has flown in folk singers from Bundelkhand to perform some of the demanding musical set-pieces, ably supported by her actors, several of whom are singing talents themselves. In Aaj Rang Hai, she had hired Qawwals from Lucknow in order to impart an authentic Sufi experience (quite successfully) and here again, there is a mix of urban theatre and traditional folk.
Elsewhere, a couple of divas grapple for their share of the limelight. Delna Mody, who spent the year traipsing around in pinafores and summer hats as Maria in a Sound of Music revival, now gets a chance to sink her teeth into edgier fare, as a smoky siren avatar in All That I Ever Wanted, where she belts out the music of Edith Piaf (in perfectly enunciated French), and grinds out a salsa number or two. Well-heeled veteran of the Singapore stage, Sabera Shaik also seems to be camping it up royally as the wife of an English officer in the turn-of-the-century drama, Lady Swettenham, which could prove to be quite a delight (or at least, a guilty pleasure).
Of course, no theatre festival can be complete without a production from the house of Akvarious (they had two last year — the much-feted The Interview and the underwhelming Rebecca). This year, Akarsh Khurana adapts a play by Iraqi playwright Hassan Abdulrazzak. Baghdad Wedding is set to be the one of the larger draws at the festival, and hopefully that will not be at the cost of its emotional depth that made the original production such a visceral experience for so many. Here's hoping that the Centrestage festival, with its awkward mix of art and commerce, delivers another round of exemplary theatre through its 15 premiering plays.
The writer of this piece runs the theatre apprecaition web-site Stage Impressions.
Find latest and upcoming tech gadgets online on Tech2 Gadgets. Get technology news, gadgets reviews & ratings. Popular gadgets including laptop, tablet and mobile specifications, features, prices, comparison.
News & Analysis
Samsung Galaxy S21 series will be available for purchase on Amazon India, and will go on sale for the first time during the Amazon Great Republic Day sale.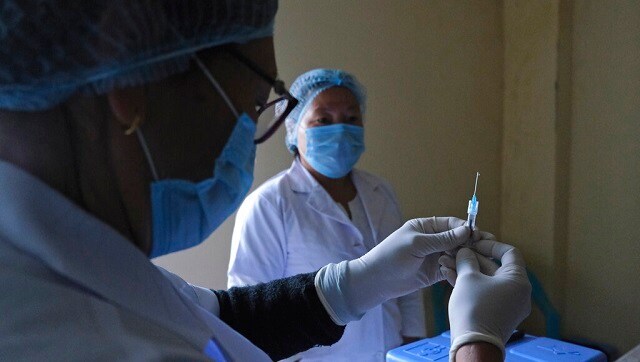 India
India's COVID-19 case count on Sunday climbed to 1,05,57,985 with 15,144 new cases reported in 24 hours, while the toll rose to 1,52,274 with 181 more succumbing to COVID-19 in 24 hours, said the health ministry
News & Analysis
This will be the first time ever when the annual CES event will be held online.