Celebrate Saina but don't forget Kashyap
At the Indonesia Super Series Premier the 25-year-old became the first Indian shuttler since Pullela Gopi Chand to beat a Chinese ranked in the top-five in the world.
Saina Nehwal's wonderful win yesterday was greeted with a fair bit of enthusiasm all over India. She had beaten some tough competitors and the win over China's Xuerui Li in a see-saw summit clash wasn't an easy game either.
But even as we celebrated Saina's achievements over the past two weeks, we very quickly forgot that another Indian had done very well in the same tournament. Parupalli Kashyap, who will be representing India in the men's singles at London 2012, also reached the semifinals. But what made this run really special was that the 25-year-old also became the first Indian male shuttler since Pullela Gopi Chand to beat a Chinese ranked in the top-five in the world when he upset top seed Chen Long, the man widely touted as the successor to Lin Dan.
For those who know Kashyap, it was heartening to see that he was in no hurry and was willing to wait for his chances.
Exactly a year back, Kashyap was on a flight back to India from Singapore. He had broken down after hearing about his sister's demise and decided to skip the following week's Indonesia Open as he was too distraught to think about badminton.
The Olympic qualification campaign was just warming up with Ajay Jayaram was closing on his heels. But the Indian Oil employee just couldn't bring himself to think about badminton at that stage.
Kashyap was then ranked 21st in the world and was considered to be India's best bet for an Olympic berth till things started to fall apart at a rapid rate. Kashyap's fall coincided with the best period for Ajay, who climbed the ranking ladder steadily. His pre-quarterfinal run in the World Championship in August propelled him to the position of India's highest ranked shuttler.
While Ajay was making a march towards the Olympics, Kashyap was just trying to hang on. He chose not to speak about his personal loss and even refrained from talking about the Olympic qualification and other issues to the media till lightning struck again.
The 25-year-old, who was diagnosed with asthmatic condition when he was just learning the ropes of badminton, suffered a leg injury in December and was forced to sit out for three weeks during which he also missed a couple of major tournaments.
By Kashyap's own admission, a kind of desperation had started to creep in by that period and he made the mistake of returning to the court too early. "I was desperate. I started playing early and played too many tournaments in a bid to qualify for the Olympics," he told reporters after he finally managed to get on the flight to London in dramatic circumstances.
With the Commonwealth Games bronze medallist facing a daunting task of beating former world champion Chen Jin to pip Ajay for the Olympic berth, the Chinese star decided to give Kashyap a walkover citing a wrist injury.
The difficulty of the task could be gauged by the fact that Kashyap had failed to beat any Chinese shuttler since 2008 and the last person to face a reversal against him was Lu Yi – who is currently ranked 226 in the world and is nowhere near the top echelons of the badminton powerhouses' role of honour.
That moment seemed to turn the tide. Till then Kashyap was getting a feeling that nothing was going his way, as he lost to opponents he would otherwise steam role. And every loss only dented his confidence in his own abilities.
So much so that when the Gopi Chand academy trainee came to Delhi for the India Super Series, the final tournament in the qualifying period and just 1000 points separating him and Ajay, he was already willing to concede defeat and hinted as much in media interactions on the eve of the tournament.
But one sensational match against Boonsak Ponsana and a stroke of luck against Chen Jin – who would not have withdrawn had Peter Gade not lost in the quarterfinals earlier in the day thereby guaranteeing the Chinese a berth in the Olympics – changed Kashyap's world.
A more reassured Kashyap then began to concentrate more on training and even decided to skip the Thailand Grand Prix Gold because he was not happy with his fitness levels and wanted to enter every tournament with the hunger to win.
That hunger was visible at the Indonesia Super Series Premier tournament as well.
Even when Chen Long was staging a comeback in the second game, Kashyap managed to keep his cool under pressure and waited for his opponent to make mistakes out of frustration. The world number 26 eveutally fell at the semifinal hurdle against local star Simon Santoso.
But he will leave Indonesia with the knowledge that when he is on his game, he too can beat the best. Who knows... before long, Saina may have company at the top levels of badminton.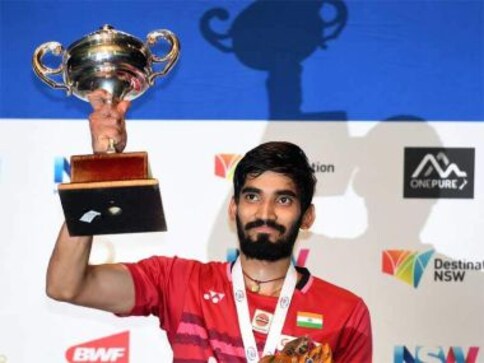 Sports
But 2017 has been the year of Kidambi Srikanth who was busy rewriting history with every consecutive tournament. He became the first Indian to feature in three consecutive Superseries event finals.
Sports
World No 25 Prannoy has defeated former World No 1 Lee Chong Wei and two-time All England and World Champion Chen Long to reach the semi-finals of the Indonesia SSP.
Sports
World No 25 Prannoy defeated Olympic silver-medalist Lee Chong Wei and gold-medalist Chen Long on his way to the semi-finals of the Indonesian Open.